What if you always knew what to wear and never felt like your closet was a dead end? You'd sign up right away, wouldn't you? But what if being able to always know what to wear meant to select a few items only? Would you consider it? If the answer is yes, keep reading to discover everything about capsule wardrobes.
More is not always good
Buying clothes has become part of our everyday life. Each time we set foot into a Zara, H&M, Top Shop, etc… there are shiny, new pieces only waiting for us to buy them. Because of this, we all own an average of 120 pieces of clothes and I know a lot of people for whom you could easily double this number.
I've never realized it before but actually we (mostly women) are some kind of freaky clothes collector. It might not feel like it when buying clothes, but I'm pretty sure that we've all at, least once, bought an item that we never wore. So, ultimately it was only for the thrill of buying because we obviously didn't need it. It's sometimes hard to know what is it that we really need. And that's where capsule wardrobes can help you see more clearly.
Here is an example of a capsule wardrobe to show you how it works: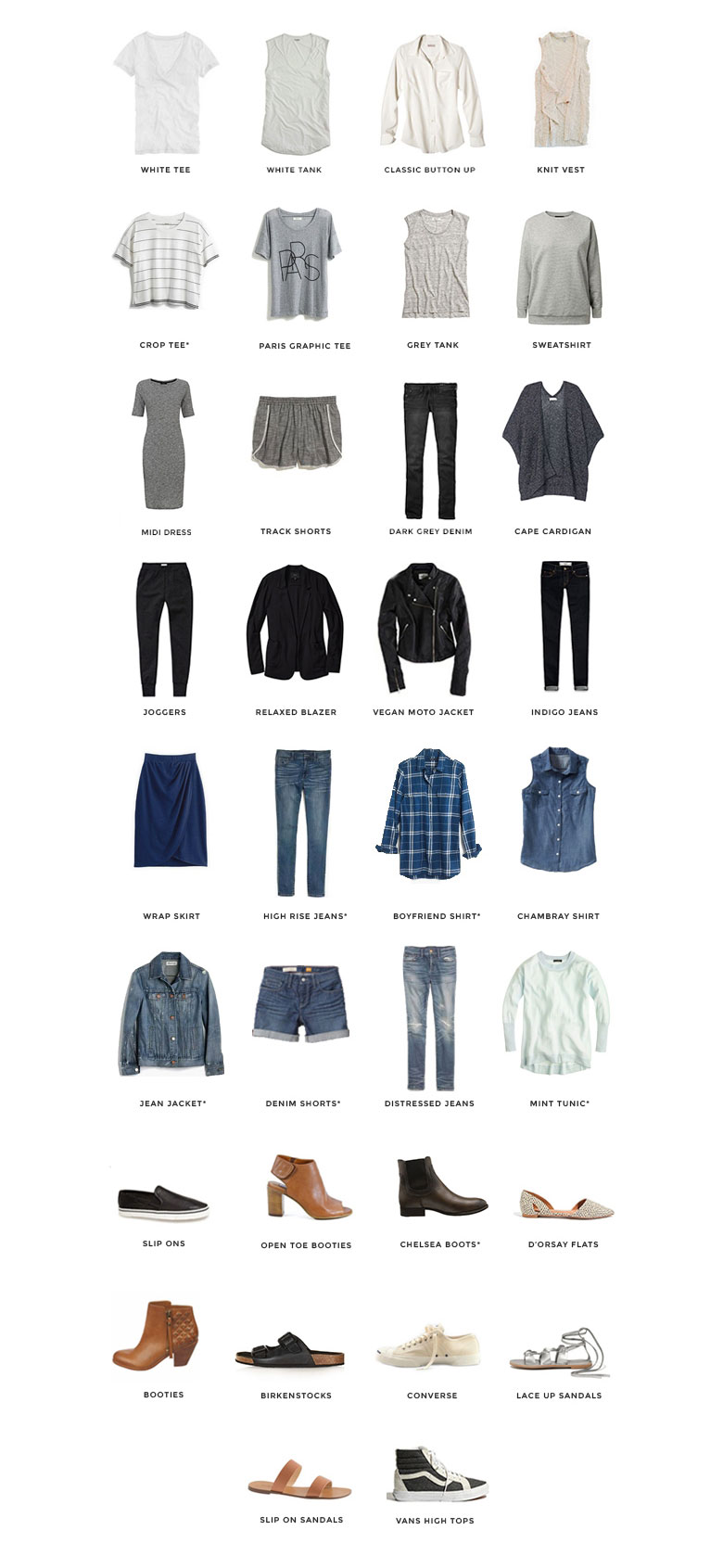 So, first a little definition:
A capsule wardrobe is when you love and wear every single clothing item in your seasonal closet. Creating a capsule simply means reducing our closets to only those "favorite items" we reach for every morning.

Basically, the idea is to select a few clothes, shoes, accessories that you are going to wear during a certain period of time (usually it's 3 months).
Ideally, you want this small collection to cover all your needs during this period and that you can assemble them in different ways.
In the example above you can see that everything goes with everything and that all clothing needs are covered. It's a pretty simple style but that really depends on the person who is behind the capsule.
Why start a capsule wardrobe?
Starting a capsule wardrobe can seem a little boring at first. Why would you give up on all your clothes, shoes, accessories to just focus on a few pieces? What will you get out of it?
Capsule wardrobes might not be a good fit for everyone but if you've ever felt like one of these statements you might want to consider doing it:
I'd like to stop buying according to trends but rather according to what suits me and what I like.
I'd like to have a clean and neat closet that doesn't depress me.
I'd like to focus more on things that matter rather than what should I wear today?
I'd like to find my personal style.
I already have a lot of decisions to make every day and I'd like to simplify the trivial stuff.
I'd like to buy more responsibly.
I'd like to have more time in the morning to enjoy coffee.
I'd like to spare a little money.
I'd like to know what enough means.
How to start a capsule wardrobe
There is a lot of different ways to start a capsule wardrobe. Decluttering (Marie Kondo method) could be an entry point (that's how I started) as it will help you find what are the items that spark joy in your closet.
Otherwise, if you need a more radical approach you can try project 333 by Courtney Carver. Her method consists of wearing just 33 items for 3 months. This doesn't mean that you have to live like that forever but doing this for 3 months can really help you understand what's your style, what suits you, and teach you to buy clothes with more intention.
Cladwell: an app to build your own capsule wardrobe
If you are a techy person, this app Cladwell could really help you create and maintain your capsule wardrobe. "Learn how to appreciate what you have, do more with less, and clear out the clutter in your life. Get dressed easier, each and every day" is the promise of this application. It will cost you $5/month if you choose the quaterly payment. Which is okay if you think of the money you'll spare by not bing buying clothes.
How it works
Your journey starts with the creation of your first capsule wardrobe. It will define your style, colors scheme what kind of life habits you have to then display what kind of clothes you should own. Then, you can fill in what you already own and make a list of what you need to buy. So next time you go shopping you can focus on those pieces only. You also have the possibility to upload pictures of pre-made outfits from your wardrobe. It's a great way to remember what are your favorite matches.
Buying consciously made clothes
There is another dimension to the Cladwell app. The conscious level they add to it. Living on fewer clothes allows you to put a little more money on each piece. This way, you can buy from companies that are transparent about their chain of production and not taking advantage of far away and poor people. Cladwell gives you a lot of tips on how and where to buy. And don't worry, buying from conscious brands doesn't mean that fashion is not on point. It's pretty much the opposite.
Credit cover picture by: Flying House