6 fantastic Decor Ideas You'll Want to Steal From The Parisian Hoxton Hotel
You might have heard about this back in September, The Hoxton Hotel has opened its first hotel in Paris. Last year I visited its London establishment in Holborn and absolutely loved the concept of The Hoxton. So I was really curious about its Parisian brother. Un-shockingly, it totally exceeded my expectations in terms of interior design. The building alone, is already breathtaking. A town house built in the XVIII century by a men called Etienne Rivié. It took 4 years to bring this old edifice back to life. The 172 rooms and the brasserie, named after its founder "Rivié", are imprinted with Parisian classicisme and 50's decor inspiration. Despite this fact, the decor is full of modern and original ideas to inspire your next renovation project.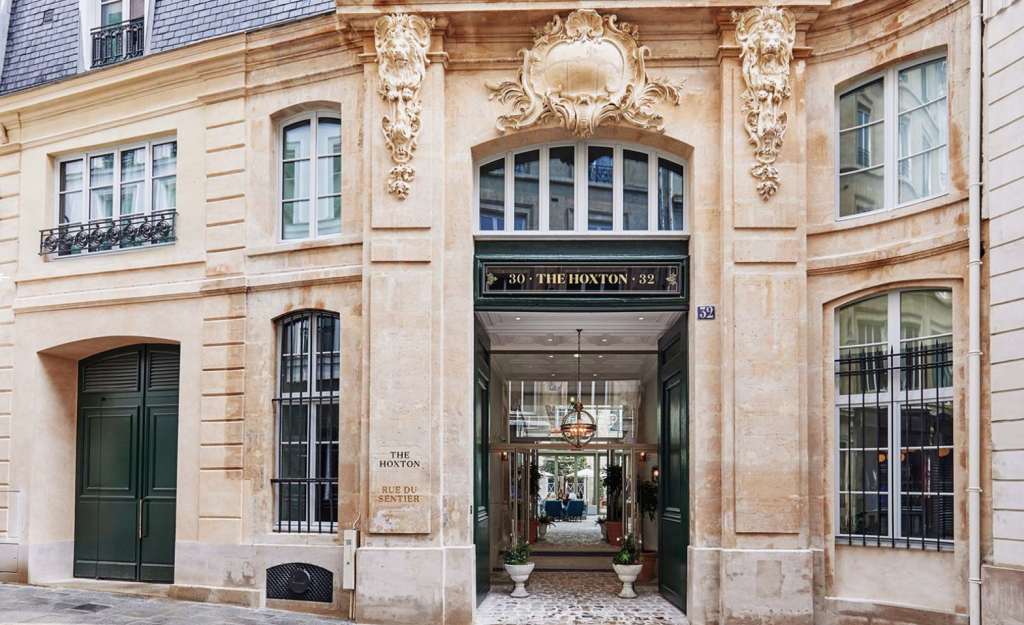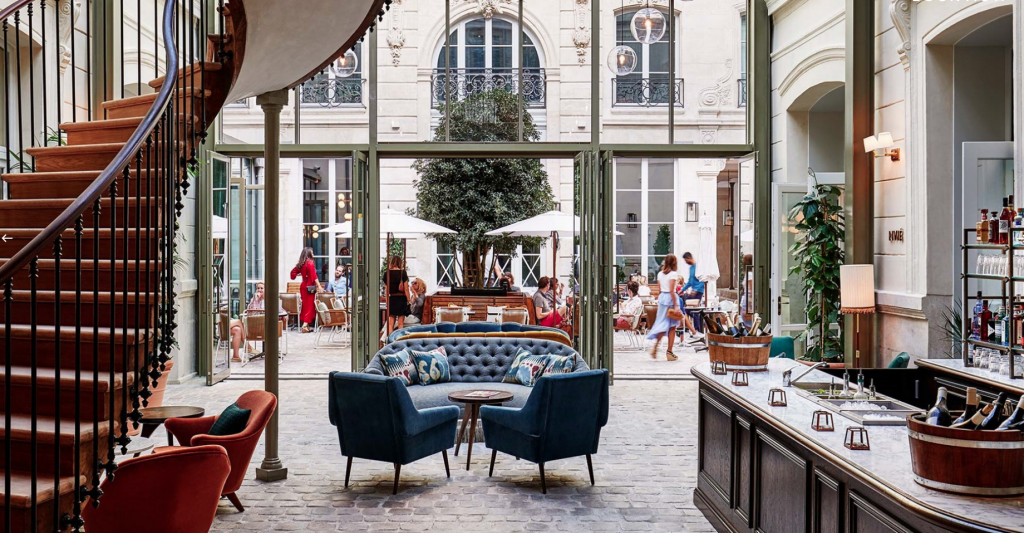 1.Two colors wall
One of my favorite idea in this list, is to use two colors on one wall. Instead of painting one wall with one different color from the other walls in the room, they have used two colors for the same wall. It allows to highlight certain part of the room or a particular piece of furniture which structure the room.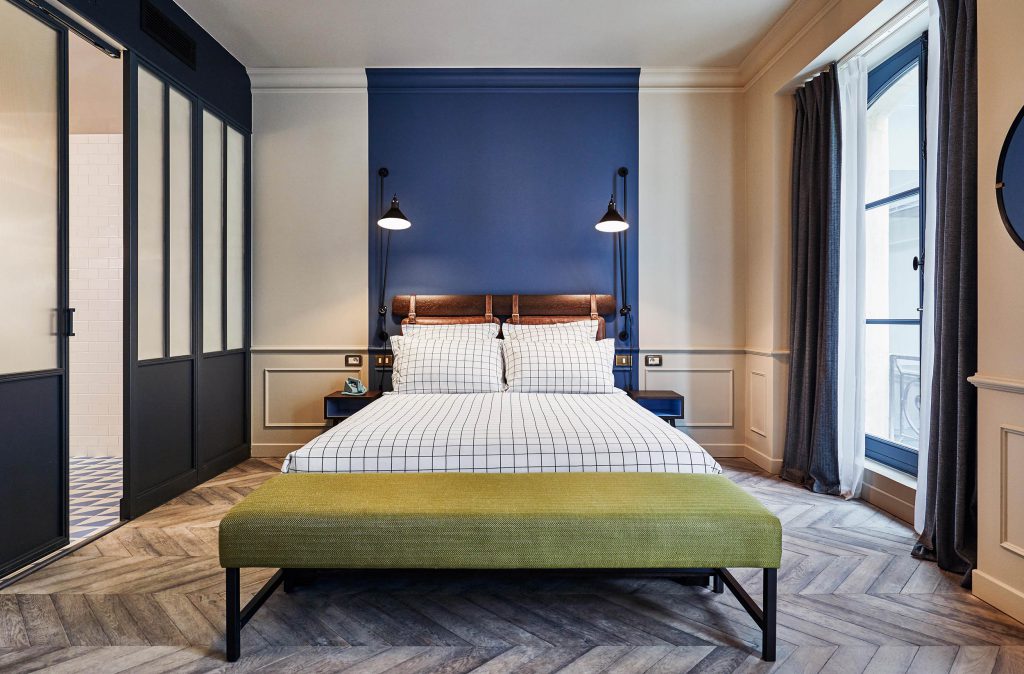 2.Coper sanitary fitting
Coper is surely trending these days and using it for the sanitary fitting are a great way to give an industrial touch to your bathroom.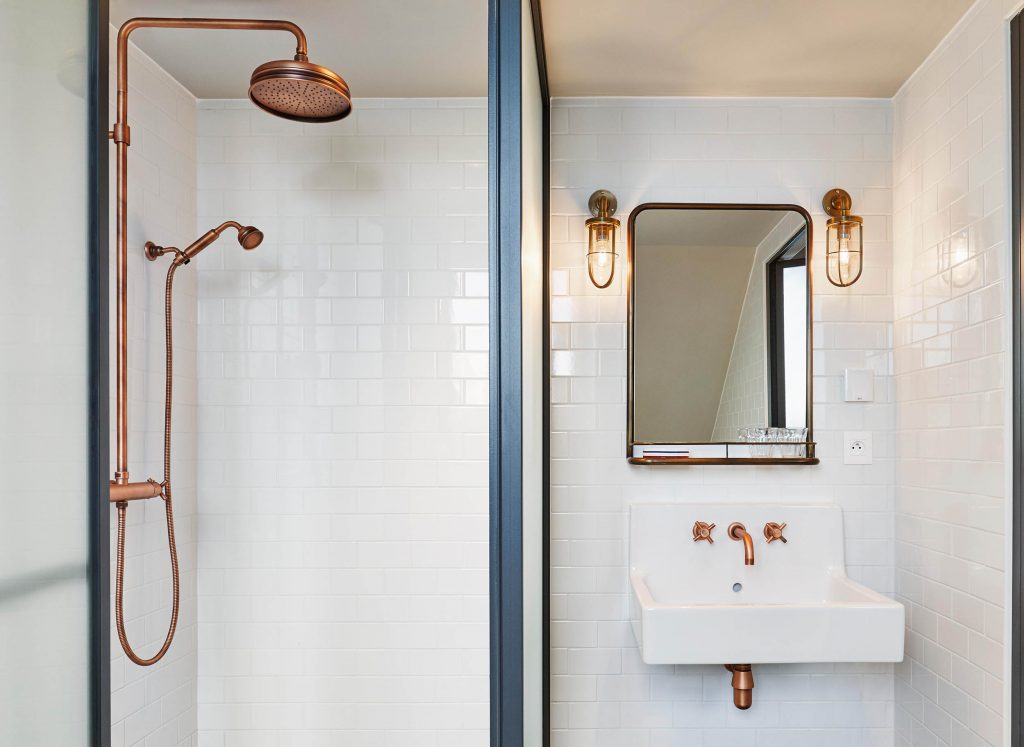 3. Typical Parisian metal frame as shower wall
I found it a really good idea to use these metal frames as shower wall. It's so sleek and clean but still have that industrial character that makes it a perfect match with the coper sanitary fitting.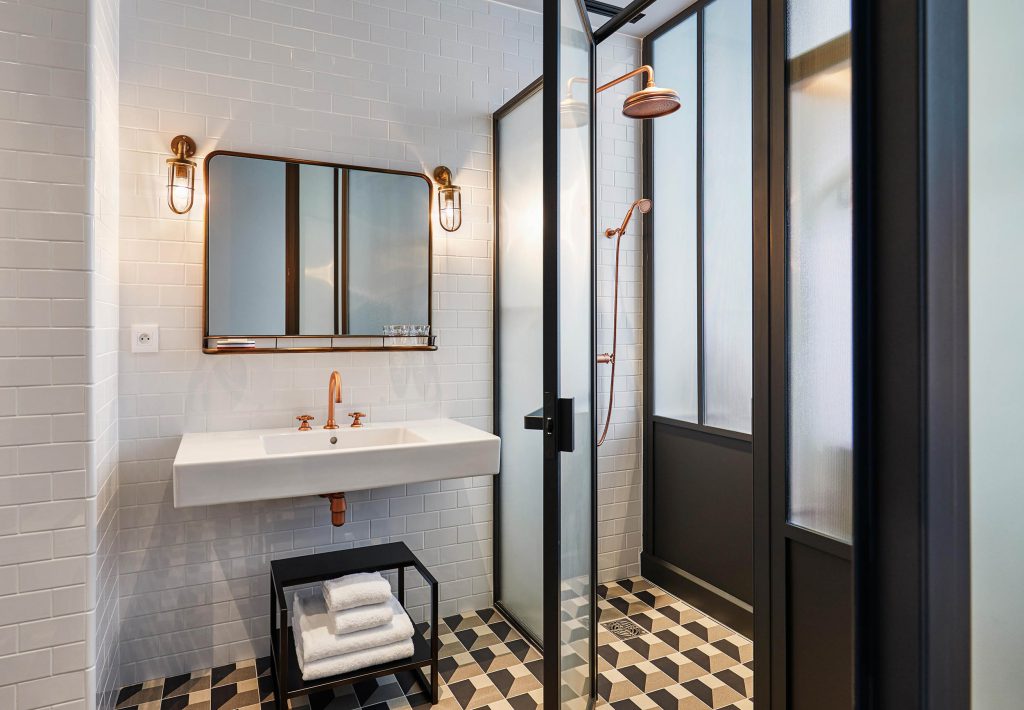 4. Semi transparent wardrobe
An idea borrowed from the past is the wire grid that cover the wardrobe cabinet. A very sleek way to play with what's inside your wardrobe cabinet. The only downside is that your wardrobe has to be tidied up or the desired effect will be missed.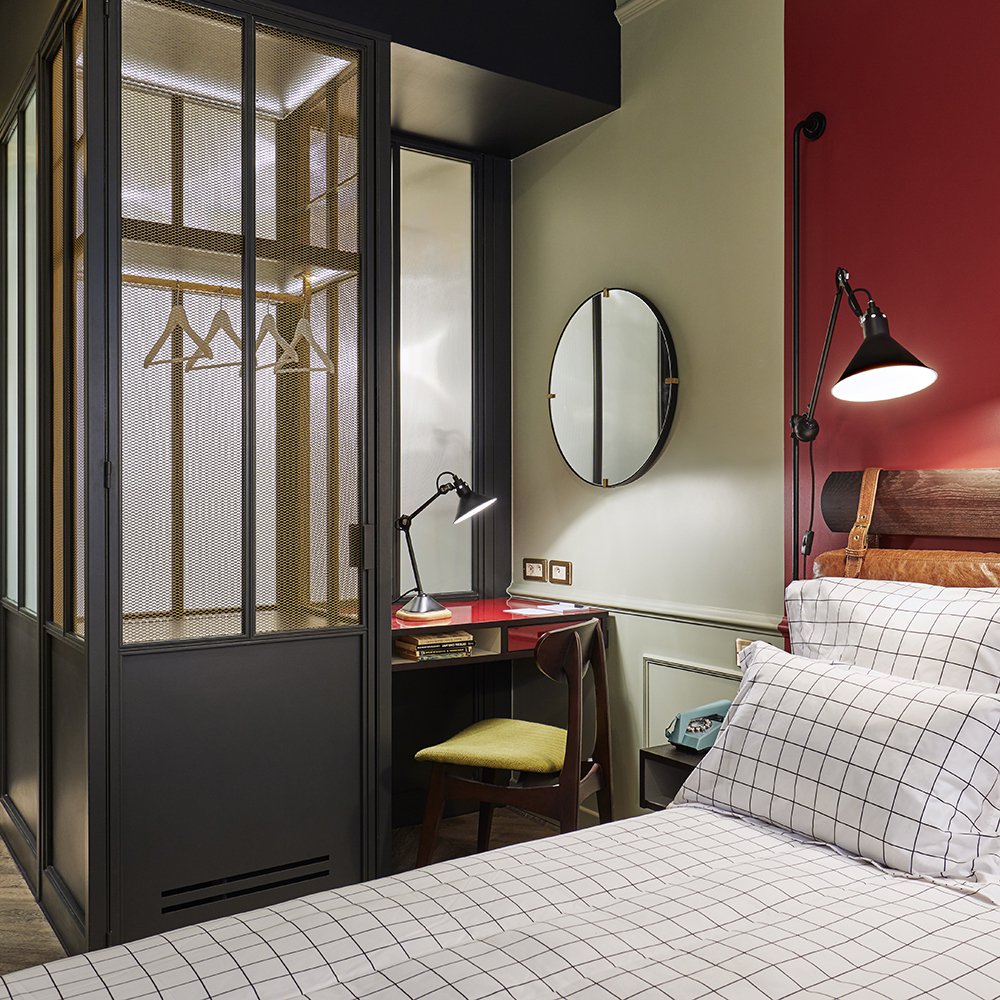 5. Old books matched with bulky pottery
Thick pottery makes a big comeback these days, as seen in hotel les roches rouges. Here they had it mixed with a lot of old books and it works so well.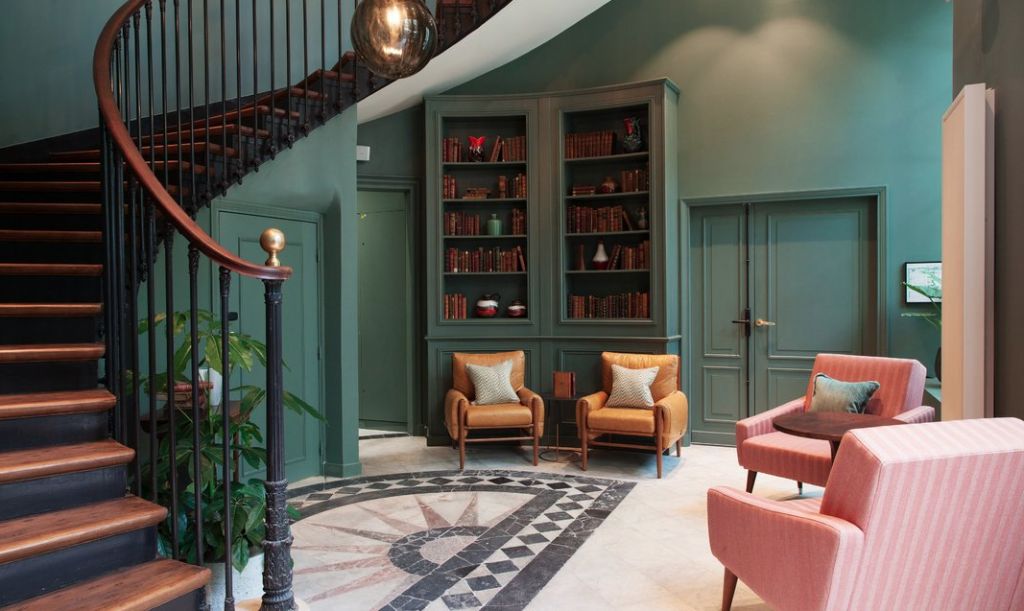 6. A mid century modern designer lamp
This table lamp B140 by Hans-Agne Jakobsson is a piece you don't come across easily, it's worth thousands of dollars on the internet. As insane as it could seem, it really does make an impression when you look at it. I'm not saying that we should all spend that much money on a table lamp, but finding a statement lamp can really take a room from nice to breathtaking.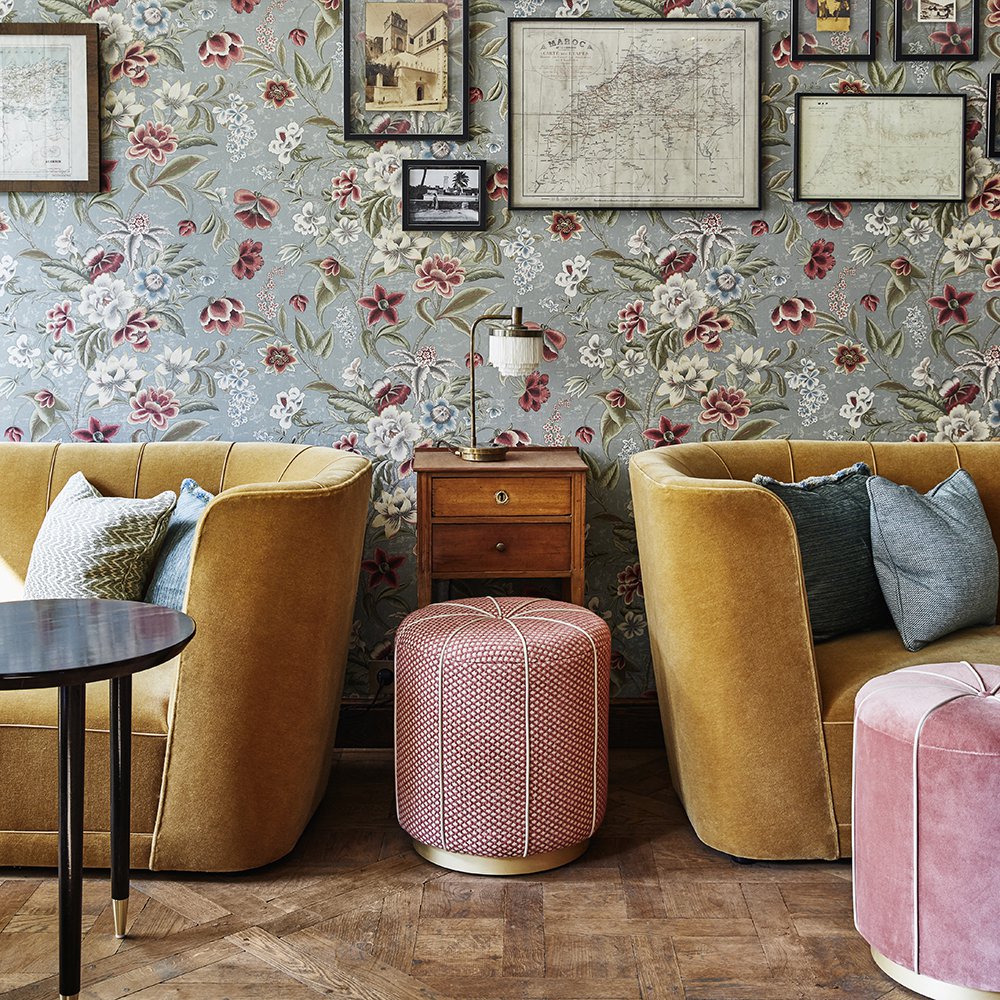 Useful links
You might also like
How to Recreate That Mid-Century Modern Hotel Look We Have All Spoted This Summer on Instagram
This Is How You Decorate for Timeless Elegance
4 Fundamentals to Make Your Small Apartment Look Bigger
9 Items to Unlock the Hygge Magic at Home
6 brilliant Persian Rug Styling Ideas to Steal from Designers
Picture credit: The Hoxton Hotel. Except for the old books and pottery pictures via The socialite family