5 simple Rules to Keep Your Home Tidy Forever
January is known for being the month of resolutions and setting good intentions to improve our lives. So like I said in my previous article here, we are going to focus on how to make some order in our lives. Let's see how to keep a home tidy the Marie Kondo's way. It's a fact keeping a tidy home is hard. But If you think about it, it shouldn't be particularly hard. We have all learned as kids, that after using an item we should put it back into its place. That doesn't sound very complicated or hard, you take something you put it back, easy as pie. So how does the chaos managed to always come back, if it is that easy ?
Some would say that it's because they are too lazy to put it back into place. Yes, maybe but I don't really buy the lazy excuse 100%. There is something else that prevents us from doing it right away. . . That something lies into the affirmation that when we use something we put it back into its place. That sentence implies that we would know where that place is. Do you, each time you buy something new, take the time to make room for it? Yeah, I didn't think so. And that's how new stuff ends up everywhere in our homes. This leads me to rule 1.

Rule #1: A place for everything and everything in its place 
Probably the most important rule I have learned from Konmari's book, this makes tidying up so much easier. When everything has a place you just need to take it and put it back. Lazy or not you will do it without even realizing it. On the other hand, it is vital to discipline yourself and commit to finding a place for every new thing you bring home. By doing this, it also forces you to get rid of stuff you don't need or want anymore. However, there are always things that managed to get into our way no matter what, let's see how to take care of those with rule #2. 

Rule #2 Keep the hallway clear of your wearables
There is nothing worse than an anarchic hallway. It's the first impression you get of your home and you know what they say about first impressions. They tend to stick around. So let's analyze what is it that makes an entry chaotic or not. The first things you do when arriving home are: put your keys, phone, earphones on the counter and taking off your coat shoes and bag. These items alone can already bring an impression of clutter. There is an easy solution here, buy a nice tray for your keys phone and earphones and adequate furniture to put away your shoes. No need for it to be a specific shoe rack, there is plenty of creative ways to hide shoes. Some inspo: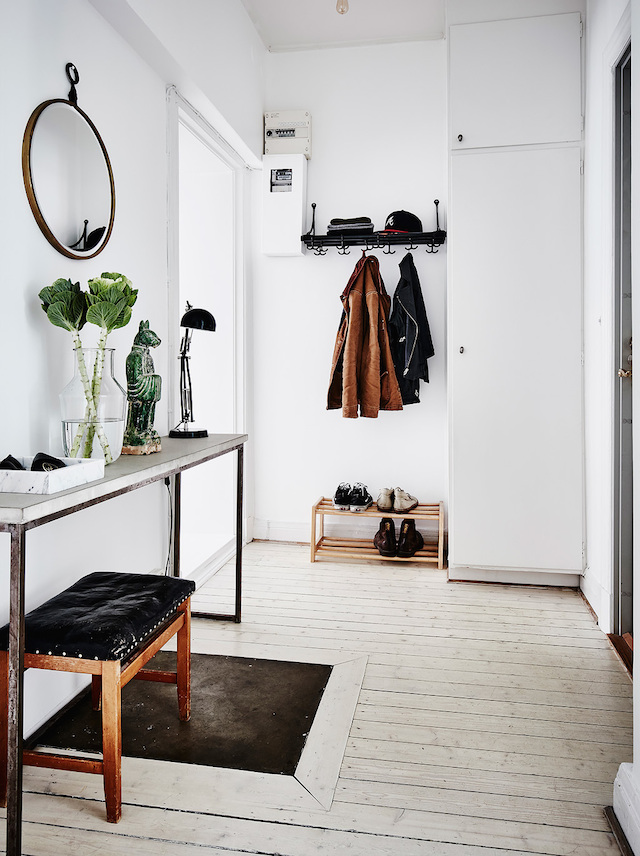 Rule #3: Do the dishes right after eating
I don't own a dishwasher. But the one good thing I take from it is the discipline it taught me. I do the dishes while cooking, I find it too depressing to do it after. And when I'm done eating, I do it right away. It has become part of my eating routine. Coming home after a busy day to some dirty dishes is just not possible, even if you only have to put it in the dishwasher.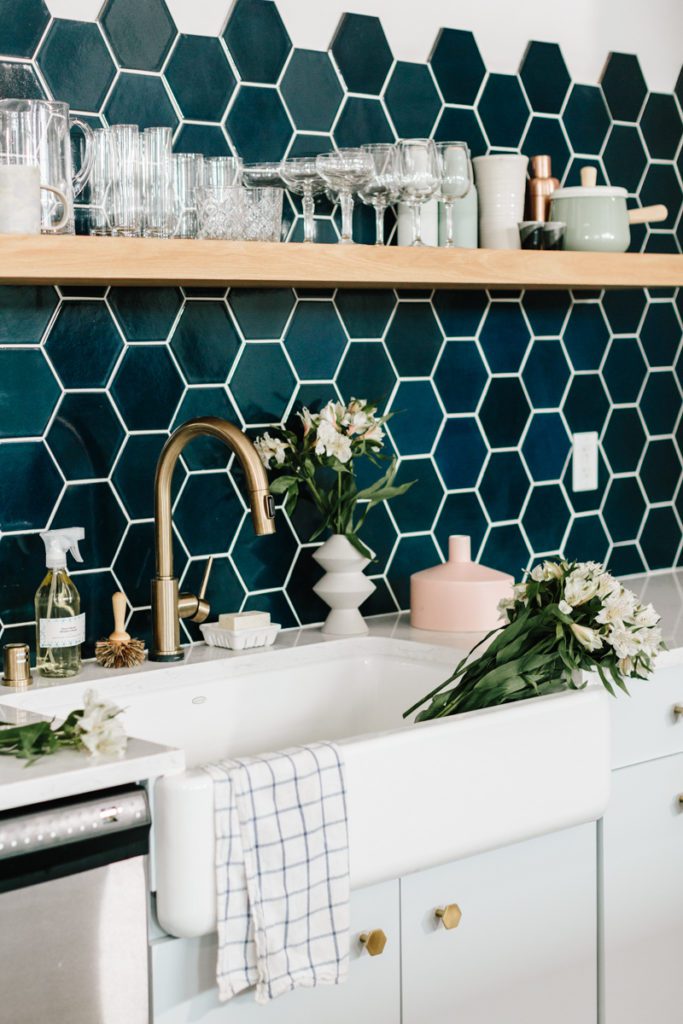 Rule #4: No clothes on the bed or on the floor or anywhere
This one is the hardest because when you come home you want to put on some comfier clothes and just be done with it. Yes but no, What do you do with your work clothes that you don't put in the laundry bag? Most people just let them live their lives in the bedroom lying on a chair or on the bed. Then at the end of the week, their bedrooms are one crowded place, filled with pants and shirts hanging out. This is only because we don't know what to do with our "temporary clothes" the one that is not dirty but that we might, or not, wear again before laundry day. I get that folding them feels like a waste of time since you are going to wear them again soon. Hopefully, some people invented clothes racks and valet stands to allow us to just hang our temporary clothes leaving us with an ordered bedroom.

Rule #5: Bathroom is no exception, keep visible the bare minimum
I don't know why but the bathroom often feels like a lawless area. As if it was a less important room. But it is as important as any other room in your home and should receive the same treatment. The main matter in the bathroom is the profusion of products. So many of them for so little space. We all have a tendency to buy lots of cosmetics and then not use them. The texture feels weird, the scent is too strong or the marketing department did too good of a job. Yes, but we don't need to have it all under our nose, do we? So try to make visible only the products you use daily. Conceal the ones you use occasionally in cabinet boxes or drawers, as for the rest get rid of them, you don't need it.
By implementing those 5 simple rules in your everyday routine, you should be able to keep the clutter to a minimum.
Below are some items to help you find a place for everything.
Hidden Gems: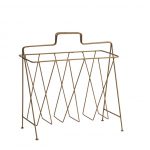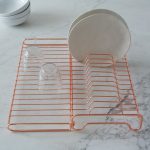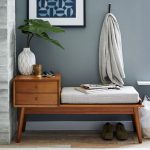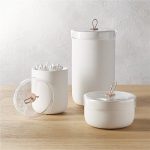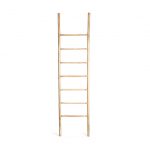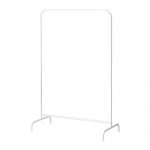 from left to right, top to bottom
Range-magazines cooper – Madam Stoltz
Brushed Brass Tray -Att Pynta
Bocal avec couvercle en verre – La Tresorerie
Copper Wire Kitchen Foldable Dish Rack – West Elm
Mid-Century Storage Bench – West Elm
Metal Basket – House Doctor
Valet Stand – Interio
Under Console Storage – Pottery and Barn
Ceramic Canisters White – Crate and Barrel
Foldable Laundry Basket – Zara Home
Bathroom Ladder – Interio
Clothes Rack – Ikea
Cover image by: Stephen Williams Associates