Originally published on February the 19th 2019
Nowadays, a lot of people have already tried to customize an Ikea piece of furniture. Some have even made a business out of it. This is not surprising considering the fact that Ikea's furniture is really easy to put together and very affordable. The Ivar cabinet's hacks I'm going to introduce are amongst the best I've seen so far and I've been researching this subject for a long time. So what makes the Ivar cabinet a great piece to hack? First, It is narrow (30cm depth) hence very convenient for small spaces, and made out of untreated wood, so easily customizable. Plus its design is very simple, anyone can adapt it to his/her taste. Lastly, it's cheap and it's an item of storage furniture which probably makes it the ultimate IKEA piece.
>> 22 Ikea Items That Look Like a Million Bucks
I own two of these Ivar cabinets myself. I put it in my entryway because it's a narrow space with a long hallway. For that reason, I needed something to compliment it and not make it seem narrower than it is. I've considered some very "light" consoles, but I needed storage to put shoes and other entryway stuff. So the Ivar cabinet seemed to be the perfect option.
However, as much as I like the way it looks as it is. It would not have fitted with the rest of my decor at all. So I did some research to see what were my options. What I found surpassed my expectations…
IKEA IVAR: One piece of furniture but many options
I've seen all kinds of use for this piece. Some people transformed it into a sideboard others used it as a kitchen counter. It seems that the sky is the limit for these cabinets! But I'd say Ivar is at its best when used as a sideboard, especially with 2 or more cabinets side by side or as a sort of dresser.
Two reasons for that: Because since you can hang it on the wall, it looks like it's floating in the air. This makes a narrow room look less cluttered and stuffy than with a traditional on-ground console.
As a dresser because you can put it anywhere, it has a perfect size, it will fill any empty nook or space.
Renter's go-to IKEA piece
It's no surprise that tenants swear by the Ivar cabinet so much. It's so versatile, inexpensive, and practical in terms of the storage it provides, it's the piece of furniture that has it all.
---
---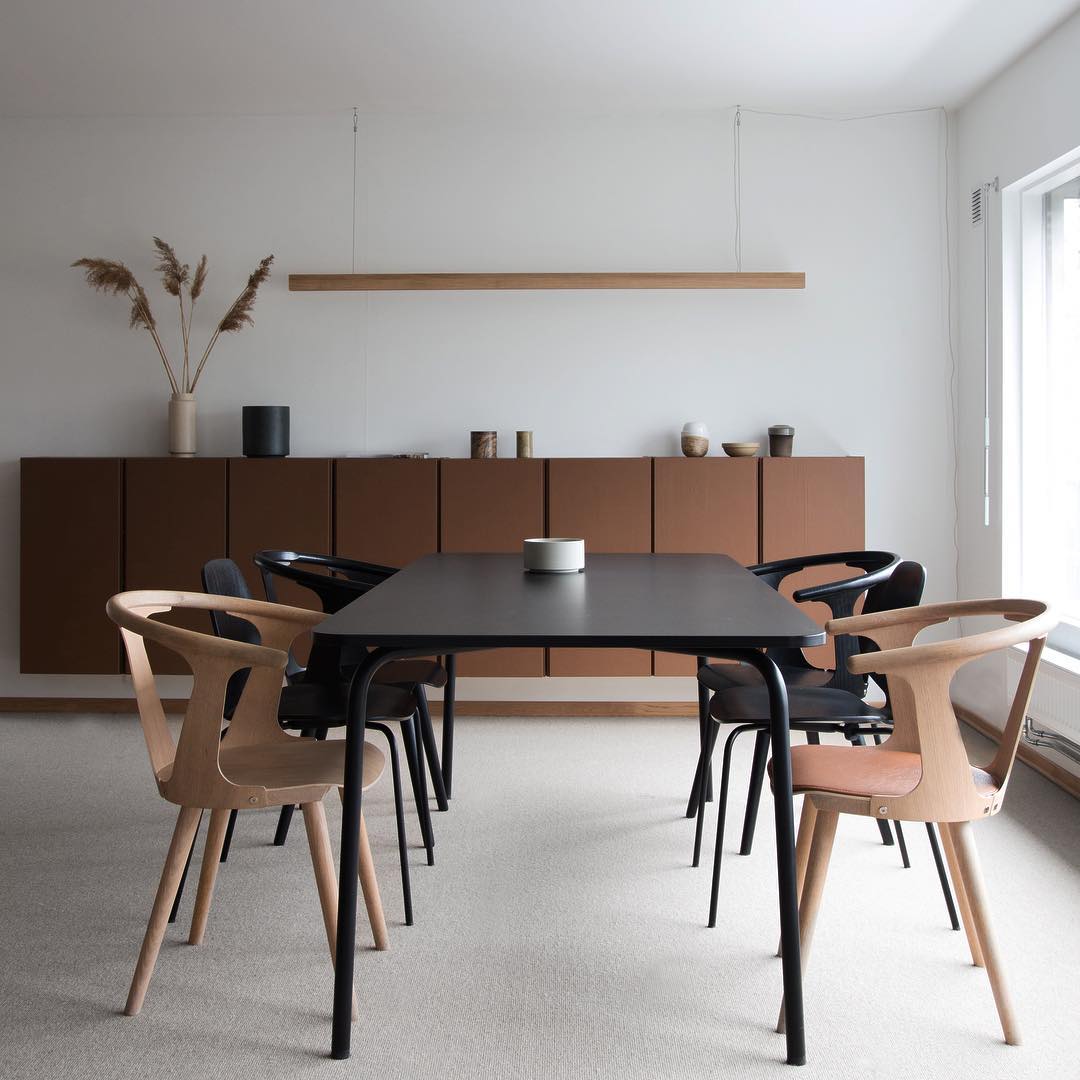 IVAR IKEA HACK: 10 best transformations
1. Paint your Ivar cabinet the same color as your wall
Try painting it the same color as your wall you'll see that the result is always stunning. In darker colors or lighter ones it works so well, it makes your items and decoration stand out even more.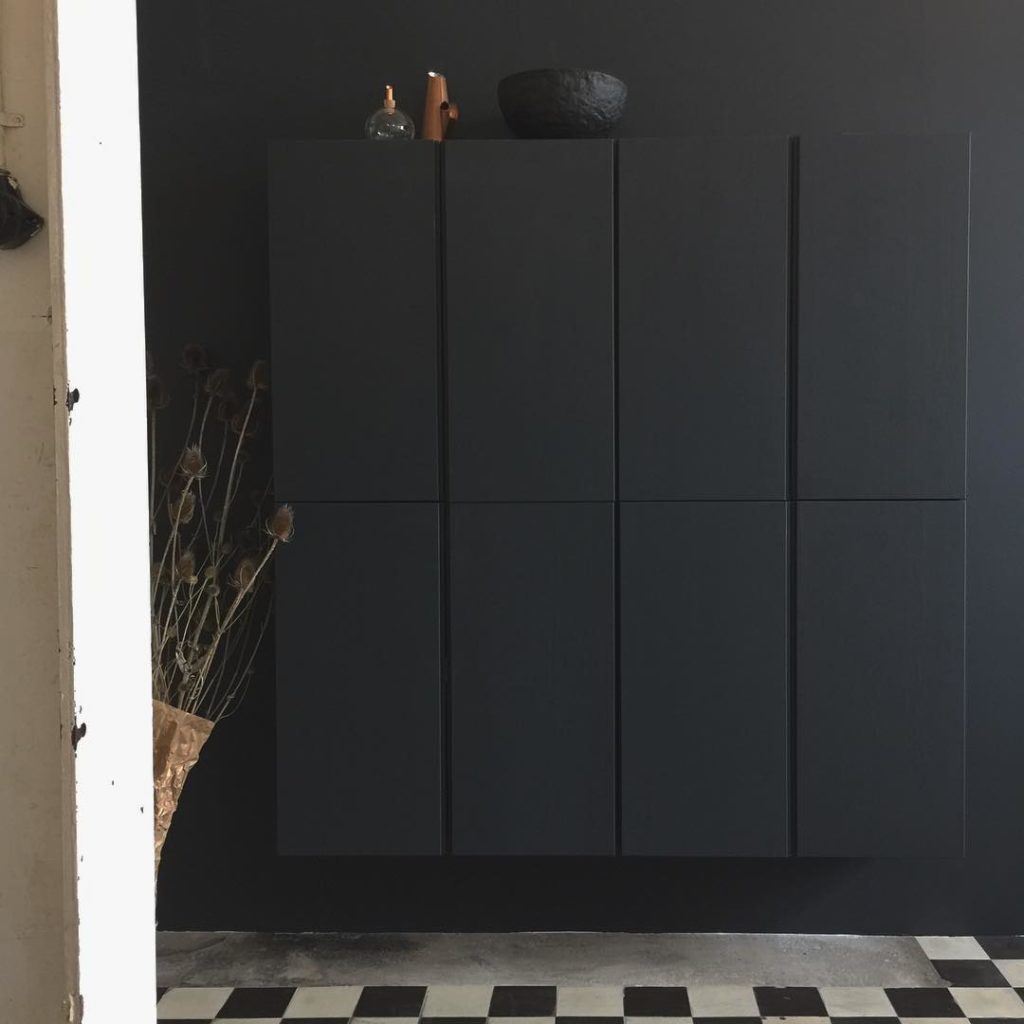 2. A darker wood stain for more character
That's the option I went with. In order to make it look more ancient or as if it was a wood of another essence, I decided to apply a slightly darker wood stain (I've used a stain called « chêne rustic mat » (rustic mat oak) from the brand V33. Here is a similar option from Home Depot). I also really like the effect of putting only one layer of paint (or colored wood stain maybe) so it let the wood grain show. (just like in the picture below)
>>How to stain your Ivar cabinet: a step by step guide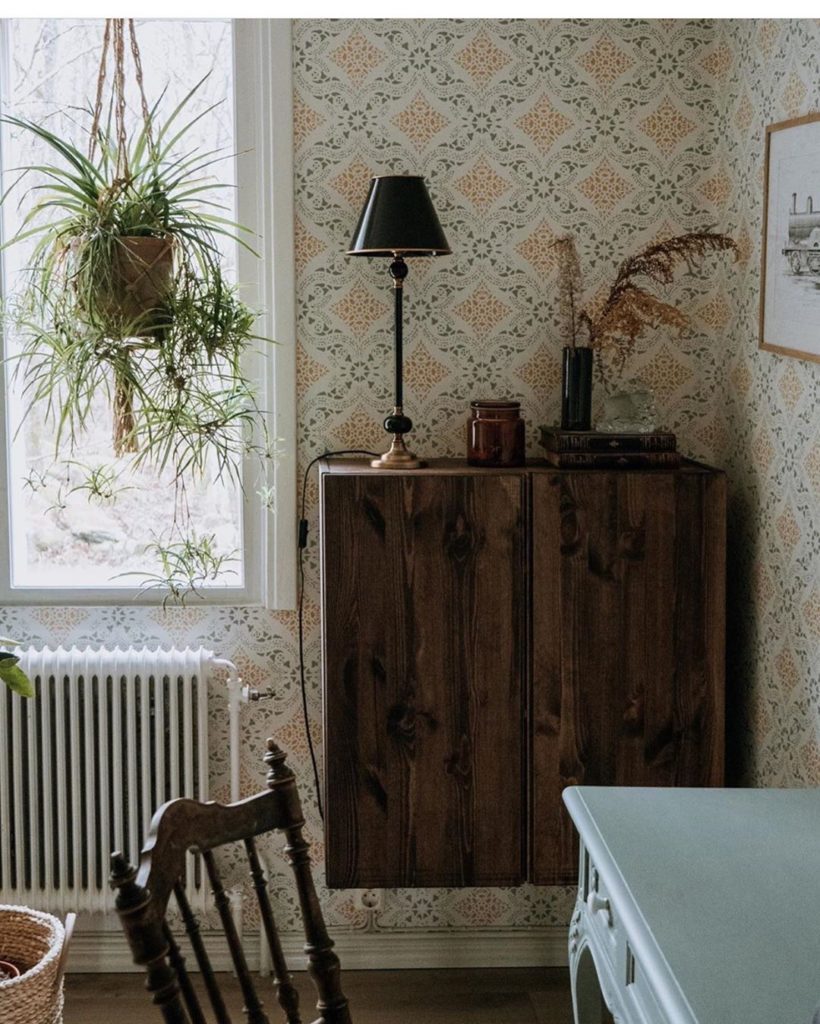 3. Add some doorknobs
Doorknobs make it look a little chicer also you can make it fit a certain style depending on the type of doorknobs you choose. I added some on mine and I'm glad I did. It's more coherent with the rest of the entryway now. My favorite online shops for these types of things are Superfront, Pretty pegs, or Norse.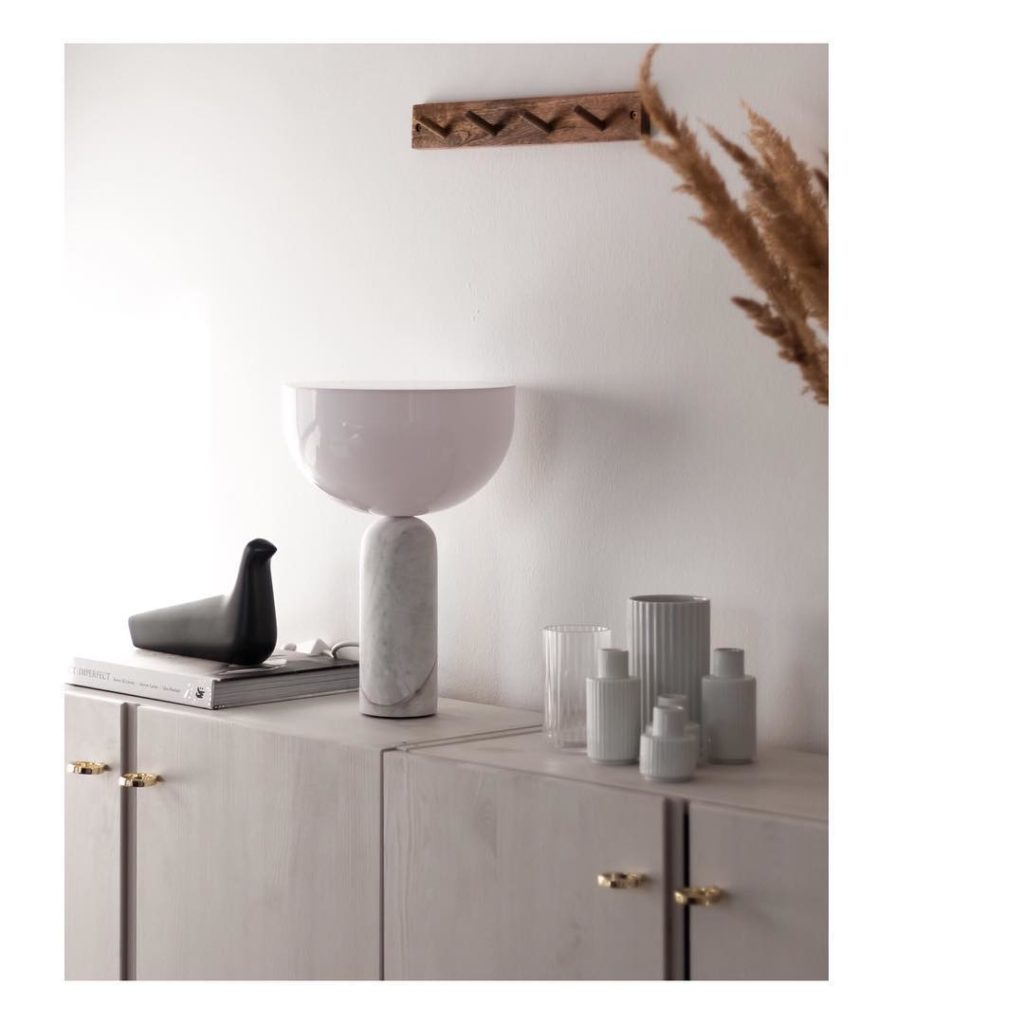 4. A countertop for a more finished look
Even fancier, a stone countertop as in the pictures below, or just a wood one can upgrade these cabinets even more. Be careful if you want to go with a stone countertop and that your cabinets are hung on the wall. There is a limited weight the screws can support.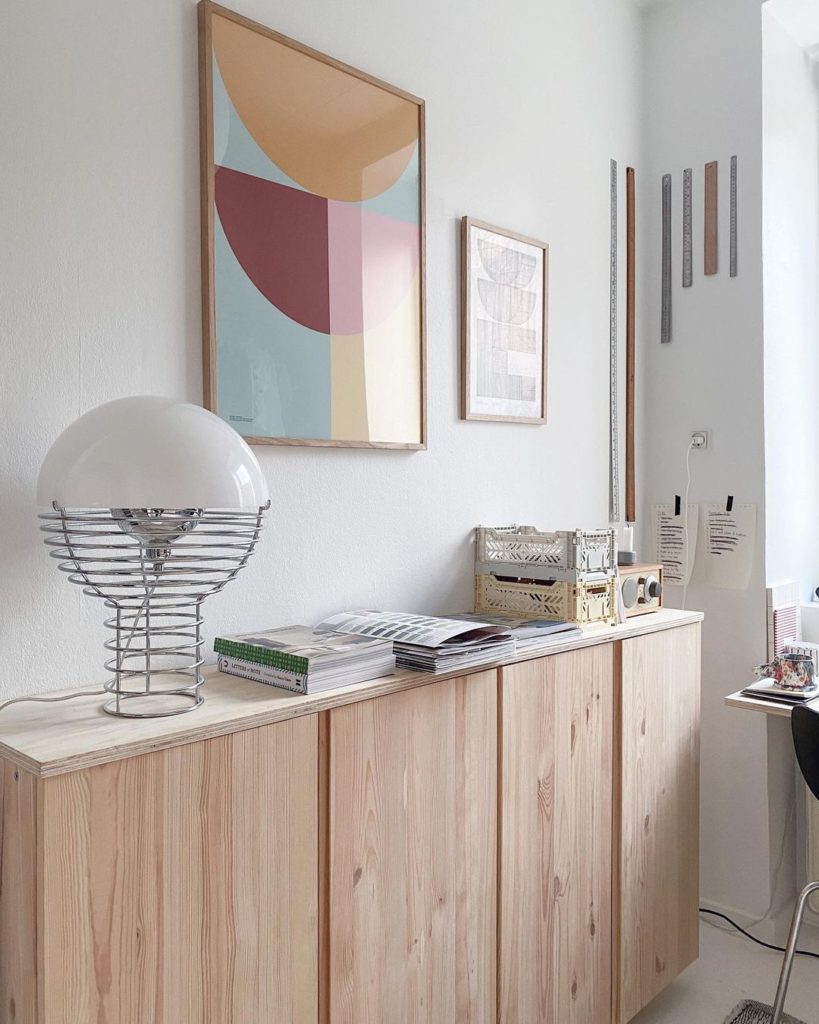 5. Make it stand on legs
Adding legs is a good way to personalize it as well. Just like for the doorknobs, some pretty cool online shops offer great solutions for cute legs. (See point 3 for shop sources)
6. Dress up its doors
This is a cool way to add texture to these cabinets. I particularly like the cane coating idea.

update: IKEA sells doors with a sort of cane coating so you don't even need to do it yourself anymore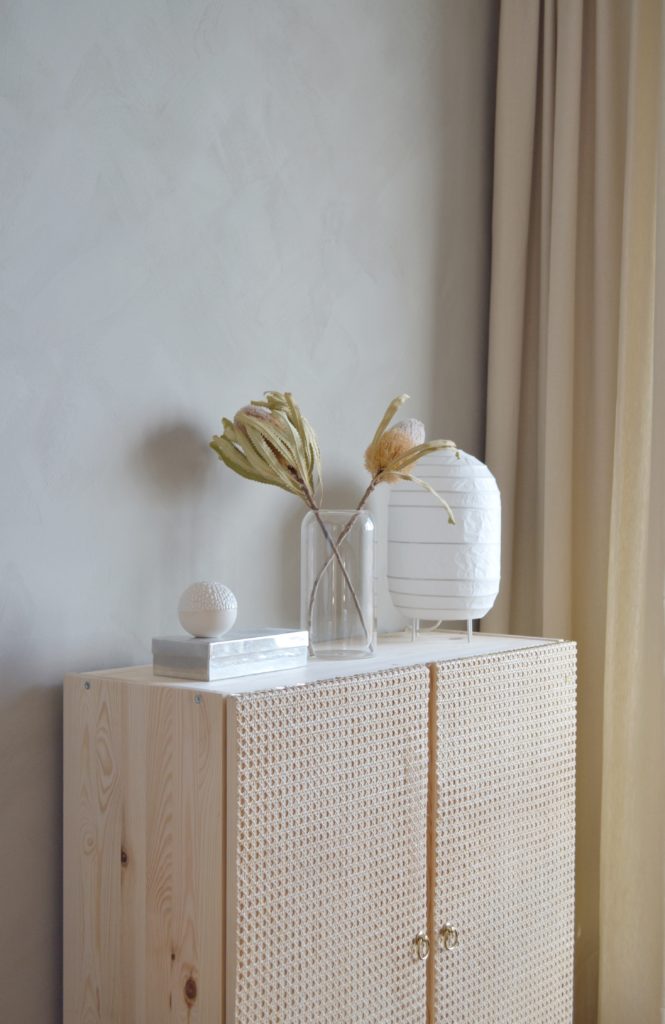 7. Keep it natural
The Ivar cabinet is also a beautiful piece just as it is. So don't be afraid to leave it bare. If it fits your interior, it can make the room cozier thanks to its raw wooden panel.
8. Paint the inside in another color
Even though this idea can seem pretty useless, it really adds a more finished look to the Ivar cabinet. I personally didn't paint the inside of my Ivar and if I had to redo it now, I would paint it. Firstly, because it kind of bugs me each time I open it, and secondly, just look at the picture below. The two colors complete each other and it makes it so much more pleasant to open it. The devil is in the details…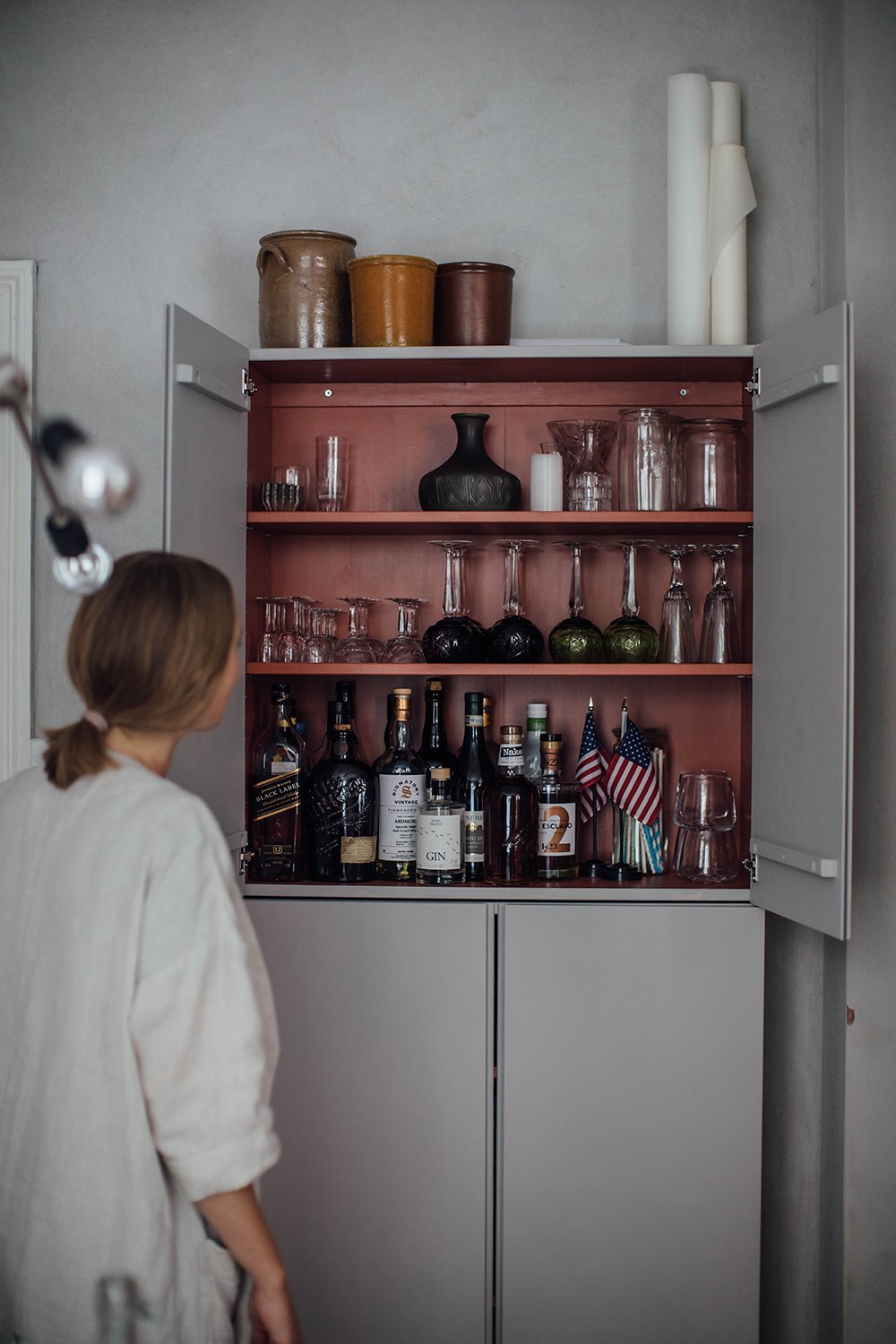 9. Remove one cabinet's doors when used as a buffet
Removing the doors of the Ivar cabinet is a simple but effective manner to twist things up a bit. In the two examples below they use one doorless Ivar unit to showcase beautiful items. The second example goes even further as they added horizontal wooden sticks to create interest and partially hide the items inside the Ivar cabinet.
This is a very simple way to pimp the Ivar. Just paint the inside the same color as the outside, then buy wooden sticks, cut them in the center lengthwise, and stick them at the distance you want to the structure.
10. Cover the Ivar with golden foil
Probably the most show-stopping Ivar IKEA hack ever seen. Covering it with golden foil gives it a totally different look than the original Ivar. It can add a touch of bling and clearly make a big statement.
So which one is your favorite hack?