Originally published on February the 22nd 2018, last update May 2023
Nowadays, a lot of people have already tried to customize an Ikea piece of furniture. Some have even made a business out of it. This is not surprising considering the fact that Ikea's furniture is really easy to put together and very affordable. The Ivar cabinet's hacks I'm going to introduce are amongst the best I've seen. I'm always keeping an eye on new hacks emerging from the internet to update this article with only the best possible ways to update this solid pine cabinet. So here it goes.
Is the IKEA Ivar cabinet a good piece to hack?
What makes the Ivar cabinet a great piece of furniture to hack? First of all, it's a very affordable piece of storage furniture, which is rare enough to mention. Secondly, it comes in two different sizes, 30 cm deep or 50 cm, which is very convenient for a wide range of storage needs. It is also made of solid untreated pine, so it is easily customizable. Finally, its understated design makes it a perfect piece that everyone can adapt to their taste.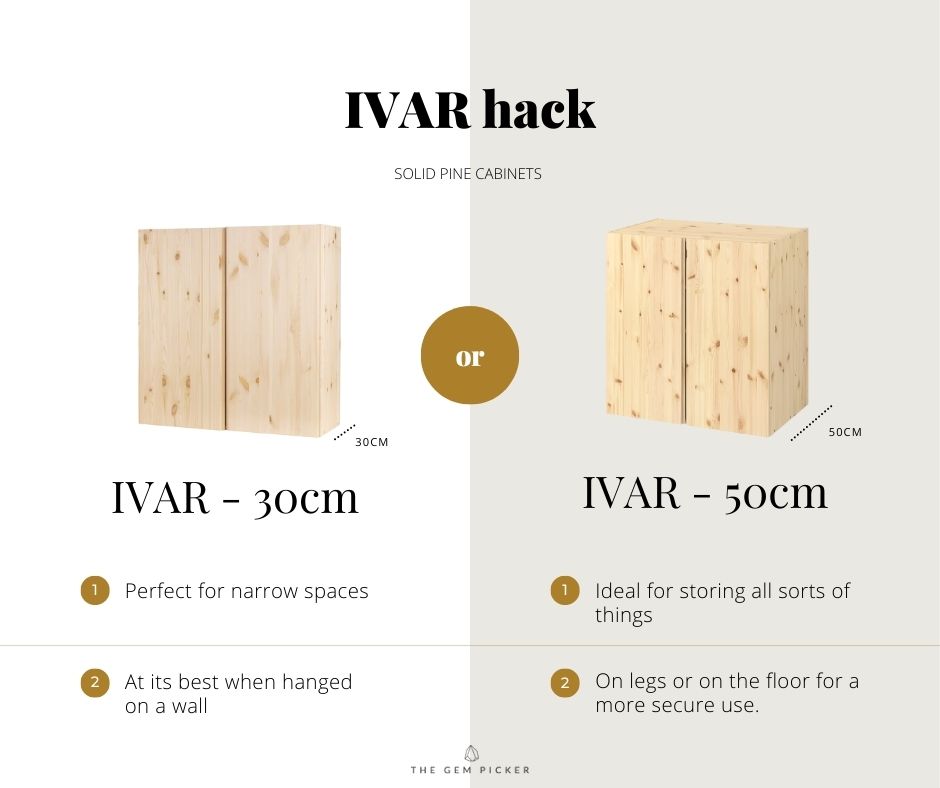 IKEA IVAR: One piece of furniture but many options
I've seen all kinds of use for this piece. Some people transformed it into a sideboard others used it as a kitchen counter as a cupboard, and as vertical storage. It seems that the sky is the limit for these cabinets! But I'd say Ivar is at its best when used as a sideboard, especially with 2 or more cabinets side by side, or as a sort of dresser.

Two reasons for that: Since you can hang it on the wall, it looks like it's floating in the air. This makes a narrow room look less cluttered and stuffy than with a traditional on-ground console.
As a dresser, because you can put it anywhere, it has the perfect size, and it will fill any empty nook or space.
IKEA IVAR HACKS: 11 best transformations
So, If you're looking to take your IVAR cabinets to the next level, you've come to the right place. With these genius hacks, you can turn your cabinets into functional masterpieces that will make your life easier and more stylish. From maximizing space to increasing efficiency, I've got you covered.
1.Add paint to your Ivar cabinet
Let's start with the most obvious hack: painting your IKEA Ivar cabinets.
Paint is an easy and affordable way to personalize your Ivar hacks. Whether you choose a bright pop of color or a soothing, neutral tone, adding paint to your Ivar hack pieces will make them look brand new and stylish in your space.
Adding paint to your Ivar hacks will help them blend in with your existing décor and color scheme. Paint can be used to tie together different pieces of furniture, creating a unified look in any room.
Paint helps protect Ivar from damage such as scratches, dents, and smudges. A few coats of paint can make your Ivar pieces look like they've just been purchased and will help them last longer.
Paint is an easy way to create a custom look in any room. With the right shade and style of paint, you can create a unique look for your Ivar hacks that will be one of a kind.
2.Paint your Ivar cabinet the same color as your wall
Another great way to give your IVAR cabinet a stylish upgrade is by painting the same color as your wall. This creates a seamless and cohesive look that can make the cabinet blend in and become a part of your wall rather than standing out as a separate storage piece.
This hack is particularly useful for those who want to keep their space looking clean and minimalistic, as it eliminates the visual clutter of having a different colored cabinet. Additionally, if you have limited space, this hack can help make the room appear larger by reducing visual distractions.
To achieve this look, simply choose a paint color that matches your wall and paint the entire cabinet. Ensure that you use a high-quality paint that is durable and can withstand wear and tear.
Keep in mind that this hack may not be suitable for those who want their IVAR cabinet to be a statement piece or a focal point in the room. However, if you prefer a more understated and cohesive look to your decor, painting your IVAR cabinet the same color as your wall is the way to go.
A few of my favorite examples :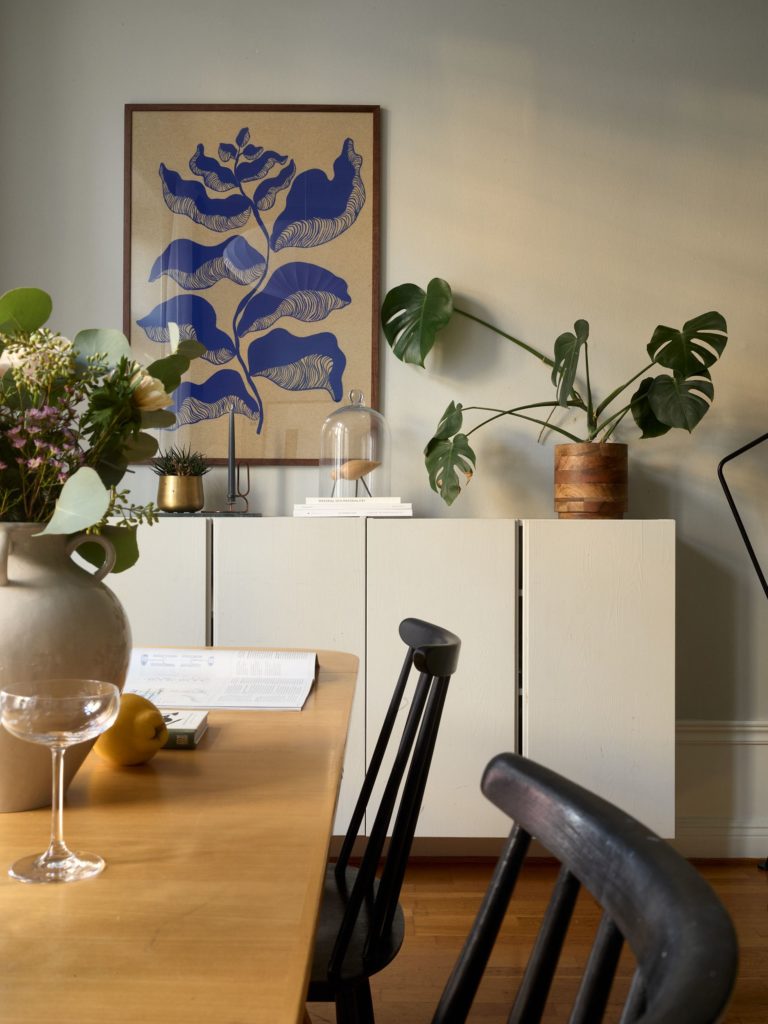 3. Maximize vertical space, and use it as a cupboard
If you don't have a lot of space, create an organized and attractive storage solution with IKEA Ivar cabinets by stacking them. Using the height of your walls could really make you gain a lot of storage space. Use the additional wall space to place baskets or decorative items. This will create a stylish and well-organized piece of furniture that can be used to store everyday items.
3. A darker wood stain for more character
If you want to add a bit of character to your IVAR cabinet, this section covers how a darker wood stain can do just that. Keep in mind that keeping the IVAR cabinet in its natural state is also an option (see number 8). However, if you want to add a bit of character to your IVAR cabinet, staining it with a darker wood tone can do wonders. A darker stain creates a rich and warm tone, which can add depth to your furniture and enhance your room's overall aesthetic.
Adding a darker wood stain can transform your IVAR cabinet and create a timeless look that fits in with any decor style. Once you've stained your cabinet, it's time to add some doorknobs to complete the transformation.
That's the option I went with. In order to make it look more ancient or as if it was a wood of another essence, I decided to apply a slightly darker wood stain (I've used a stain called « chêne rustic mat » (rustic mat oak) from the brand V33. Here is a similar option from Home Depot). I also really like the effect of putting only one layer of paint (or colored wood stain maybe) so it let the wood grain show. (just like in the picture below)
>>How to stain your Ivar cabinet: a step by step guide
4. Add some doorknobs or pulls
Adding doorknobs or pulls to your IVAR cabinet can give it a more polished and functional look. Not only do they make it easier to open and close your cabinet's doors, but they can also enhance the overall appearance of the piece. With a variety of styles and finishes available, you can choose doorknobs or pulls that suit your personal taste and complement your decor.
When selecting doorknobs for your IVAR cabinet, consider the size and shape of the knobs themselves, as well as the hardware you'll need to install them. The two times I've added handles, I've found that knob handles were the best fit.
Once you've chosen your doorknobs and gathered any necessary hardware, you can begin installing them on your cabinet doors. Using a drill or screwdriver, attach the knobs to the doors according to the manufacturer's instructions. Take care to ensure that each knob is level and securely fastened.
Doorknobs make it look a little chicer also you can make it fit a certain style depending on the type of doorknobs you choose. I added doorknobs. It's more coherent with the rest of the entryway now. My favorite online shops for these types of things are Etsy, Superfront, Pretty pegs, or Norse.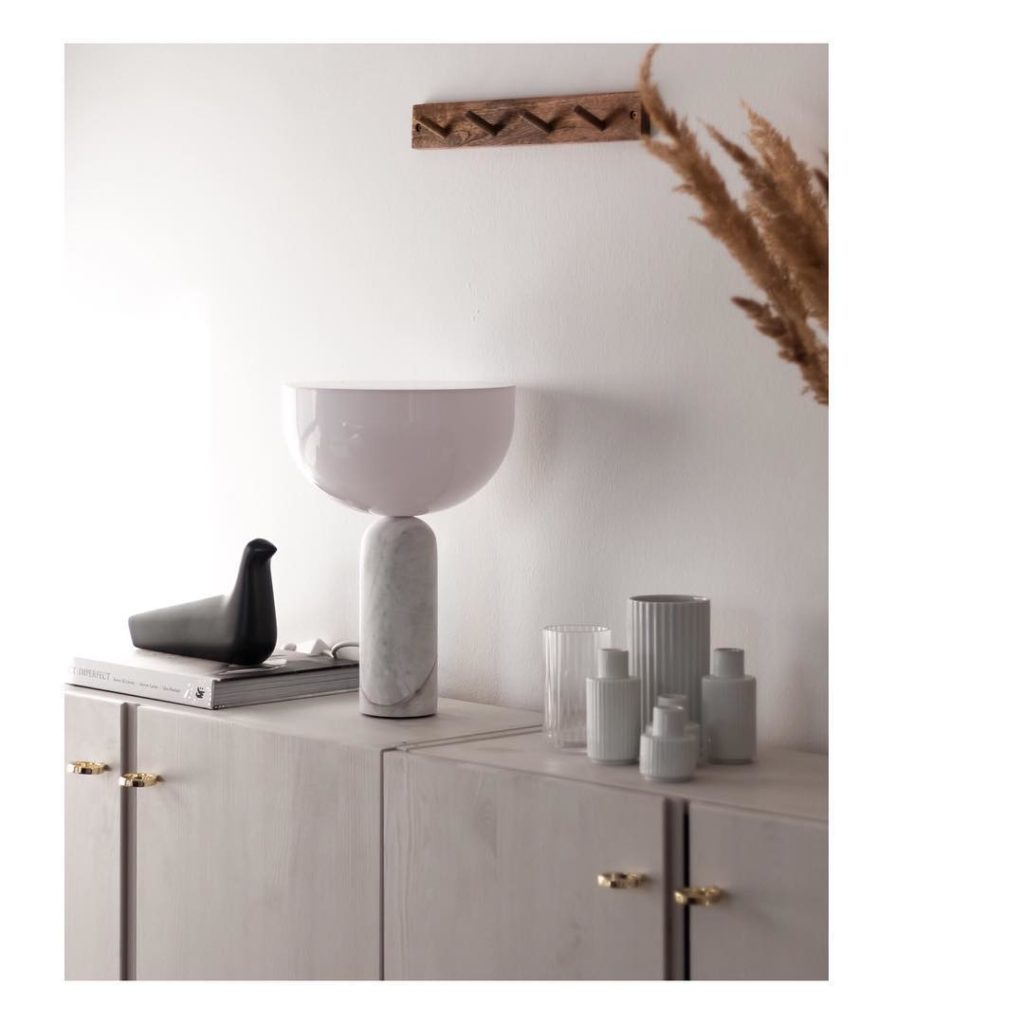 5. A countertop for a more finished look
If you're looking to take your IVAR cabinet's customization to the next level, consider adding a countertop. Not only does this option provide a finished look, but it also allows you to turn your cabinet into a functional workspace or storage unit. The countertop can be made from a variety of materials, including wood, laminate, or even concrete, depending on your personal style and needs.
In the examples below, you'll see that some have used Ivar cabinets to create an entire workspace or even a kitchen (second picture below)! Ivar cabinets can be used on the floor or suspended from the wall, making them very versatile.
Before adding a countertop to your IVAR cabinet, make sure to measure the cabinet carefully. You'll want to ensure that the countertop fits snugly and securely on top of the cabinet. Once you've chosen your material, cut it to size, and attach it to the cabinet using screws or brackets. Be careful if you want to go with a heavier countertop and if you plan on hanging your cabinets on the wall, there is a limited weight the screws can support.
Adding a countertop isn't just a practical solution; it can also complement the style of your room and tie together your design.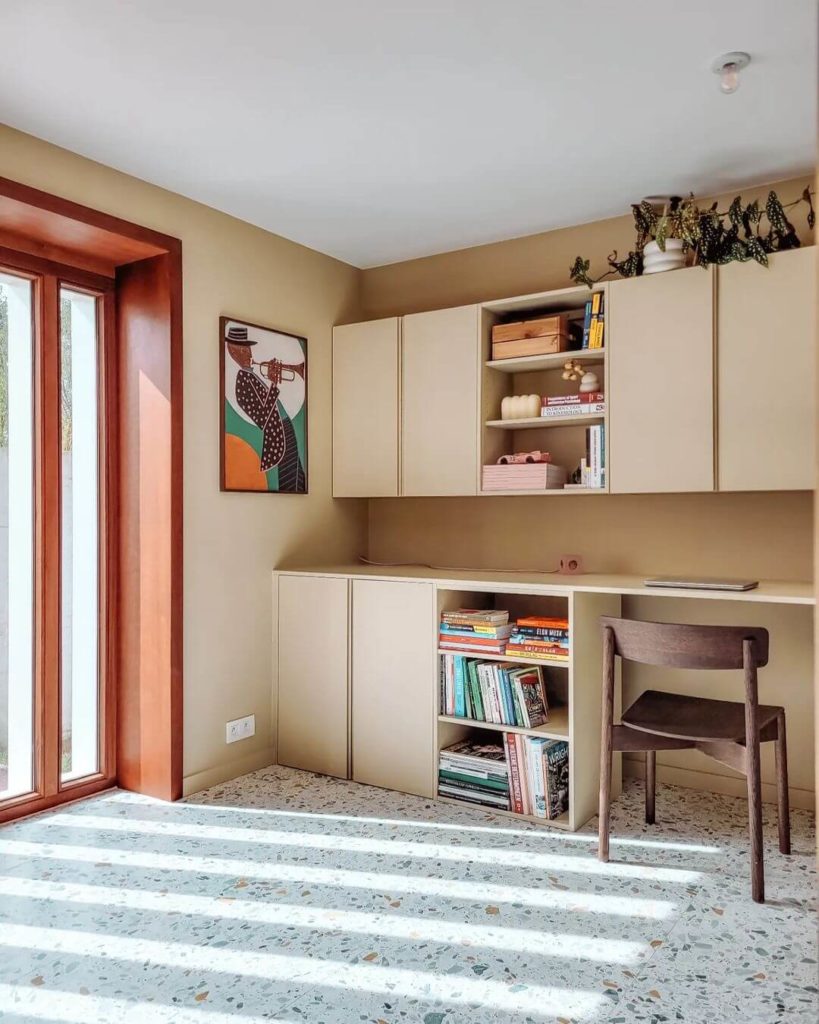 6. Make it stand on legs
Adding legs is a good way to personalize it as well. Just like for the doorknobs, some pretty cool online shops offer great solutions for cute legs (see my article about Where to Find Custom Legs for Your IKEA Furniture). This hack not only creates a more sophisticated and elevated look but also makes it easier to clean underneath. You can choose between metal, wooden, or even hairpin legs to match the style of your room.
7. Dress up its doors
One of the best things about the IVAR cabinet is that it is a blank canvas for creativity. By dressing up its doors, you can take it from ordinary to extraordinary. There are a variety of ways to achieve this, but a few simple ideas include painting the doors a new color or pattern, adding wallpaper or texture to the panels.
This is a cool way to add texture to these cabinets. I particularly like the cane coating idea.

update: IKEA sells doors with a sort of cane coating so you don't even need to do it yourself anymore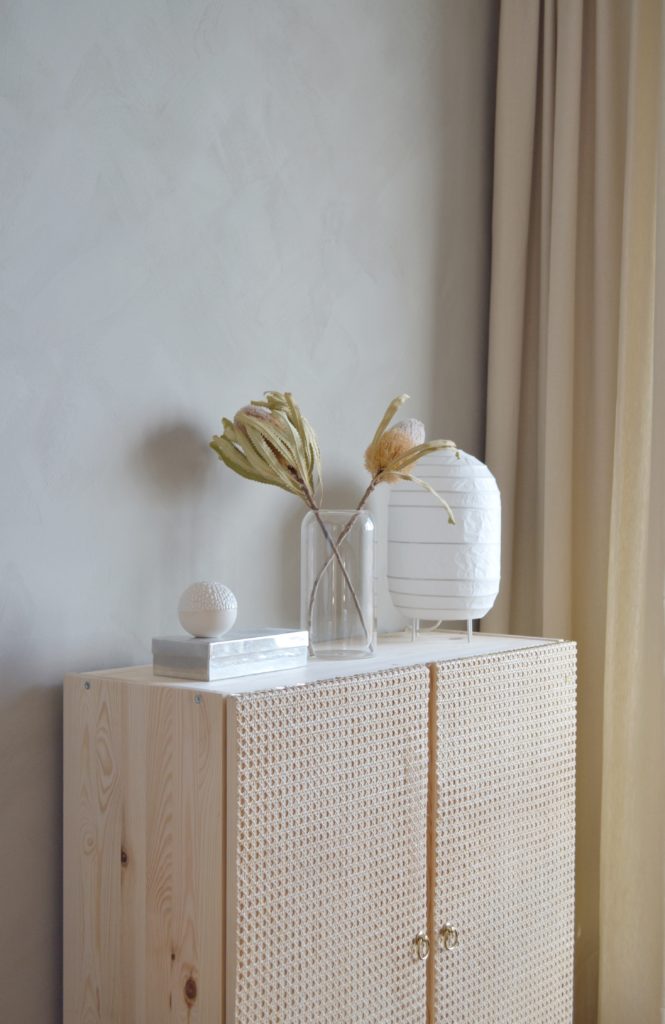 8. Keep the Ivar cabinet natural
The Ivar cabinet is also a beautiful piece just as it is. So don't be afraid to leave it bare. If it fits your interior, it can make the room cozier thanks to its raw wooden panel. Just like in these beautiful interiors:
9. Paint the inside in another color
Seriously consider painting the inside of your IVAR cabinets a different color. By choosing a complementary hue, you can create a personalized statement piece that perfectly fits your home decor.
Even though this hack can seem pretty useless, it really adds a more finished look to the Ivar cabinet. I personally didn't paint the inside of my Ivar and if I had to redo it now, I would paint it. Firstly, because it kind of bugs me each time I open it, and secondly, just look at the picture below. The two colors complete each other and it makes it so much more pleasant to open it. The devil is in the details…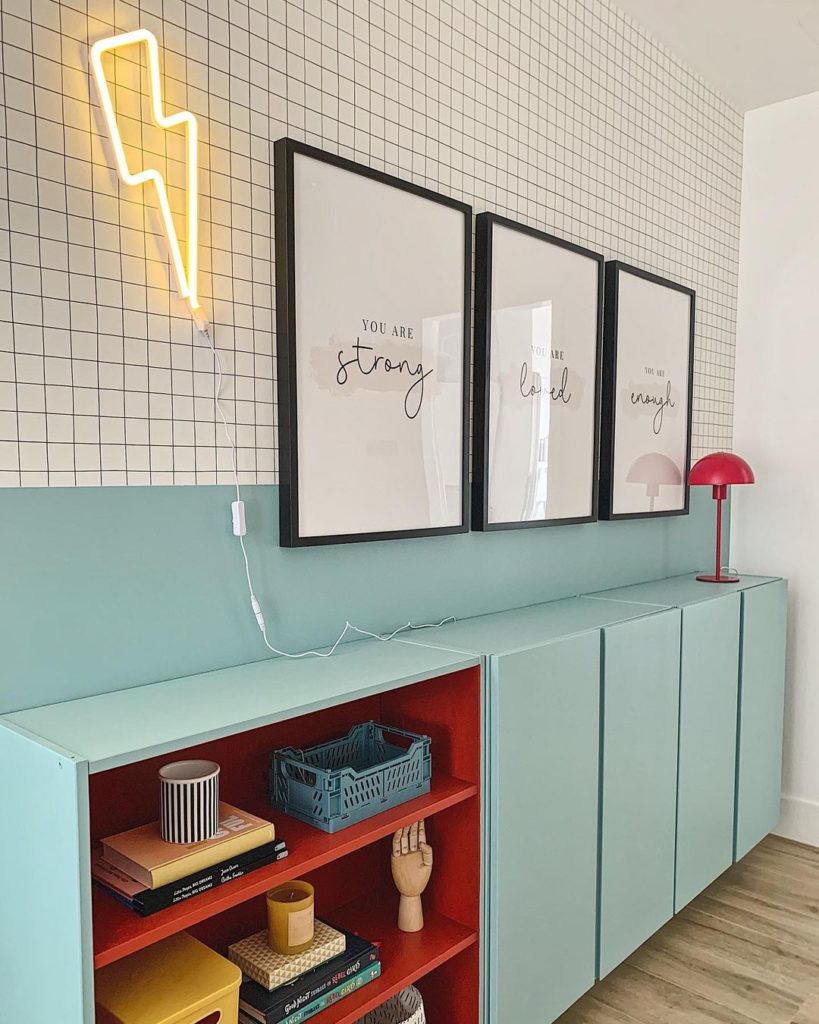 10. Remove one (or more) cabinet door(s)
If you're looking for a way to make your IVAR cabinets feel even more unique, removing one of the cabinet doors can be a great option. This simple hack can help open up the space and create a more airy feel. Whether you want to show off a collection of items or simply let your space breathe a bit more, removing one cabinet door can be an easy way to achieve this style.
Removing the doors of the Ivar cabinet is a simple but effective manner to twist things up a bit. In the examples below they use one doorless Ivar unit to showcase beautiful items. In the third picture, they even added horizontal wooden sticks to create interest and partially hide the items inside the Ivar cabinet.
This is a very simple way to pimp the Ivar. Just paint the inside the same color as the outside, then buy wooden sticks, cut them in the center lengthwise, and stick them at the distance you want to the structure.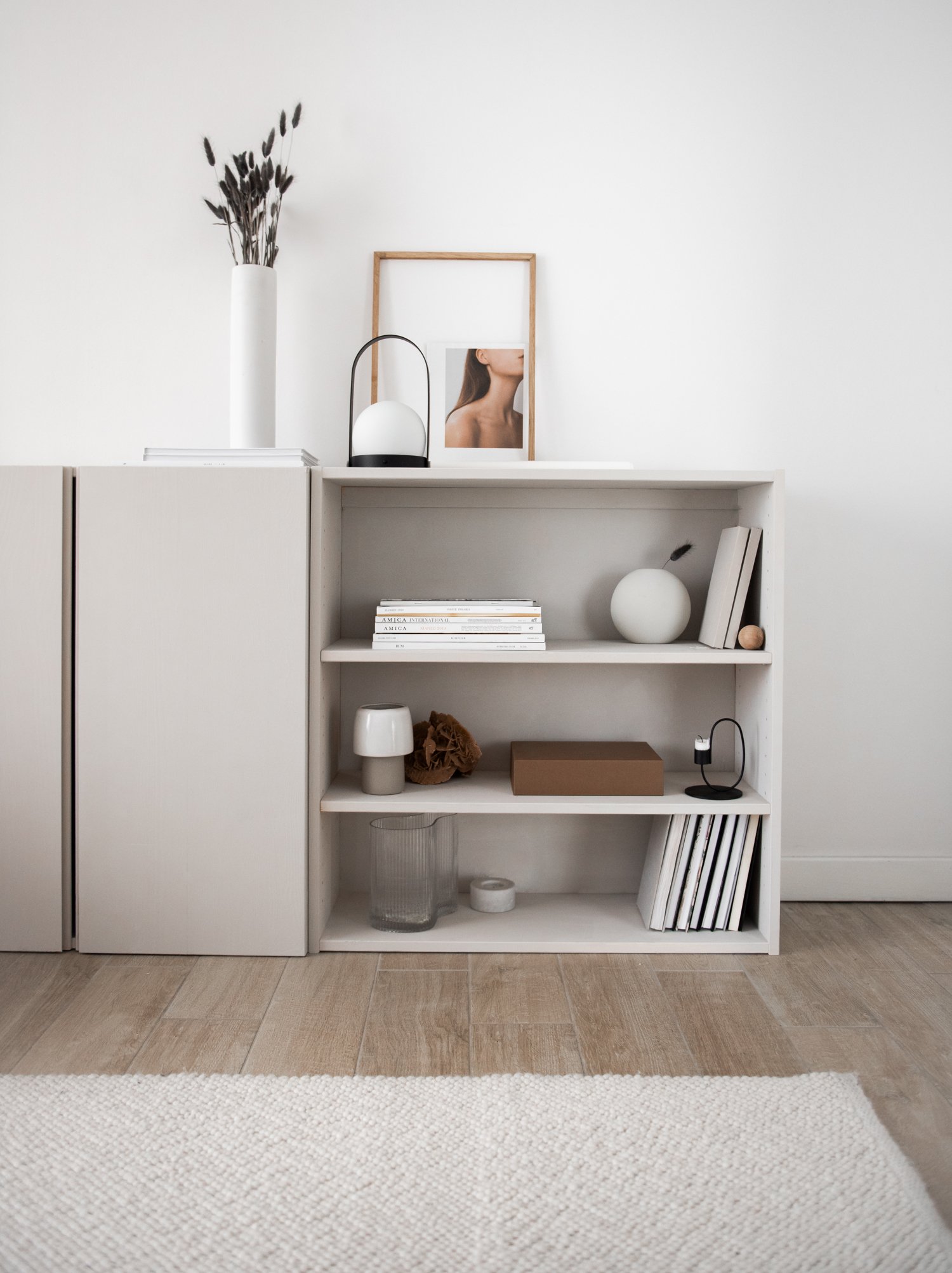 11. Cover the Ivar with golden foil
Probably the most show-stopping Ivar IKEA hack ever seen. Covering it with golden foil gives it a totally different look than the original Ivar. It creates a bold statement piece that will stand out in any room. This versatile hack is perfect for adding a touch of glam to your decor.
So which one is your favorite hack?
Renter's go-to IKEA piece
It's no surprise that tenants swear by the Ivar cabinet so much. It's so versatile, inexpensive, and practical in terms of the storage it provides, it's the piece of furniture that has it all.
---