Probably one of the most hacked IKEA pieces of all time, the Ivar cabinet has seen it all. From painting it to adding legs, it's a very versatile piece of furniture which is certainly why it's so popular. Staining the IKEA Ivar cabinet, on the other hand, might be a little less popular but it's a really good way to just enhance it a bit.
However, when you first see it in the IKEA showroom, it doesn't look like much. It's hard to believe that the result can be as stunning as what you see on Pinterest. But since it's made out of raw solid pine and in a pretty basic shape, it's an easy piece to paint or stain yourself.
Stain Ivar: Why?
Wood stain is a great option if you want to add character to your Ivar cabinet because it lets the veins of the wood show through. Moreover, darker wood has a sort of natural elegance. Staining the IKEA Ivar cabinet also gives it a kind of timeless feel.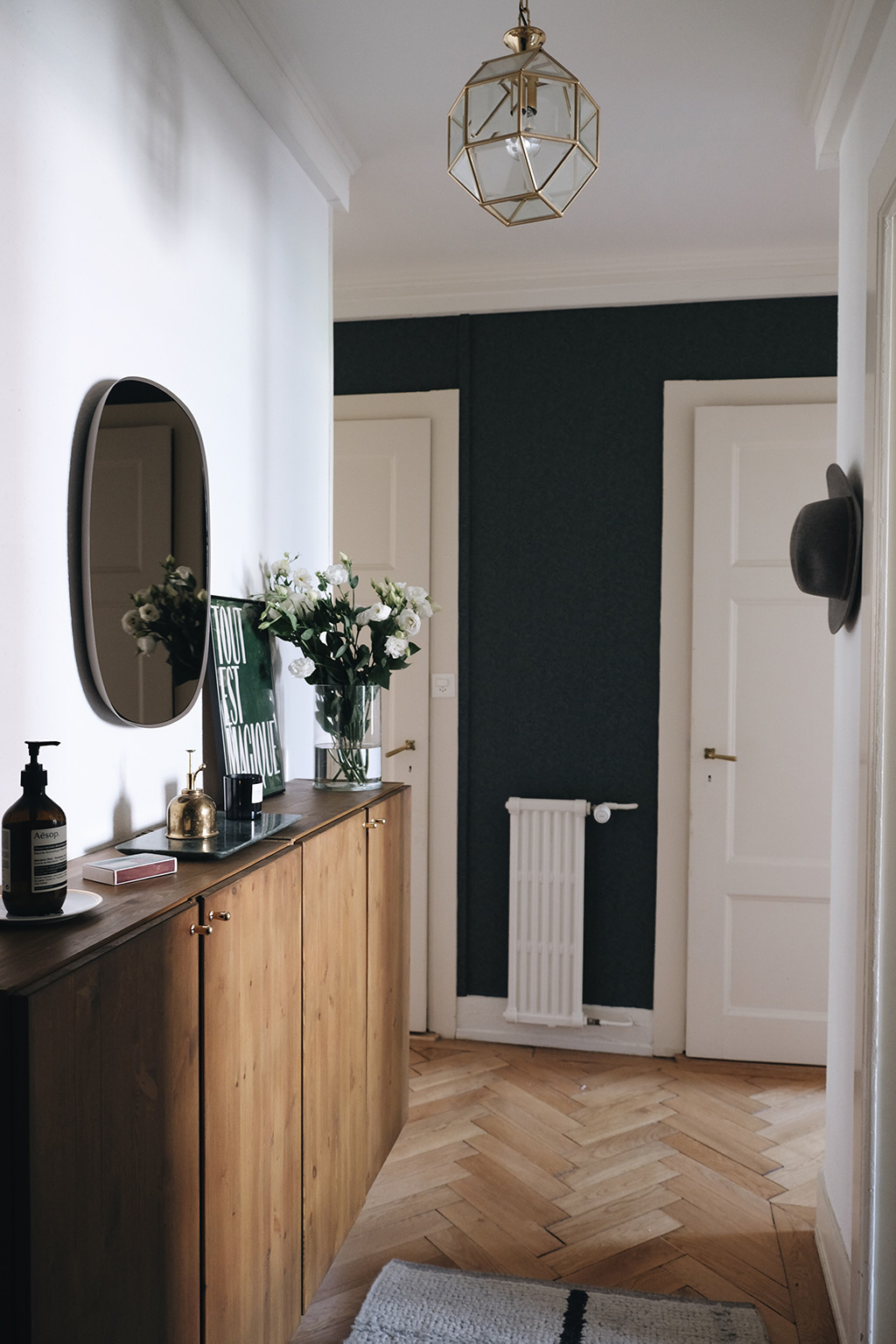 In brief:
>So do stain Ivar if you are looking for a more elegant and timeless look while keeping the warm feeling of the wood.

>Paint it if you want a more modern and sleek result.

>Leave it raw if you are looking for a Scandinavian/hygge vibe.
Which size of cabinet to choose?
You first need to choose the size of your Ivar cabinet. There art two different dimensions to choose from:
It really depends on what you are going to do with it. The narrow one is more suitable for a hallway or small spaces. While the deeper one is a better fit for larger rooms like a dining room or a living room.
I used it in my hallway as an entryway cabinet to store everything related to the entryway. I bought two pairs of cabinets as I needed more storage. Of course, you can have more than that, 3, or 4 cabinets side by side or even one above the other. There are a lot of creative ways to use the IVAR cabinet.

>>check out 8 creative ways to use Ivar cabinets<<
Once you have bought the cabinets, you are all set to start staining! So let's see how to do this:
How to stain Ivar cabinet
Tip: build your Ivar cabinet after staining it so you can really make sure every little corner is done.
1. Choose a stain
Of course, your first challenge will reside in choosing the right shade of wood stain. Stains are often named after the type of wood they are trying to mimic. So this is already a good clue. However, there is no guarantee that the result will be to your liking. I would advise testing it first on the inside of the cabinet.
N.B. I've used a stain called « chêne rustic mat » (rustic mat oak) from the brand V33. Here is a similar option from Home Depot.
But really test it first to see if it's what you had in mind.
2. lightly sand each wooden panel
Once you have chosen your stain, you can start sanding each part of the cabinet. You don't need to put a lot of effort, the idea is just to make the wood more receptive to stain. Always sand in the direction of the wood veins.
N.B. Choose a type of sandpaper with a fairly fine grit ( 220 ). As long as your sandpaper grit is between 120 -240 you should be fine.
3. Apply the first coat of wood stain on your Ivar
Once you are done, you can start applying the first coat of wood stain. I've used a synthetic bristle brush just like these perfect set but you can also use a piece of cloth or foam pad. It will depend on the type of stain you choose (ask your local DIY shop for advice). In any case, try to spread the substance well to avoid streaks.
If you are happy with the tint of the wood, you can stop there and skip to step 6.
4. Let your stain Ivar dry and lightly sand it a second time
Allow drying for about 20 min after the first application. Then repeat the sandpapering step. The idea is just to remove any residue or clumps in order to prepare the surface for the second coat.
5. Add the second coat of stain
Then you can apply a second coat of wood stain to obtain a deeper shade. Just repeat step 3. (I did two coats because one coat was too light for my taste).
---
6. build it
Once all the parts are dry, you can get down to assembling the cabinet. Don't wait too long once your cabinets are dry as wood wrapping could occur.
Tip: I would advise staining even the inside of the cabinets. I didn't do it and it kind of bugs me each time I open it. Or you can also paint the inside in a suitable color just like point 8 in this article.
7. Enjoy the result