Gift Guide for the Man in Your Life
This week, the gift guide is all about the men in your life. Lots of presents ideas for every budget.
When it comes to gifting your boyfriend / husband it's always a bit tricky. There is not much ruse possible.
A nice lipstick is not an option while a little bracelet with a cute message on it won't do it either. So these past few days I have been seeking for the perfect gifts for the men in our lives. I went on every obscure websites that pretend to have the perfect presents for men. I read a million articles on what men loves these days. I asked the men around me what make them dream and feel alive. And, after all that hard lifting, I am proud to bring you: Gift Guide for the Men in Your Life.
A Guide that has the audacity to cover every aspect of his needs. It's kind of the Graal don't you think?
I hope you'll enjoy it an find it useful. I wish you good luck with your quest for the perfect gift and hope I may have contribute to your success.
** if you are a men in search for the perfect gift for your women just head to The Gift Guide for Every Women You Love**
Gift guide under $25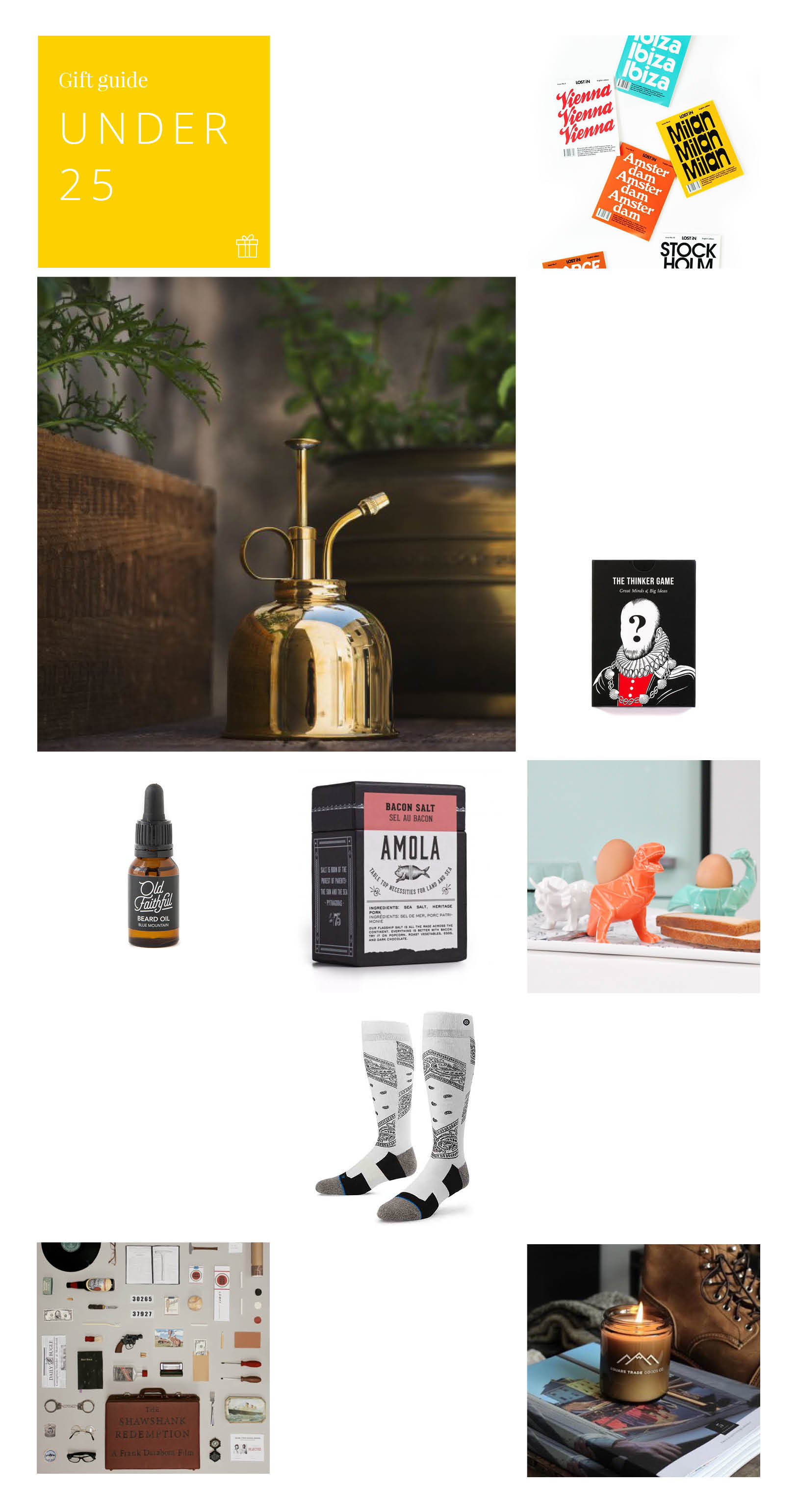 "Lost in" city guide by Lost in || €10 || City Guides curated by locals for the coolest traveller.
Brass Water Spray  by Haws|| €19.90 || For your plant lover friend who leaves in a jungalow.
The Thinker Game  by The School of Life|| £10 || A guess who game featuring all the greatest thinkers of mankind. This game will pleased most the intellectual.
Blue Mountain Organic Beard Oil by Old Faithful || £16 || 100% natural, this beard oil is perfect for the bearded
Bacon Salt  by Amola || $9.95 || Okay, This will blew away your friend who is always craving for bacon
Dinosaur Egg Cup  found on Birds on The Wire|| €12.90 || To make your brunch buddy even more in love with brunches that he already is.
Roots Fusion Snow Socks  by Stance || $17 || Cool socks for a ski fan.
Iconic Movie Product Grid Posters  by Jordan Bolton Design|| CHF 11.75 ||For all the movies lovers. There is a lot other movies to choose from.
Scented Candle  by Square Trade Goods|| $20 || Crafted in house and with natural products only. Those candles are perfect for those who need a little mountain vibes.

Gift guide under $50

Tablet Sleeve  by Rains|| €40 || Waterproof sleeves to protect your boyfriend's preferred tech.
Deanston Virgin Oak 46,3%  by Deanston|| €39.99 || Charming distillery in the Scottish tradition.
Matterhorn glasses found on The Fowndry|| £44.99 || For those who have always dreamt of conquering the Matterhorn.
36 Hours in Europe by The New York Times – Taschen || €29.99|| A collection of the popular New York Times 36 Hours feature, for the classy traveler.
Bow Tie in Tricot by Dago Bear || €35|| Those little tricot bow tie are perfect to add the final touch to a gentleman's look.
Black Knives 37g by Deejo|| €39.90 || Everyday carry knife for the handymen.
Leather Cord Wrap  by Kiko || $27|| For your techy friend who travels a lot.
Solid "Big Sur" Trail Resin Cologne  by Juniper Ridge|| $35 || Solid perfume are so convenient when travelling. This one is crafted with real plants in a beeswax base.
Biketool  by Victorinox || CHF34|| A precious tool for the "Bikegyvers".

Gift guide under $100

Nes Classic Edition by Nintendo|| $59.99 || With this one you can't go wrong, every boy from the late 80's has loved this game console.
Hook on Rope Bracelet, Silver Plated by Miansai|| $55 || It's rare to see nice bracelet for men at an affordable price. This one is definitely a perfect fit.
"Hey Handsome" Shaving Kit Bag by Owen and Fred || $67.99 || Such a fun ziplock bag to offer to your handsome boyfriend. It's water resistant and won't let any products leak on his belongings.
Custom maps by Mujumaps|| €50 || Customize a map by choosing the location, style and color. A pretty cool and unique gift.
Tin-Tie Lunch Bag by Rural Kind || £65 || lunch bag made of waxed canvas and tan brown leather.
Wool-blend Bomber Jacket by H&M || $59.99 || This jacket by H&M looks like a million bucks and will upgrade your man's look at an affordable price.
Yakima Camp Blanket by Pendleton || $98 || A  beautiful blanket that will keep him warm and stylish while camping.
Emily Ratajkowski Collectors Edition  by Imperial || $80 || Naked Emily polaroids = Ultimate gift for men.
Custom maps by Poler || $65.95 || A camera bag that keep what's inside cool. For his passion for photography but really more for his beer love.
Gift guide $100 and more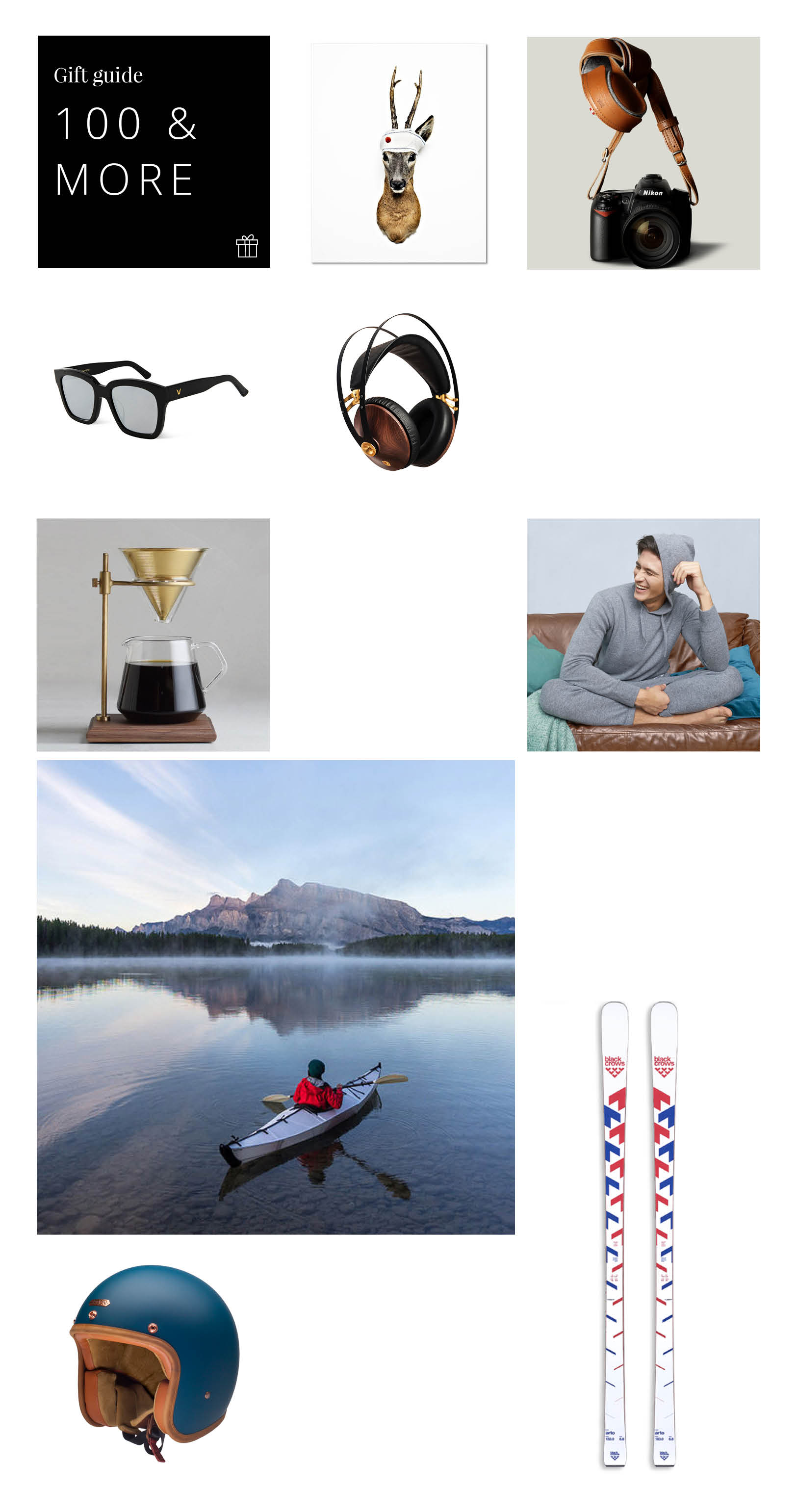 Tirage Photo "Travis" from Biutiful Drugstore || €120 || The updated version of the deer against the wall.
Hang Camera Strap from Hardgraft || €132 ||An adjustable tan leather and fine felted wool camera strap.
The Dreamer Sunglasses by Gentle Monster || $215 || This south korean brand is a gem. They design a new pair of sunny every month and are all so original and well made
99 Classics Headphones by Meze || $309 || Beautiful design but mainly perfect sound, for the pickiest of audio lovers
Brass Pour-Over Coffee Set by TRNK || $185 || For the coffee lovers, this stainless steel filter is durable and make a nice statement piece in the kitchen.
Cashmere Joggers from Grana || $149 || Wardrobe essentials, finest fabrics, honest prices and cashmere it doesn't get better than that.
Folding Kayak from Oru kayak || $1,083 || For the adventure seeker, this kayak is foldable,  going from box to boat in a few minutes.
Hedonist Teal Helmet by Hedonist|| £299 ||To ensure he always ride in style, these helmets are beautifully crafted with good quality products.
Arto Skis  from Black Crows || €749.95 ||With a little 90's look, those skis will rejoice any thrill seekers.