4 Vintage and Antique E-shops Interior Designers Swear By
Charles and Ray Eames, Le Corbusier, Hans-Agne Jakobsson, Hans J. Wegner and so on, are names we have all heard before and for a good reason. They are the creative minds behind iconic furniture pieces. We qualify them as vintage and antique nowadays. They are not easy to come by. Often imitated while remaining unmatched, finding one of these is a real hunting game.
Vintage and antique e-shops that do the heavy lifting for you
As much as I find that kind of hunt amusing, I don't have the time, patience and knowledge to really put what it takes into it. But other people do! People that are passionate about design and its history. To the delight of us all, a few of them built great websites where we can look for this rare piece we've been longing for. So here is the list of 4 e-shops with an amazing selection of vintage and antique furniture.
Pamono has almost everything you could wish for, their selection is pretty gigantic. Hopefully, they make articles and collections under certain thematic to help us see more clearly amongst their offer.
+ The super qualified team behind it.
Shipping
From: Germany
To: Europe and USA
A few pieces spotted on Pamono

At Kolectiv Design, you'll be able to shop high-quality vintage and contemporary design form private individual or professional. kolective Design will collect, authenticate the piece and send it to you. This platform was born out of the need for an online place dedicated to selling second-hand designer pieces.
+ Their "Seeking for" area where you can let people know what piece you are looking for.
Shipping
From: France
To: worldwide
A few pieces spotted on Kolectiv Design

Selency is where you go when you want to wander in a flea market but don't physically have access to one. The platform helps you directly get in touch with tons of antique and vintage dealer as well as private individuals.
+You can find vintage designer pieces but also vintage pieces that are not necessarily from famous designers. So it's possible to buy unique finds and not getting bankrupt at the same time.
Shipping
From: where the seller is (France)
To: depending on the seller
A few pieces spotted on Selency

My personal favorite, I absolutely love their selection. You can feel the personality of the Ceraudo's creators through their finds. Go there when you don't exactly know what you are looking for, you'll feel very inspired. Every piece is displayed in a way that makes it possible for you to see its potential.
+ Their amazing handpicked selection.
Shipping
From: UK
To: UK
A few pieces spotted on Ceraudo

Pin it so you won't forget it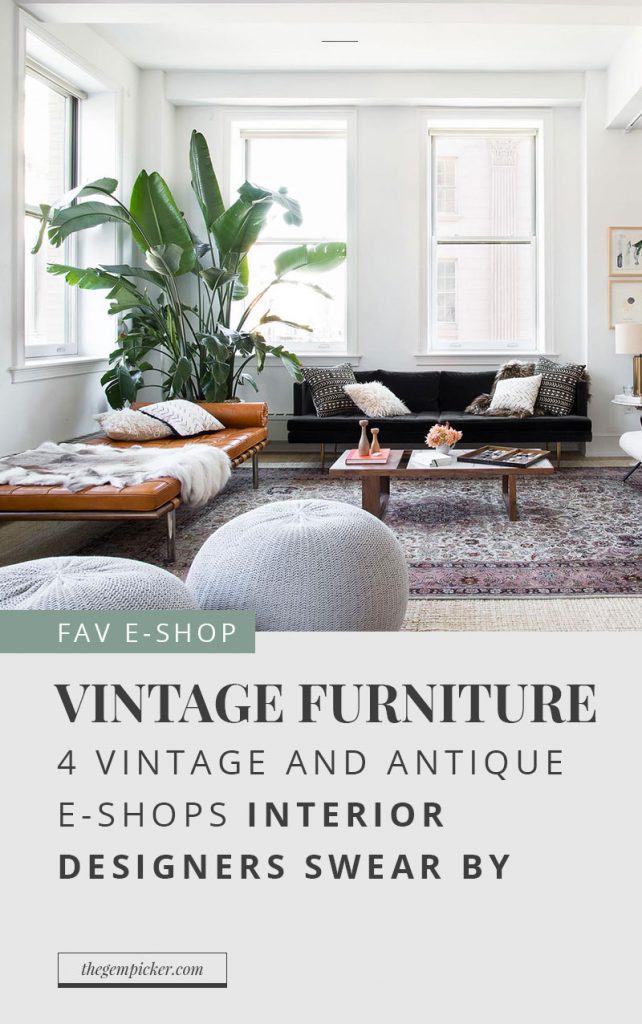 Cover picture credit: Homepolish