Meet The Makers: A French Girl Committed To Bring You Luxury Towels At A Fair Price
When I first encountered Maison Lili aka Angelie, I immediately fell for her visual universe. Her Instagram account is very inspirational and fun to follow. It's totally impregnated with this French touch we are all longing for. Angelie's luxury towels are in line with her French roots, elegant and chic. So I thought that it would be really interesting to interview her and ask about her path and how it all started. Working for brands such as Chanel or Chantal Thomas has certainly thought her meticulousness and excellence. While her move to Stockholm helped her get the kick she needed to start this company. And we thank her for that! So if you are looking for luxury towels at a fair price look no further. Those are the towels you were expecting. Oh, and by the way, they can also make exquisite poolside towels. Just saying since it's almost time to take the plane to your dream vacation.
Read on for all the details on how Angelie started this company, her inspiration and also her favourite online shopping addresses.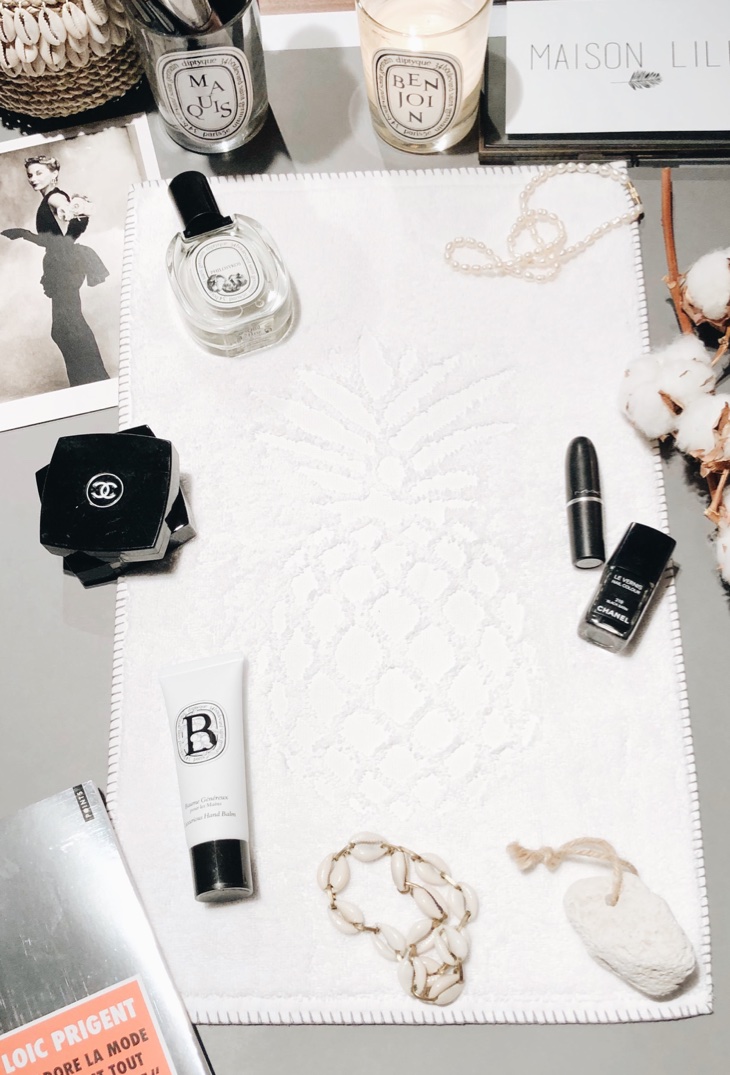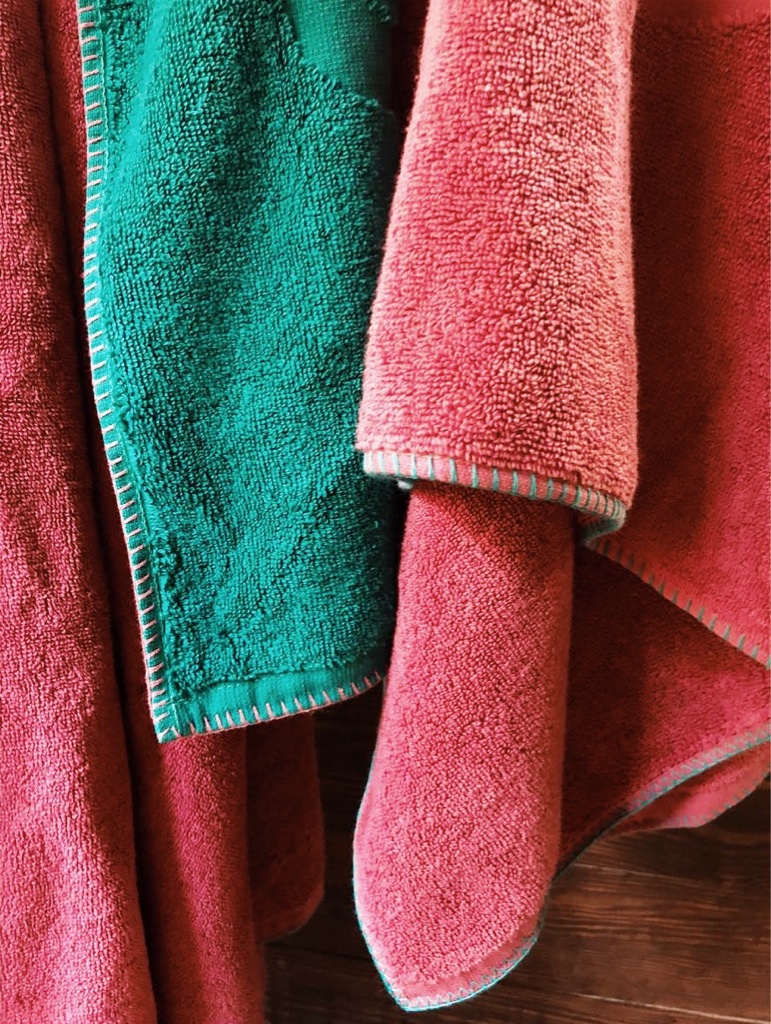 Luxury Towels At A Fair Price, Q&A with Angelie von Romberg: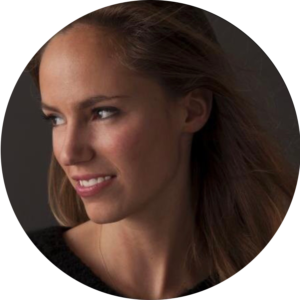 1. I've heard that you moved to Stockholm and created Maison Lili, what was the catalyst for all these bold moves?
Everything started by me falling in love with a Swedish guy. We met during the holiday in France. After a few months of back and forth between France and Sweden, I decided to move to Stockholm. It was a huge change for me. The Swedish culture is quite the opposite of the French culture! The apartment of my boyfriend was 100% Scandinavian style: all white, hyper-minimalist. I needed some colours, to feel more like home. So I started thinking how can I personalise this apartment without breaking all the walls and emptying my wallet? I always thought the bathroom is one of the most important room. It's where you start your day. You need something comfortable, happy and cosy. I wanted to create a little cocoon in my bathroom. So I started to look for nice bath linen. I couldn't find any accessible, nice and fluffy towels. So I decided to create them!
2. How did you end up making and selling luxury towels? (what were you doing before that…)
I was born and raised in Paris. So I have always been sensible to luxe and elegance. I studied fashion business at ESMOD, I worked at Chanel, Chantal Thomass and I spent 4 years as a production director in a photo studio. I was in charge of organizing fashion shooting for online shops. That was an amazing work where I met a lot of interesting people and I think this job made me resourceful and polyvalent. That really helps me in my everyday entrepreneur life.
3. What have been some of the biggest challenges you've faced since starting your own business?
The biggest challenge was to jump in the entrepreneurial life and leave the comfort of the « office » life. But when you are surrounded by people who support you, everything becomes so much easier!
Being an entrepreneur is an everyday challenge. The hardest thing is that you are never ever off and you are often alone. But the good thing is that it doesn't feel like actual work, so I don't care if I have to work during weekend and late at night. I love dealing with the unknown, it's exciting and so far everything turned out pretty well! Succeeding and passing every challenge that presents to me is the biggest satisfaction I can get.
4. Where and how are made your towels?
My towels Maison Lili are made in Europe, in Portugal. It took me a lot of time to find the good maker. I wanted something special: « Low-Twist » cotton. Low twist cotton is made with the longest and strongest fibres. The yarn is actually untwisted, this action creates more air and space between the fibres. More specifically the towels are heavier, softer and considerably fluffier than classic towels. They are also much more absorbent than normal towels.
All Maison Lili's towels are made in 700G/m2 which is quite exceptional when you compare with other brands. This is basically how you can judge the quality of a towel. So they are "luxueuse" and elegant thanks to the discrete stitching all around them.
>15 Items That Will Make Your Bedroom Look Like A Paris Boutique Hotel
5. When it comes to designing your towels, what is your main source(s) of inspiration?
For my first collection, I focused on a "Palm Spring" kind of mood. It's colourful, sunny and happy. It makes you in a good mood. This is exactly the effect I am looking for when creating my towels.
In general, I am totally addicted to flea markets. I think it's such a good place for inspiration. One of my favourites is « Aux Puces », it's close to Paris and during weekends there is such a nice vibe. Mixing different styles, colours, materials (In decoration as well as clothes) is the best, I also find a lot of inspiration on Instagram and Pinterest. I think those social media gives a lot of opportunities as a brand in addition to inspiration. 
My Instagram account has almost only inspirational pictures.
6. How would you describe your universe and mission?
Maison Lili is a happy mood brand. With just a touch of colour, a lovely drawing and some fluffiness, I try to put a smile on people's face every morning.
The quality is really exceptional, and I work hard to keep the prices fair. 
Maison Lili's luxury towels give the opportunity to change really easily the ambience of a bathroom just by switching the bath linen. It's an easy way to reinvent your bathroom. You can also express your creativity and mix and match the towels with stitching colours. For example the white Ananas with pink stitching mixed with pink Flamingo with white stitching.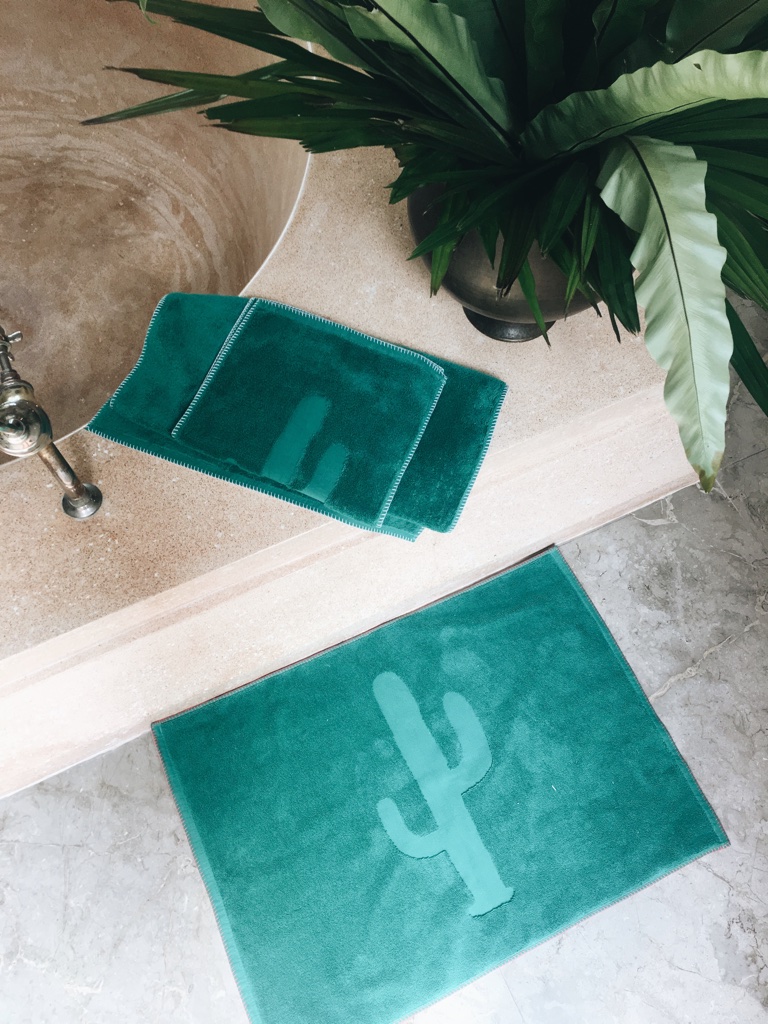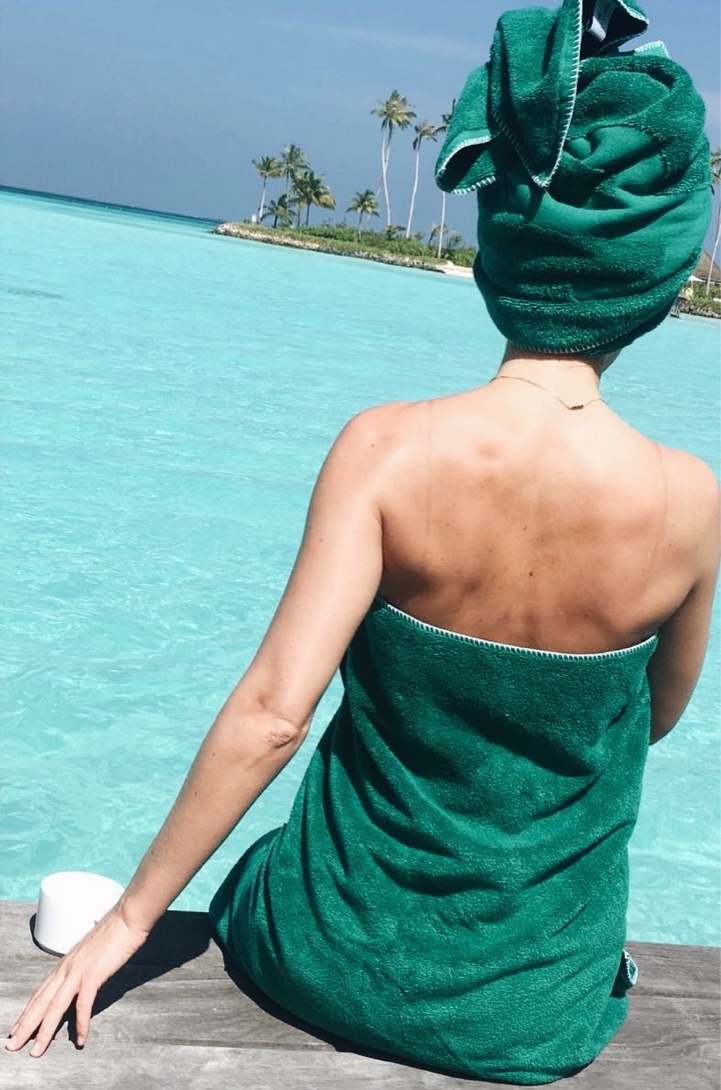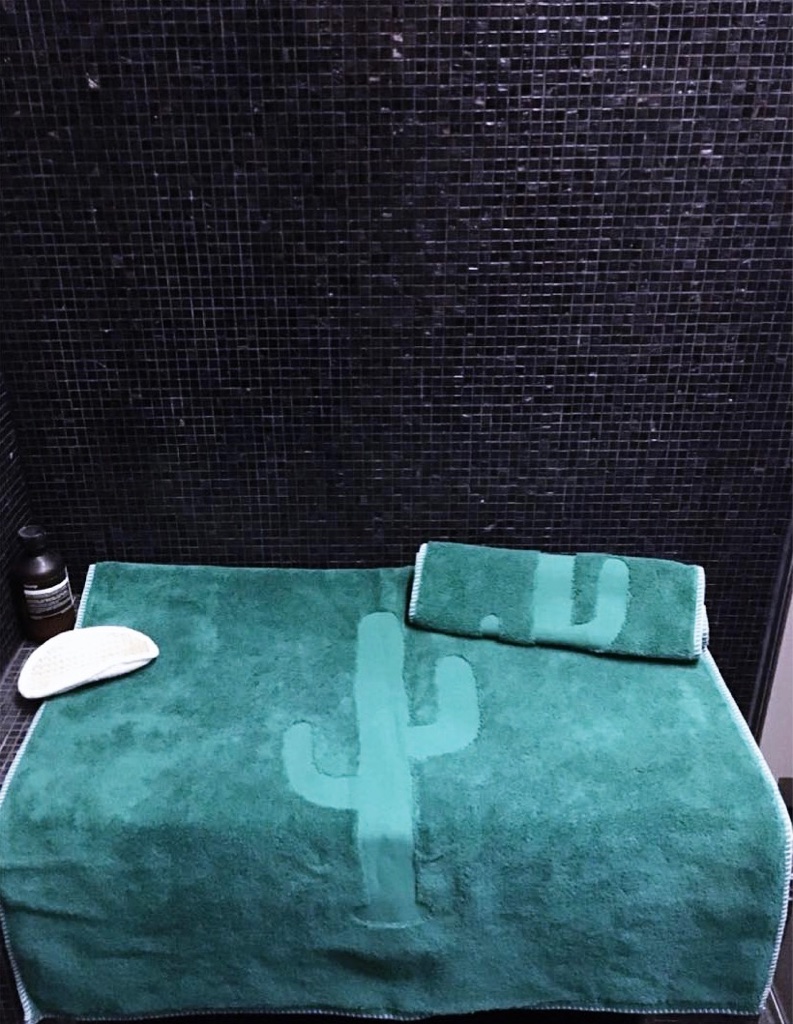 Angelie's online finds
> Download our online shopping guide for the home with +40 of our fav addresses to shop online
7. What's your favourite online shop and why?
For fashion I love Vestaire Collective, I sell and buy a lot of things. I don't really like to go shopping in Stockholm so I became a big online shopper! The Outnet is also one of my favourite (I love good deals!).
And Net à porter just for « le bonheur des yeux » as we say in French.
For decoration, I love brocantelab.com and fleux.com, I love the happy mood of those shops same as Maison Lili.
And of course eBay and leboncoin.fr (doesn't work in Stockholm so I found the Swedish equivalent: www.blocket.se ) where I can find treasures like old frames with fashion drawings, glasses, ancient mirror…
> 4 Vintage and Antique E-shops Interior Designers Swear By
8. What is (are) your favourite Instagram account(s) to follow?
I have so many ! @design_hunger for their colour palette,
@les_petits_frenchies to keep in touch with my French roots. @grandnumero to travel. @demodeparis for decoration inspiration. @jeanphilippepiterphotography because I dream to buy a picture from him. @c_l_o for inspirational pictures in general.
9. What's your most treasured online shopping find?
An old foot lamp with a lovely pink lampshade.
> Download our online shopping guide for the home with +40 of our fav addresses to shop online
Sneak peek into Maison Lili's visual universe  
[envira-gallery id="3292″]
For more follow them on Instagram @maison_lili