The kitchen is always a tricky part when looking at rentals. It's often outdated, in bad shape or even nonexistent. Considering that it's one of the rooms where we spent the most time, it can be a real deal-breaker. But not all hope is lost. There is plenty of ways to spruce up your kitchen rental without spending a fortune and avoid angering your landlord. I've been there myself, and I'm so happy I embrace this journey. Although we had to build a kitchen from scratch (almost), a lot of the tips I gathered here will be useful to anyone with an old kitchen in a rental.
There are some tips in here I plan on doing, some other I've done and some I cannot do but found it was clever ideas and might be helpful to you. Let's see what we have:

1. Paint Kitchen Cabinet
Kitchen cabinets that look dirty and faded are really not the end of the world. You only need to repaint it. It's impressive what a good coat of paint can do to kitchen cabinets. We painted ours in a beautiful forest green color and well it just changed the face of the kitchen. You don't need to go with a color that bold but just make sure it's working with the floor or the part of the kitchen that are non-negotiable.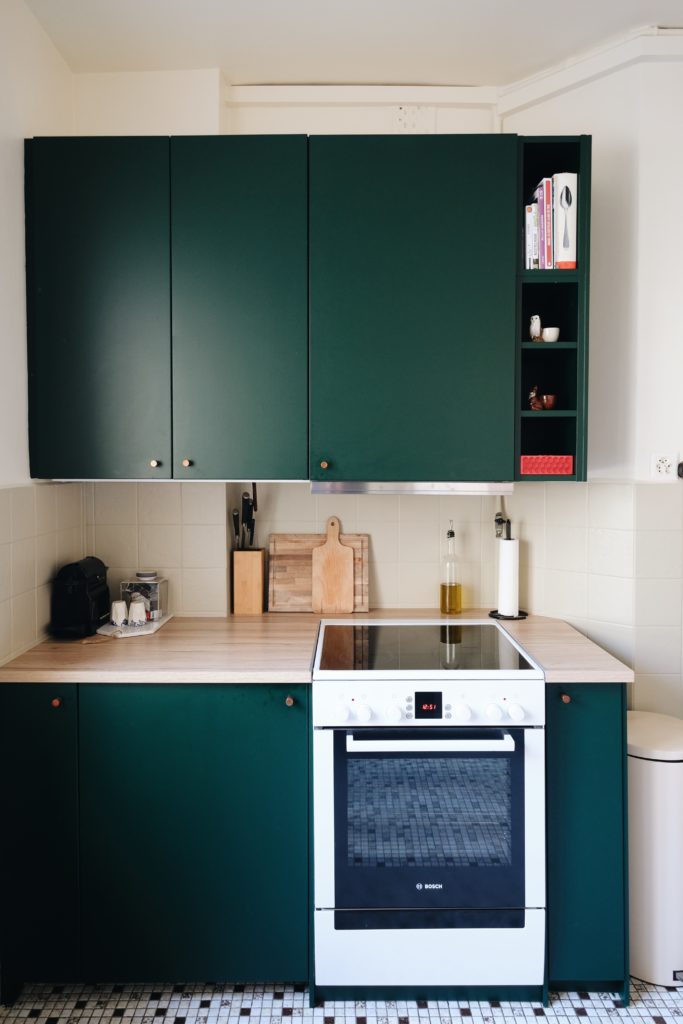 2. Change the handles of the cabinets
Changing the handles of the cabinets is something that is so easy and cheap and that can drastically enhance the kitchen. Pair it with a fresh coat of paint for an even more stunning effect. It's also very easy to find some good looking handles online or in any home decor shops. Ikea has some really nice options for instance. All in all a very cost-effective solution.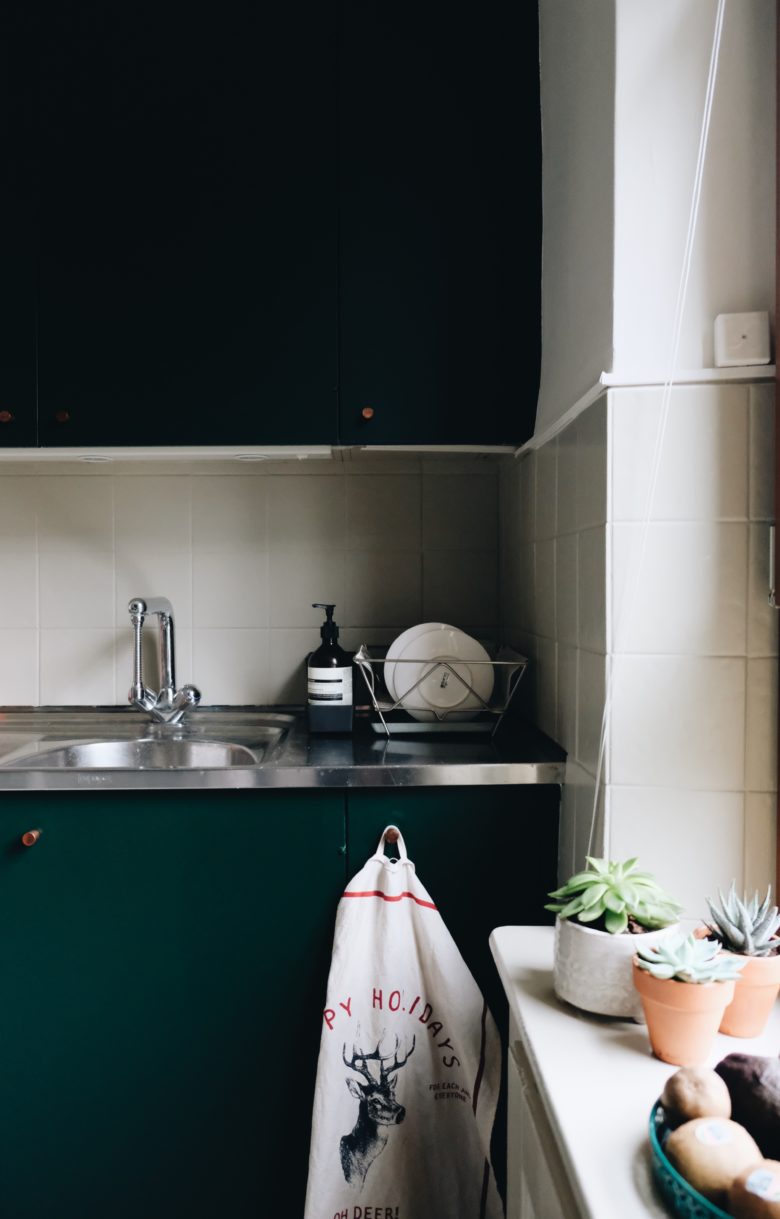 3. Cover the floor
An ugly kitchen floor can be really hard to deal with. Sometimes you have no other option than just hiding it because well it's too ugly… That's what we did in our previous apartment because it was very hard to build something coherent around the floor. We had a vinyl tile sticker that really upgraded the kitchen. Just make sure that everything work together.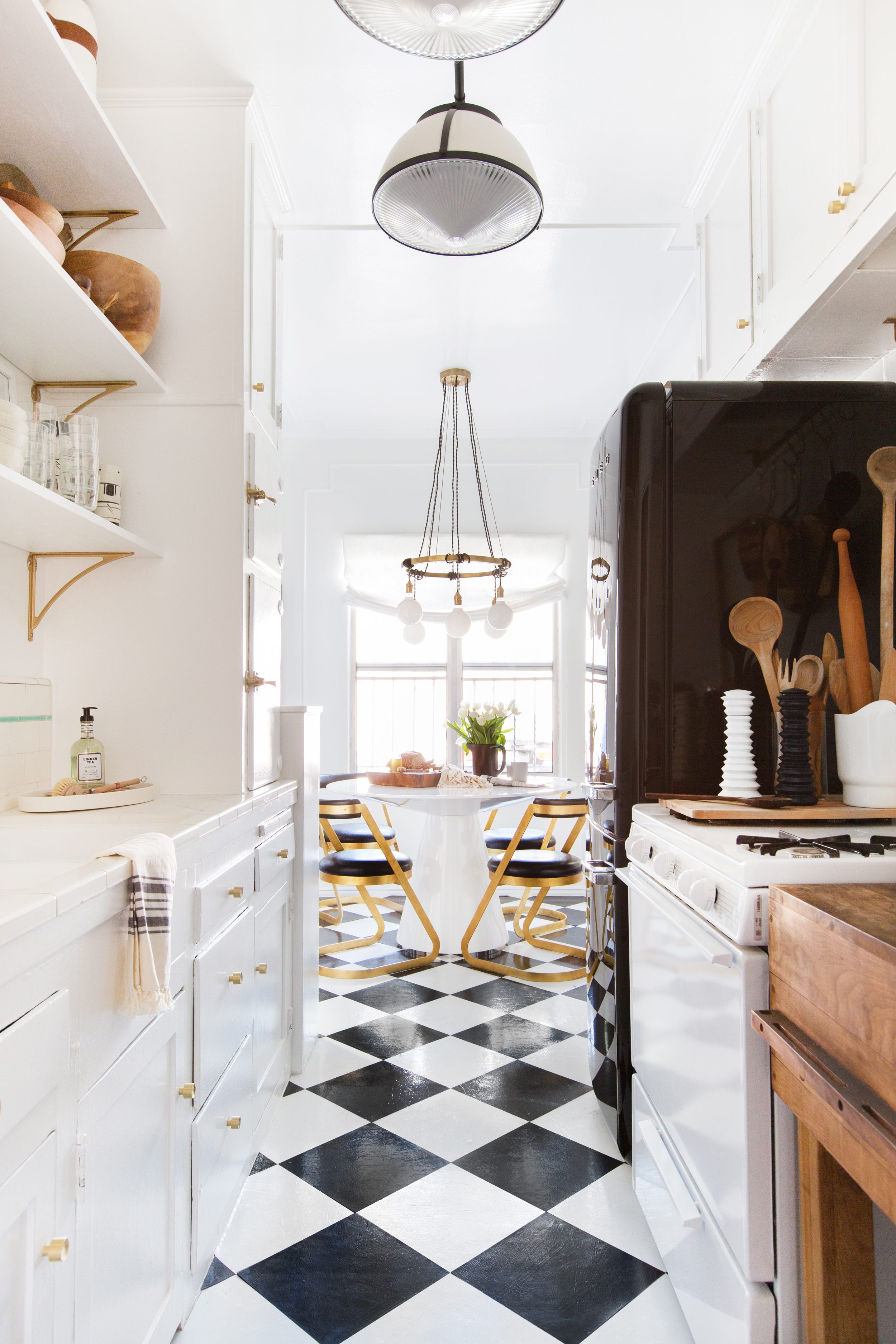 4. Stick removable backsplash tiles
A backsplash is a part that can really ruin the overall look of a kitchen. But nowadays, there is plenty of solutions to hide those really ugly backsplashes. If you've ever dreamt of subway tiles, you can have it thanks to these removable backsplashes. Ikea has a brass one that could really make a statement. I was actually thinking of taking one from Leroy Merlin that imitate copper for my kitchen.

5. Disguise your fridge
A fridge is rarely a piece we like to show off. This is the reason why we hide it behind a door cabinet when building a kitchen. But doing this in a rental is not always possible always. So if you don't have the money to invest in a SMEG fridge, you could always disguise your fridge. Painting it black and maybe adding shiny handles to it can make a very big difference. Exactly what Juniper home did with theirs. Check out the picture below!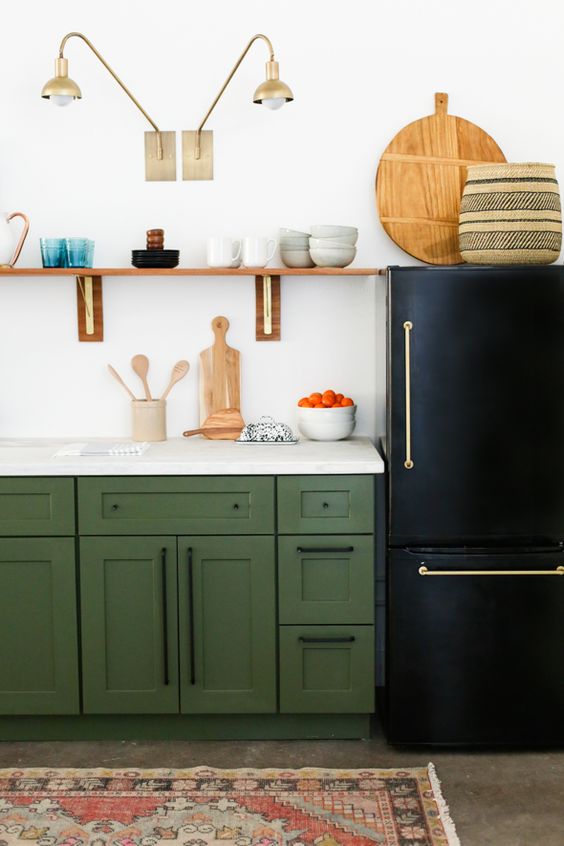 6. Adding led strip lights
Another issue you can face in kitchen rental is the lack of proper light. There is almost always an ugly pendant light fixture in the middle of the room but that's it. Adding strip lights can not only help you see clearly when cooking but also make the kitchen much more welcoming and cozy at night. Ikea has some good solution for that, and Galaxus has a very wide range of choice in the led strips department as well.

7. Transform your radiator into shelves
A tip that I have used many times. This one never gets old. A radiator is lost space, but by adding a little shelf just above it, you can turn it into a little design nook. Displaying a few of your favorite items to decorate the room.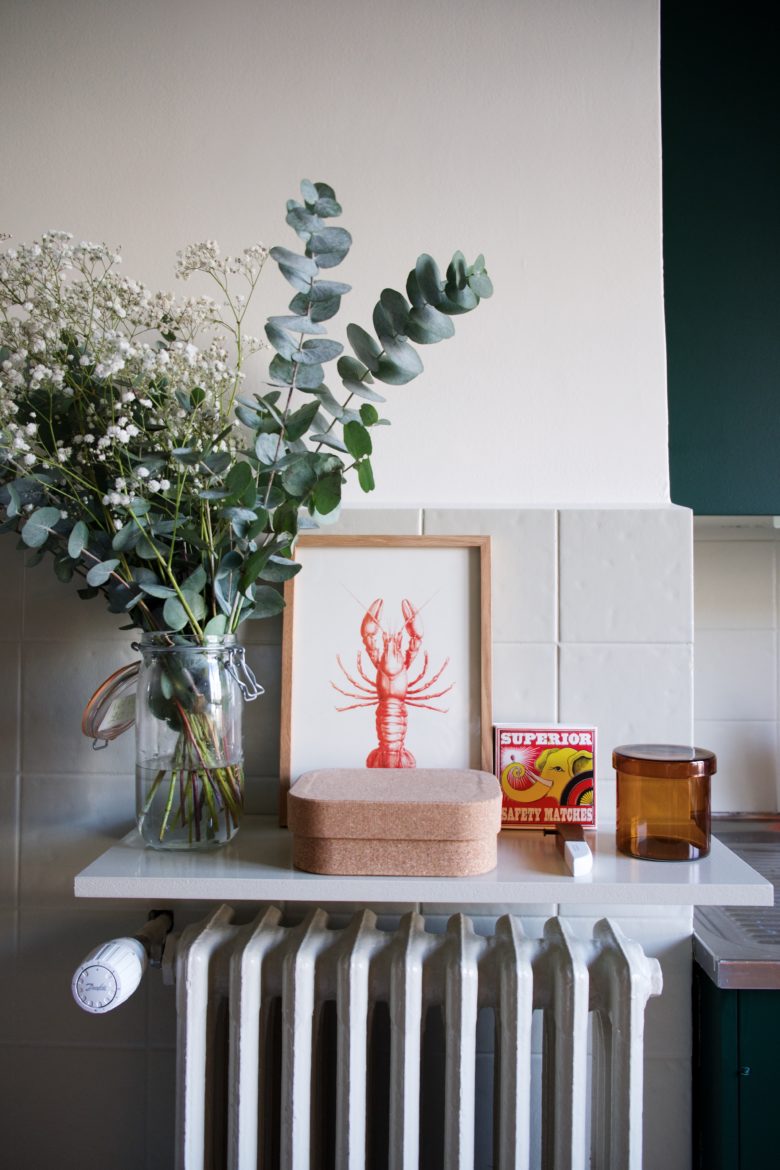 8. Hang plates on the wall
This one is really up to your taste. But by adding a thrifted plate collection to a wall you can make your kitchen rental feels more authentic and decorated with care. Plus plates on walls make a real statement and tell a story.

9. Add blinds to your kitchen window
Adding blinds to a kitchen window allows to warm things up a bit even if you never close them. I actually happen to have linen blinds that were handmade by the precedent occupant and they looked just great. A good option is also bamboo blinds, they'll make the room feel cozier.

10. Display your kitchen utensils
This one is both practical and good looking. Having your knives and utensils within reach can really save you some time and energy while cooking. You can either hang them (check out Ferm Living's new collection for a great option) or also buy a magnetic wall mounted knives block.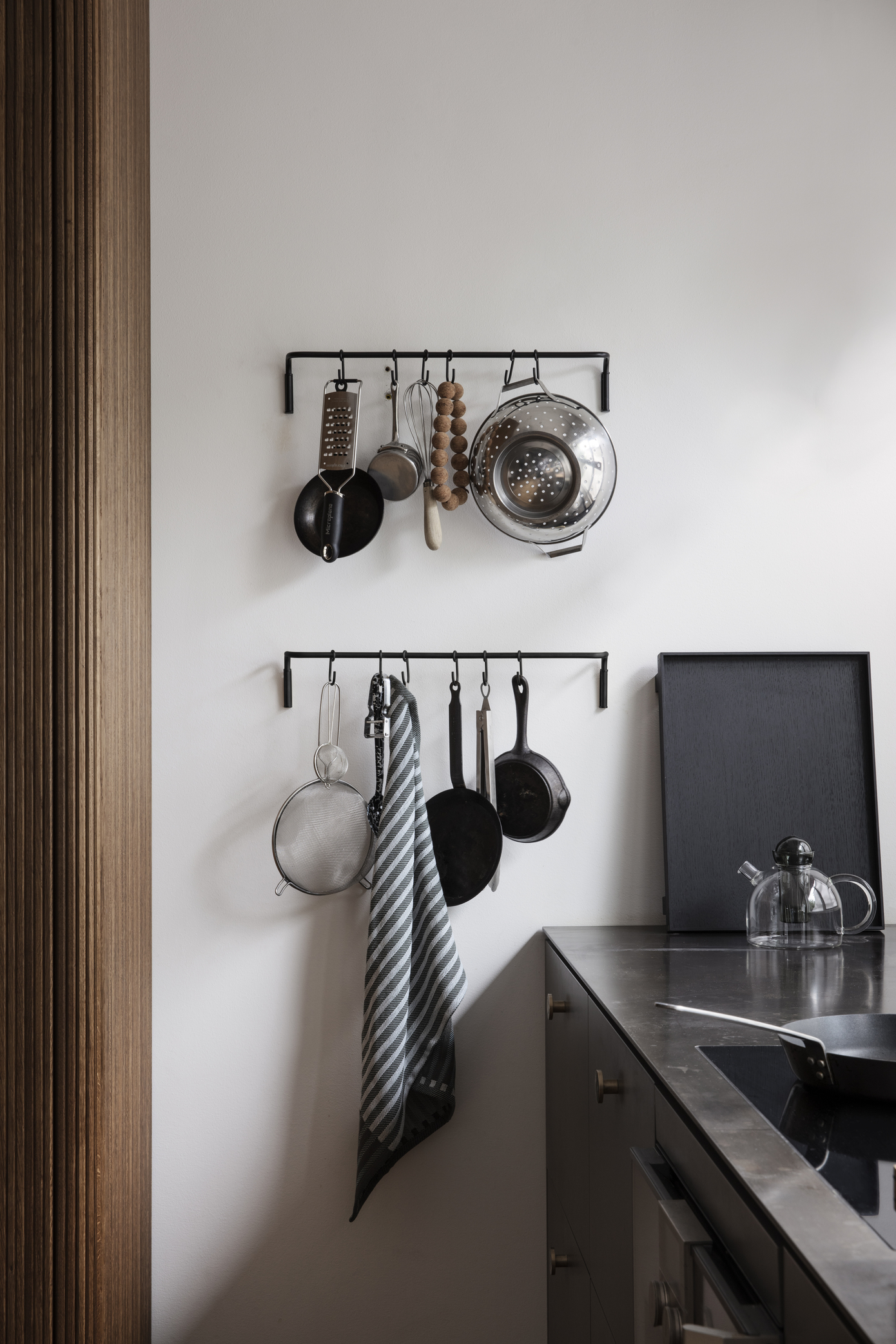 11. Switch bad lighting fixtures
It's easy to find beautiful and modern luminaire nowadays. So changing the old and outdated lighting fixtures can be a very quick and cheap fix. If you know a bit about electricity it can be done pretty quickly. Otherwise, any electrician can do it for you.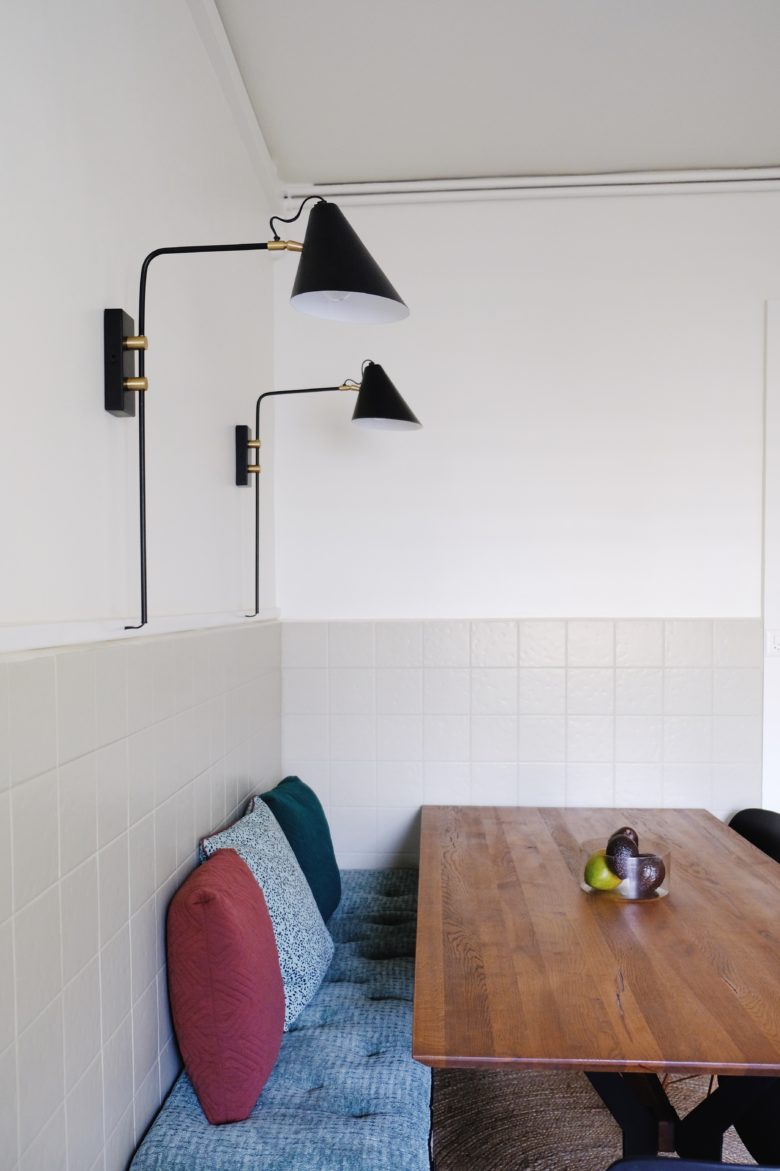 If you feel inspired by all these kitchen rental improvements, feel free to download my guide to the best online shops for home decor. You'll find all my favorite resources to shop for the home online.