As I have recently launched my online interior design services (e-design services) I thought that it could be a good opportunity to explain a little bit more about it and what it entails.
Online Interior Design is quite widespread in Anglo-Saxon countries but less common in Europe. So what does it consist of? How does it work? And what are its advantages? Questions that I will answer in this article. But first, let's see why and how it has emerged.
Nowadays, more and more professional sectors are subject to uberization. Sometimes it is a good thing, sometimes it is a bad thing, but all in all, it seems quite inevitable. The advent of new technologies has allowed us to automate some tasks, facilitate others, and generally save precious time. That's exactly what online interior design is about.
The ambition of online interior design is: to help you furnish and decorate your interior so that it is functional and to your liking while remaining affordable. So how does it differ from a more classic interior design service? Let me walk you through.
These days, you can find and order anything and everything online and have it delivered directly to your front door. Gone are the days when you had to go through a physical reseller to get a certain table. Or go through an interior designer to get in touch with artisans, producers, brands, etc. Now if you're a bit resourceful, you can find it all online. That said, being able to access everything online does not guarantee you a cohesive and functional interior (I cannot stress that enough). Far from it. That's why interior designers (online or offline) will always be here to help you out. Not everyone has the time, the patience, or the motivation to tackle the decor of their home. But everybody wants a home where they feel good and that they can be proud of.
Online Interior Design for whom?
E-design is addressed to people that need a little help to get down to decorating their homes but that are willing to do the shopping and installation work by themselves. People who don't have a never-ending budget and are looking for smart and affordable solutions. Typically if you ask yourself the type of questions that follows, you might be a good candidate for online interior design:
I want to update my apartment, but need simple solutions with a wow-effect
I just moved and need to feel at home quickly.
There is something wrong with my bedroom but cannot pinpoint it.
I have my key pieces but don't know how to pull it all together.
I need to furnish my apartment on a realistic budget.
In short online interior design is for people that want to upgrade their interior but not spend too much on work they could do themselves. And that's why e-design works so well because you pay only for what you need. AKA a vision of what your room could look like through mood boards, floorplans, blueprints that will guide you through the entire process, and a shopping list.
A note for tenants
As a tenant, it seems kind of crazy to go to an interior designer to help you redecorate your rental, doesn't it? We all seem to think that hiring an interior designer is reserved for people that have bought a home. But this is no longer the case. More and more people are tenants their whole life and this should never prevent them from creating a home sweet home. As a tenant myself, I like to lead by example and often share my decoration projects here, and on Instagram.
I've noticed that tenants often feel like they cannot do anything in their rental. Yet, there is plenty of creative ways to upgrade a rental that won't lead you to lose your deposit. So if you are a tenant rest assured that this shouldn't block you in your endeavor of making a home. On the contrary, this e-design service could be just what you need! There are tons of temporary solutions to customized a rented apartment and tons of affordable and amazing furniture.
The benefits of online interior design
Cost
The most flagrant benefit of e-design is the cost. Classic Interior design can be expensive. Some interior designers won't even consider working with you if your budget is not of a certain amount. And that's understandable, often they have a lot of meetings and need to follow closely the construction work and that takes time and time is money. It's not the case with e-designers. We save time by letting you handle certain easy tasks such as measuring your room or unpacking a lamp. (If you are willing to pay for such tasks, e-design is definitely not for you). This way we get to spend all our paid-time on what you hired us for: making your room look all functional and beautiful.
Flexibility
The second advantage of online interior design is certainly flexibility. As long as you have internet access and Skype/zoom/WhatsApp, we can connect and start decorating. Flexibility also entails that location is not a problem at all. You can be anywhere in the world and I could be a thousand kilometers away from you but we still could start working together tomorrow.

What's also very nice with e-design, is that you can take your time to actually implement the blueprint you'll receive. If you need to think a little bit more about whether your space really needs a rug, so be it. Just wait and live in the space for a while and decide afterward. You have the last choice. Nobody will pressure you to buy this or that, because, in the end, it's you that order the pieces of your decor.
New skills
As crazy as it may seem you might also learn some new skills along the way. For instance, building a little shelf yourself, painting old furniture, or creating a gallery wall. These are all actions an online interior designer would walk you through depending on the project. You could also have it done by a professional if you don't have the time to do it yourself. It's totally up to you.
How does e-design work? What's the step by step process?
I'm going to describe my method here, and how I proceed with my clients. Of course, there are as many ways to do e-design as there are designers. But, I'm pretty sure that in general, we approach this in similar ways.
STEP 1: Choose the adequate e-design service
On my e-design services page, I offer two ways of collaborating with you. The design advice or the Room Refresh package, let's see what's the difference :
Design advice
Design Advice is an e-design service for people who are confident in making most design decisions themselves but still need a little extra guidance. Whether you have a color dilemma or are stuck with the layout of a room, I'll help you come up with the most suitable solution. Because I find that sometimes all you need is a fresh pair of eyes to be able to unblock a situation. Basically, it's a "pick my brain" kind of service. It's right for people that have a precise issue they need help with.
Room refresh
The Room refresh formula is perfect for people who need help to design an entire room and don't know where to start. I'll guide you through finding the initial idea, laying out the floor plan, sourcing furniture, and styling items. You just have to pick a room, set your budget, and tell me about your Pinterest worthy dreams I'll help you find stylish solutions that fit your taste and budget.
Step 2: Fill the contact form
Once you have chosen the right service for your need, fill the contact form and questionnaire and let me know everything I should know about your space or issue. This step is really for me to get familiar with your project and see if I am an appropriate fit for your project. In case I feel like I won't be a good fit (maybe because the project demands real construction work or else), I could always redirect you. So don't be shy, and fill that form!
After receiving your demand, I'll get in touch within two business days and fix a conference call or a simple call at your convenience.
What follows is in the case you'd choose my Room Refresh service. I'll get into more details about the design advice service in another post. Meanwhile, feel free to contact me if you want more information on this service.
The whole process often takes place over the course of one month. It can last a little longer depending on the projects. But basically this is how it goes:
Step 3: Initial phone call – week 1
During this call, we'll tackle every detail about your project so once we are over we can be sure we are on the same page.
We'll discuss your budget, I know it's uncomfortable but it's necessary. I'll also help you set one if you really don't have an idea. Then we'll establish a rough time frame of what you can expect to get when. Finally, I'll tell you how much I'm charging for the entire project. For my design-advice service, it's a fixed price of CHF 180 because it's the same amount of work regardless of the issue. For the room refresh service, my price starts at CHF 400. This amount would correspond to a medium-sized bedroom (12m2). It then goes up depending on the size of your room, and its complexity. For example, kitchens, if you start from scratch, are often trickier and demand more work than bedrooms.
Step 4: Follow-up email + Invoice – week 1
After our phone call, I'll send you a follow-up email with my invoice and all the things I need from you:
A rough floor plan (a simple drawing is perfect, see below) with the length of each wall as well as markings for every outlet, plumbing fixture, and lighting fixtures. Don't forget to mention the height of the room as it is crucial information.
Pictures of every part of your room. They don't need to be beautiful pictures but make sure there is enough lighting and that you cover every part of the room. A good trick is to take one picture from every corner of the room.
Photos of any existing furniture you want to include in the design and their dimensions (length, width, and height).
A list of all the things you really hate. Maybe you don't like purple or brass accents, this is useful information so let me know.
The payment of a deposit of half of the fixed price. You can send me a receipt, a screenshot or else, I just need the proof that you've paid in order to start working on your project. the balance is due right before I hand you the final files).
A link to your Pinterest board (in case that's not already done via the questionnaire) to help me pinpoint your style.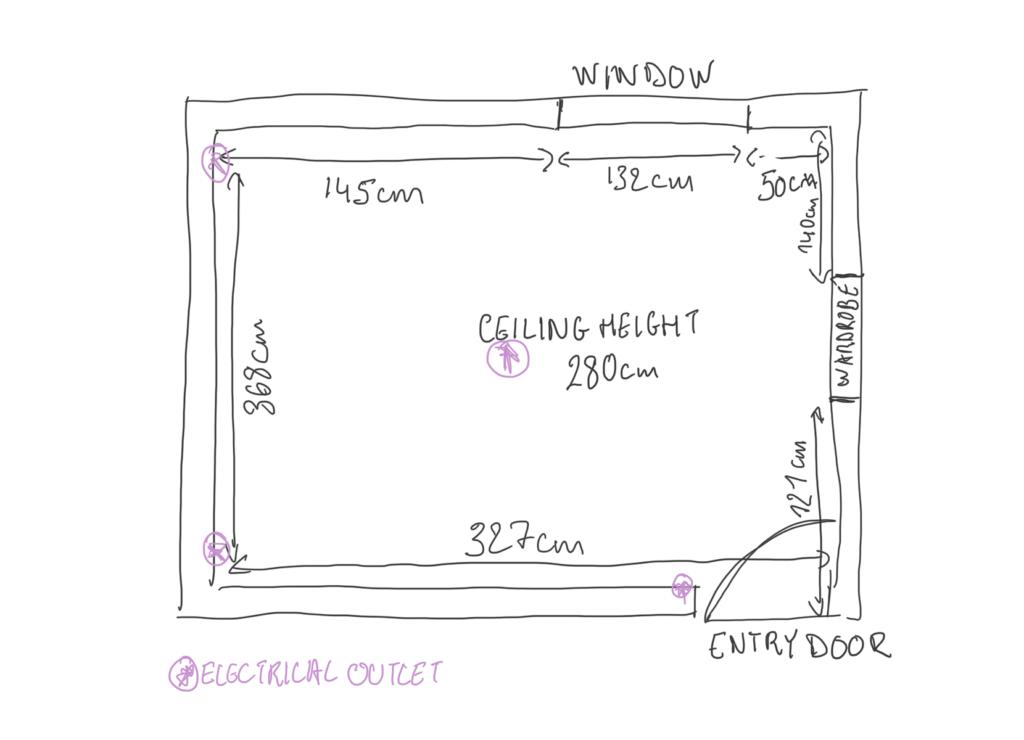 Step 5: Initial concept board and color story (presentation via conference call) – week 2
Once I have received all this, I'll get to work and create the mood and ambiance for your room. When I'm happy with the result, we'll set up a conference call where I'll share my screen with you so you can see the concept board, the color palette, and the materials. We'll discuss it and see if there are any adjustments to be made. I'll then send you the concept board after our meeting for future reference. This board will then be our guide for the entire project. It will help us address any doubt or choice we need to make.
Step 6: Room Design / Sourcing ( presentation via conference call) – week 3
Once we are on the same page with the concept board, I'll move forward with designing the room sourcing the exact products. We'll meet again through a conf call so I can show you what it looks like. And we'll discuss every part of it to make sure you are loving it all!
Step 7: Floor plan + action plan – week 3
Once you are happy with all the furniture and items (you can ask up to two new options for each piece if necessary) I'll work on the floor plan showing you the location of all the furniture so you know exactly where to put what. I'll also put together the shopping list in the form of a Pinterest board for ease of use as well as a chart.
Step 8: Finalized design presentation + shopping list – week 4
Once the design is complete, we meet for one last conference call. I'll share my screen with you so we can discuss all the last details. This call is the occasion for you to ask me all your questions. Once you feel confident about the project, you only need to pay the balance in order for me to send your files and the step by step guide.
9.Follow-up
I'm always curious to see the progress you make on your project, so feel free to send me pictures and reviews. You can always contact me if you are having doubts while putting everything in place.
A little disclaimer
The furniture I source is all ready to purchase pieces. So it is possible that between the time I send you the shopping list and the time you buy the pieces, the products could be no longer available. If it's less than two months after our last meeting you can send me an email and I'll source for you an alternative option.
Vintage and antique pieces
I have great online addresses where to find unique and rare vintage pieces so I can propose some if you'd like. But keep in mind that often you need to be really quick with vintage pieces as they don't stay on the market very long.