Living in a small space can be challenging. Even more so when the living space is one and the same space. And it seems that today, new buildings are increasingly designed as open spaces. I'm not saying that having many small rooms is easier to furnish than an open-plan living area but it can be quite unsettling when you're not used to it.
I recently stumbled upon this two-room apartment with a total surface area of 43m2. Definitely a small space but with a spacious open-plan living area. they had to fit the kitchen, the dining room, and the living room in there and they totally nailed it. Each space is well defined and the whole is well-balanced. Let's see what makes the difference

Define areas with visual cues
Despite the small size of the apartment, the living space seems spacious and bright. It has been divided into 3 parts, the kitchen, the dining room, and the living room. The kitchen is camouflaged by the color sage green so it doesn't eat much of the space. Painting your kitchen cabinets the same color as your wall is a good trick to give a sense of continuity. It's almost like the kitchen is hidden in the wall.
Then there is the dining room that visually cuts the space in two. The dining table acts as a sort of separator between the living room and the kitchen. The table is put against a narrow detachment in the wall on which a mirror was glued. Mirrors are well known for giving an impression of grandeur. Especially mirrors from floor to ceiling, like this one, since they reflect even more light and space.
As for the living room, the rug is definitely the strongest visual cue. Then there is the wall detachment that accentuates the separation as said just above.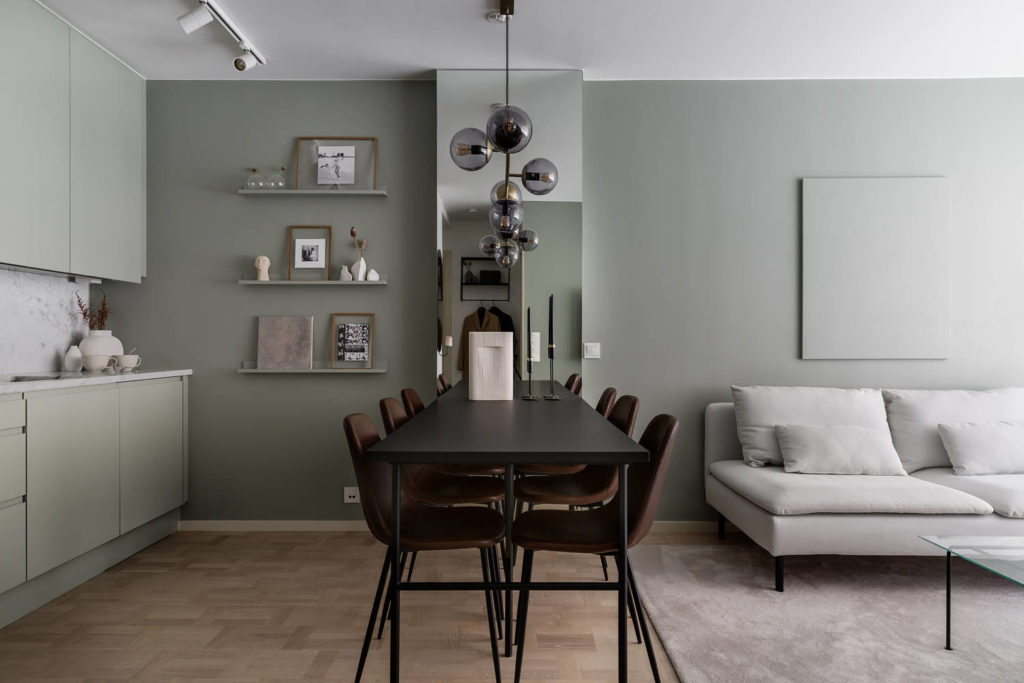 Creating harmony between spaces
Another important point is to create coherence between the 3 spaces. The fact that the walls are all painted in this sage green, as opposed to being white, really gives a sense of cohesiveness.

here, the color palette is well defined and thus helps to create a common theme between these three spaces. Picking a cohesive color palette is one of the most important things when designing a room. (Find out how to pick the right color palette for your interior here). It will create patterns and hence help your eye "read the room".
And last but not least, in a small space keeping the number of items to a relative minimum is key. As you have less room, it seems pretty obvious that you cannot accumulate furniture and decorative items. So you need to act like a museum curator and make sure you are not cluttering the space. Here, they have been particularly successful with that aspect. Check out the details below: