Road trips are a great way of traveling. It allows you to take your time and go with the flow of the moment. That's often how you discover the most random places and how you make the most unforgettable memories. But even though it's exciting to go on a road trip with no goal, I find that when you have limited time (less than 2 weeks) it's better to plan a little bit ahead. So let's see how I planed for our road trip in Italy.
The plan for our road trip in Italy
We had 9 days to spend in Italy so it was out of the question to go too far south. We knew we had to stay in the upper half of the country. In this post-pandemic context, we thought of Cinque Terre and Florence as these are two highly touristic places ordinarily. We were hoping to see these places like they were 30 years ago. We started from there to build the rest of the trip.
N.B. When I plan for a trip, I always try to find the right balance between culture and lifestyle. But, as I am more of an epicurean than a culture and history nerd, you'll probably find below more lifestyle addresses than cultural finds.

Our road trip in Italy itinerary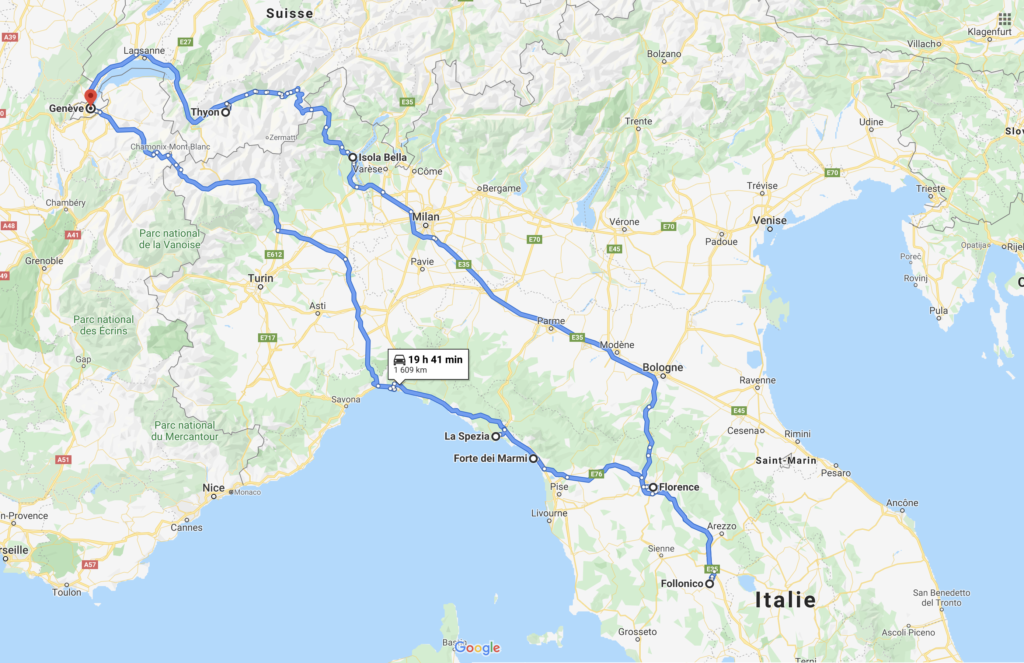 Day 1: Geneva – La Spezia⁠
It's a 6-hour drive from Geneva to la Spezia, totally doable in a day. I chose to stay in La Spezia because it's a "real" town and it's close to the Cinque Terre. It's not the most beautiful Italian town since it was originally built as a military port but it's authentic and less touristic. Plus the train will take you to the villages in a few minutes only and it's cheaper than staying in the villages.
The cute Airbnb we stayed in, close to the railway station and very pleasant

Of course, you could also stay in the actual Cinque Terre that's up to you. I was afraid that it would be so touristy that we wouldn't want to stay there at night as well. So I thought that it would be nicer to stay in an actual town and not in a tourist trap. But now that I've seen it in person, I would say that both options are good. La Spezia might have a little more restaurants and nightlife than the Cinque Terre but you definitely won't have the same scenery.
Day 2: La Spezia – Monterosso – Vernazza – Corniglia – Manarola – Riomaggiore – La Spezia⁠ (Cinque Terre)
Visiting the five villages in only one day could appear like a lot. But truly if you start early and I recommend that you do, it's totally okay. The best way to visit it is to buy a Cinque Terre Card which covers the entrance to all walking trails and includes unlimited train travel on the Levanto – Cinque Terre – La Spezia line. So we bought the card and took the train to Monterosso as it was the furthest from La Spezia to slowly work our way backward.
Monterosso
Monterosso is the only village that has an actual beach. So take your swimsuit if you fancy a swim. We had a croissant and coffee while admiring the sea and wandered in this cute village. To rally each village, you can either choose to do it on foot, with the blue trail hike or by train. We decided to start on foot as it was still early in the morning. So, we took the blue trail to go to Vernazza the next village. It was approximately a one hour and a half hike and was stunningly beautiful. We were almost alone on this path which was the cherry on the cake. You basically wander through amazing sea views and vegetable gardens and vineyards.
The view of Vernazza when you arrive from the trail is also breathtaking. You'll know it was worth breaking a sweat when you'll see it. Be aware as it's a pretty steep hike at some points.
Vernazza
In Vernazza we had a well-deserved Italian soda in the little piazza of the village and wander through the village, just watching life unfold. Then we hopped on the train to go to the next village, Corniglia.
Corniglia
We had lunch in la Scuna wine and beer on a little terrace with sea view (Corniglia is quite high so you'll need to climb numerous steps to reach it) but the view is worth it.
Manarola
After Corniglia it was Manarola (my favorite), Manarola is probably exactly what you picture in your head when you think Cinque Terre. Once there Don't miss the scenic viewpoint. If you like, you can also have a drink and some Pomodoro bruschettas in Nessun Dorma, the fancy bar from which you will have a spectacular view of Manarola.
Riomaggiore
Our last stop was Riomaggiore, we wanted to go there on foot but the trail named Via dell'Amore that rallies Manarola and Riomaggiore was closed for renovation so we took the train. In Riomaggiore, we got lost (literally) in a maze of little stepped alleys, very typical from the Cinque Terre. We visited a cute church on top of the village as well as admired the view.
What would I have done differently: honestly, not much. If you have time you could stay there for another day and enjoy the beach at Monterosso for an afternoon. Or if you want to rally all the villages on foot you might need more than one day to do so.
Day 3: La Spezia – Forte Dei Marmi – Firenze⁠
We left la Spezia in the morning and decided to make a stop at Forte Dei Marmi for a few hours. But we could also have visited Lucques or Pise as it is on the way to Florence. It's up to you really and what mood you are in.
We arrived in Florence in the late afternoon at our beautiful boutique hotel by the Arno river, the Riva Lofts. It's slightly outside of Florence center (20 to 30 min on foot to walk to the center), but this is also what makes it so special. You can think of it as an urban retreat. Being able to relax by the pool after a day of visiting the city in the hot weather was really priceless. They also lend you bikes to go to the center (very convenient to have dinner in the city at night). Otherwise, there is a tramway station 3 min from the lofts that will take you to Florence central train station in a few minutes.
We had a couple of hours to ourselves before diner so we decided to explore the city center a bit. We started by doing a tour of the Gucci Garden which is half a museum and half a shop. Then, we went for a drink on one of the most beautiful terraces in Florence (La Terrazza Rooftop Bar) and ended with a wonderful dinner at Il Santo Bevitore.
Uncovered gems:
The Riva Lofts: An urban retreat just outside of Florence. Beautifully renovated, this former fabric factory is the perfect place to rest after a long day's sightseeing. Breakfast is served in the garden near the swimming pool and the rooms have all the necessary comfort. An oasis right by the Arno river.
Gucci Garden: No need to be a Gucci customer to go to the Gucci Garden. If you like Gucci's universe and aesthetic like me, you will love the Gucci Garden. It's a real eye candy. Halfway between a museum and a shop, it's a really fun activity to do.
La Terrazza Rooftop Bar: The perfect spot to have an "apperitivo". It's part of the continental hotel, the bar is on the rooftop and you'll probably have one of the best views of Florence from there. On one side you'll see the Duomo and on the other side the Ponte Vecchio. Plus, the cocktails are great and the setting is intimate and loungy.
Il Santo Bevitore: I had a good feeling about this restaurant and I wasn't disappointed. The decor is authentic, the food is tasty and the service is efficient. Exactly what I seek in any restaurant. Book before going as it is very popular and ask for the terrace.
Day 4: Firenze⁠
For our only full day in Florence, we had pre-booked our tickets for the Uffizi Gallery. We took the opportunity to have breakfast in one of the institutions in Florence, the Café Rivoire in Piazza Della Signoria, 2 minutes from the museum. It takes about 2h30 to do the whole museum tour without a guide or an audio guide. Having studied art history at university I had some keys to understand the period and the works on display but otherwise, an audio guide can really give another dimension to your visit.
After that, we went to the Sant'Ambrogio market in Santa Croce to have a look at a real Italian market. We were planning on eating the most exclusive panini in town at Semel street food. Unfortunately, it was closed due to the Coronavirus pandemic (I think it supposed to reopen in September 2020).
But, in our misfortune, we were lucky enough to come across the Cibrèo café, with its small shady terrace and an excellent dish of the day. A real treasure of a restaurant. We continued on our way to the Duomo and then the Ponte Vecchio and finally wandered into the district of Oltrano (very nice). Have a Spritz in the Santo Spirito Piazza in Oltrano neighborhood, it's the perfect way to relax after a busy day. We came back at night to have diner as we absolutely loved the vibe on this Piazza. Just choose any restaurant on the Piazza as I don't think you can go wrong.
Uncovered gems:
Rivoire café: A great spot to start the day, facing the Palazzo Vecchio while sipping a coffee with a croissant and freshly pressed orange juice. The Rivoire café is an institution.
Uffizi Gallery: Probably one of my favorite museum of all time. The location is already incredible in itself so add to this the most beautiful works of the Renaissance masters (Filippo Lippi, Botticelli, Mantegna, Correggio, Leonardo, Raffaello, Michelangelo and Caravaggio.. and many more) and you'll obtain a magical and inspiring moment.
Cibrèo Café: A family story and love for Tuscan food since 1979. You can't go wrong whether you go to the restaurant, the trattoria, the café or the newly opened Ciblèo. I have a particularly fond memory of the cuttlefish and green bean salad on this terrace next to the Sant'Ambrogio market.
Oltrano: A less touristy area of Florence in which it is good to get lost to discover small shops, cafés, and unique places.
Day 5: Firenze – Follonico⁠
For our last day in Florence, we headed to the Galleria dell'Academia to admire Michelangelo's famous David and to discover the workshop of a Florentine sculptor. Then we headed to another Florentine institution All Antico Vinaio, which makes the best paninis in Florence. We ended with a tour of the Boboli Gardens. We then drove to our agriturismo located a few minutes from Montepulciano, Follonico. A haven of peace in the middle of Tuscany.
Uncovered Gems:
All Antico Vinaio: Don't be impressed by the eminent line you have to make to get one of those famous paninis. It's going pretty fast, but have your order in mind when it's your turn. Once this rite of passage is complete, you will have the chance to taste a panini as you've never eaten one before. (Unless you've had the chance to taste the one from Semel Street Food).
Boboli Garden: I have a penchant for beautiful gardens and I really wasn't disappointed by Boboli's. Adjacent to Palazzo Piti, the gardens cover a large area populated by antique statues, fountains, and greenhouses. A very nice place to stroll through in the afternoon. Some Florentines also come here for picnics on Sundays. Don't miss the lemon tree greenhouse, absolutely magnificent.
Follonico: A small paradise on earth, this agriturismo runned by Fabio and his family is the perfect place to discover the surrounding Tuscan villages or to relax for a few days. The place seems suspended in time. Here you will meet hens, bees and all kinds of animals as Fabio makes his honey, his cheese, his bread etc… The decoration is a clever mix of objects found or recycled but always done with a lot of taste. A special mention for Fabio's breakfasts, a delight.
Day 6: Follonico – Siena – San Giminiano – Follonico⁠
After a delicious breakfast in Follonico, we drove to Siena (about 1 hour by car). A beautiful city in which it is absolutely necessary to stop even if it is only for a few hours. We visited the Cathedral, as impressive from the inside as from the outside. A magical, almost mystical place. But the best thing in Siena is to lose yourself in the streets and alleys and let yourself be guided by your intuition. Have a drink at La Piazza del Campo and admire the view.
We then went to San Giminiano as it was not far from Sienna. Smaller but also very pretty, we were however a little disappointed by the too touristic side of this village. Like a city like Venice, San Giminiano gives the impression that there is life only to satisfy the tourists and therefore lacks a bit of authenticity. It's certainly beautiful, but not my type of wandering.
What I would have done differently:
Instead of San Giminiano, we would have visited Chiusure and Lucignano d'Asso on our way to Siena and have lunch in Siena, then come back to Follonico.
Day 7: Follonico – Montepulciano – Pienza – Follonico⁠
After enjoying a bit of the pool in Follonico, we went to visit the town of Montepulciano known worldwide for its wines. This is really the exact idea you have of small Tuscan towns on the hills. We had a simple and tasty lunch at Pentaloccia and then we headed to Pienza with its magnificent view of the Valdorcia. And back to Follonico.
N.B For dinner, you can either eat at the agriturismo for 20 euros or just go in the villages around. We went twice to Montefollonico (5 min by car from Follonico) and had both times amazing dinner. Just ask Fabio for a recommendation, he'll tell you where to go.
Day 8: Follonico – Isola Bella ( Majeur lake)⁠
After these three days in probably one of the most peaceful places on the planet, we had to leave and to get to our last stop in Italy, Isola Bella. We decided on our way back to Switzerland that it might be time to discover the beauty of the landscapes of Lake Maggiore. So we quickly booked a hotel on Isola Bella in Stresa and arrived a few hours later.

We parked the car and took a boat to Isola Bella and spend the rest of the afternoon visiting the island (which is really tiny). There is basically one hotel and a few restaurants and bars but the main attraction is the palazzo and the garden.
Isola Bella is named after Isabella d'Adda, the wife of Carlo III Borromeo. In 1632, Carlo Borromeo undertook a project that would see a small rocky island, inhabited by a few solitary fishermen, transformed into one of the most beautiful Italian palazzi. It's Carlo Borromeo's son, Vitaliano VI that had the idea of designing the gardens. His intention was to give the impression that Isola Bella was a ship floating on the lake.
Uncovered Gems:
Palazzo Borromeo and garden: Honestly, we didn't really know what to expect when we came to Isola Bella, having decided at the last minute to come here. But without knowing it we probably visited one of the most beautiful palazzi in northern Italy. A real jewel nestled on Lake Maggiore. The Italian gardens are certainly the highlight of the show. A must-see if you love Italian Baroque and are in love with the architecture of that period.
Day 9: Isola Bella – Simplon Pass- Thyon (CH)⁠
We finished our trip by taking the road towards the Simplon pass. A beautiful return to the country with a breathtaking view.
If you want to discover other trips and design travels click here.