As I have finally hanged my beautiful Muuto mirror in the entryway, I wanted to share a few tricks on how to pick the right mirror for YOUR entryway. Because each case is different, it is important to consider a few things before choosing one.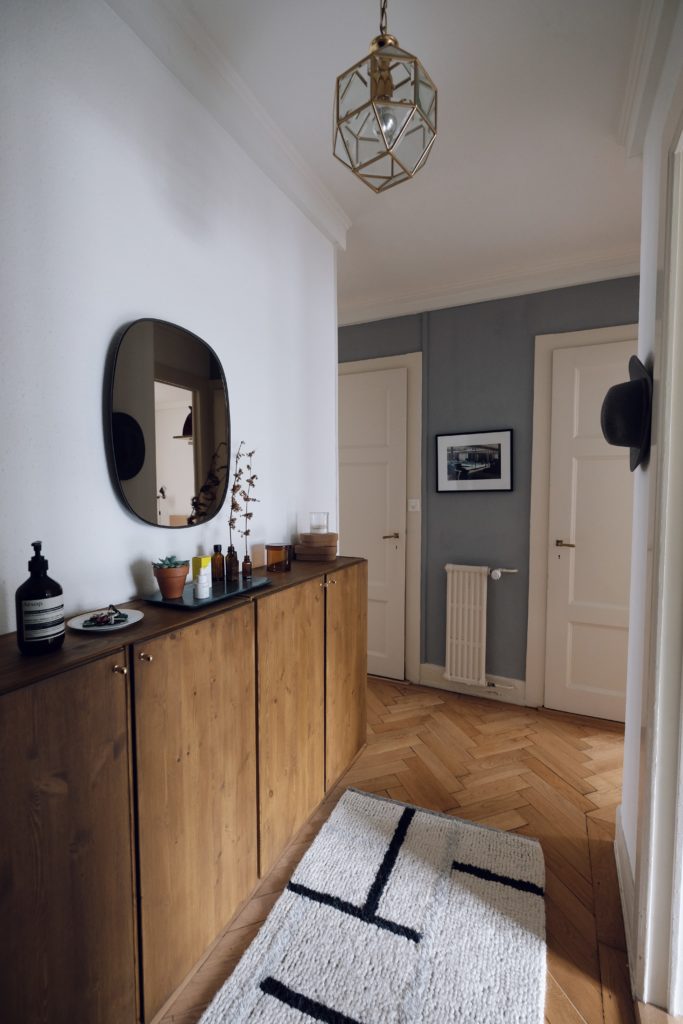 A mirror is one of the major pieces in an entryway. Most of us like to have one last glimpse at how we look before getting out into the world. The main purpose of an entryway is to ease your back-and-forths into your home. So making it functional and welcoming should be the main concern. Here are some things to take into account before choosing a mirror:
What are your needs?
We are all different hence we do not necessarily have the same needs when it comes to how we get out of our home. Some people may want to have a look at themselves before going out while others don't really care. For example, for me, it was important to have a last glimpse at my face but I didn't need a full outfit check. Thus, I didn't go for a full-length mirror. So first consider your needs in terms of getting out of your home and coming in. It will help you to narrow down the options you have. (This is valid for every part of your home. It should always be our first concern.)
Consider the space
Of course, your needs are important but feeling the space is as equally essential. For instance, if you have a thousand coats and that your entryway is more of a narrow hallway, you won't be able to put a big storing cupboard in there. You'll have to come up with something more creative and sometimes make compromises.
It's the same for a mirror, feeling the space is decisive. Do you have a high ceiling? Is your entryway luminous or dark? Is it narrow, wide? All these questions are relevant for picking the right mirror.
I'd say if I had one rule to follow it would be adapt the size of the mirror according to the space you have. A wide entryway calls for a large mirror. If you have a narrow entryway but some high ceiling, why not consider a full-length mirror? If your entryway is narrow and not so high, putting a mirror on the adjacent wall of a window could make it look bigger as it will reflect the outside light.
Do you have already existing furniture?
This is also an important question. The best scenario is to start from scratch and be able to choose everything at the same time. But often we already have stuff. My first advice would be to make sure that your existing furniture works well in the room. If you have just moved, the furniture might not be fitting the space as well as in your old place. So maybe the solution is to repurpose that old furniture or sell it to be able to create the right setting for this new entryway. However, If you are already happy with the existing furniture, and just need a mirror to complete the room, it is as important to consider the furniture. Do you have a bench? or a console or maybe both. Putting a large mirror above a bench is something that works very well. Or if you have a console why not put a round mirror above it?
So these should have helped you picked the size and shape of your mirror but what about where to place it?
Finding the right balance with decor items
What could help you chose the right spot for the mirror, is considering the small decor items you have or plan on buying. For example, If you like to have flowers in your entryway, or need a lamp in a certain spot. These are all things to take into account when looking for the right place. Because in the end, it's a whole. Each item has to complete the other.
Also, wall art is a good point to take into account. If you are going to use mirrors to make a sort of gallery wall, you might want to check out my advice for building an authentic one.
Anyway, I hope that by now you have a better idea of what type of mirror you are looking for. So I made a small selection of my favorite mirrors on the internet these days. I've tried to put a mix of different shapes and sizes of mirrors. Enjoy.