A Gallery wall is the perfect solution to dress up a blank wall or a spot that looks weirdly empty. There is plenty of ways to approach a gallery wall (if you need inspiration check out these 16 gallery wall ideas). But once you have chosen the type of gallery wall you want to build you'll probably need to buy some art. A gallery wall demands a lot of art pieces and so can become pretty expensive. However, when you know where to find great and affordable art prints it can become accessible even for small budgets. Let's see.
Designer's go-to resources for affordable art prints
No room is complete without art on the walls. When you feel like a room is lacking something, very often it's because the walls are empty. If you wish to fill that emptiness and don't have time (or money) for scouting art galleries. Here are 7 of my go-to sites for affordable art prints whenever I need a quick art fix for a project.
1.Wall of Art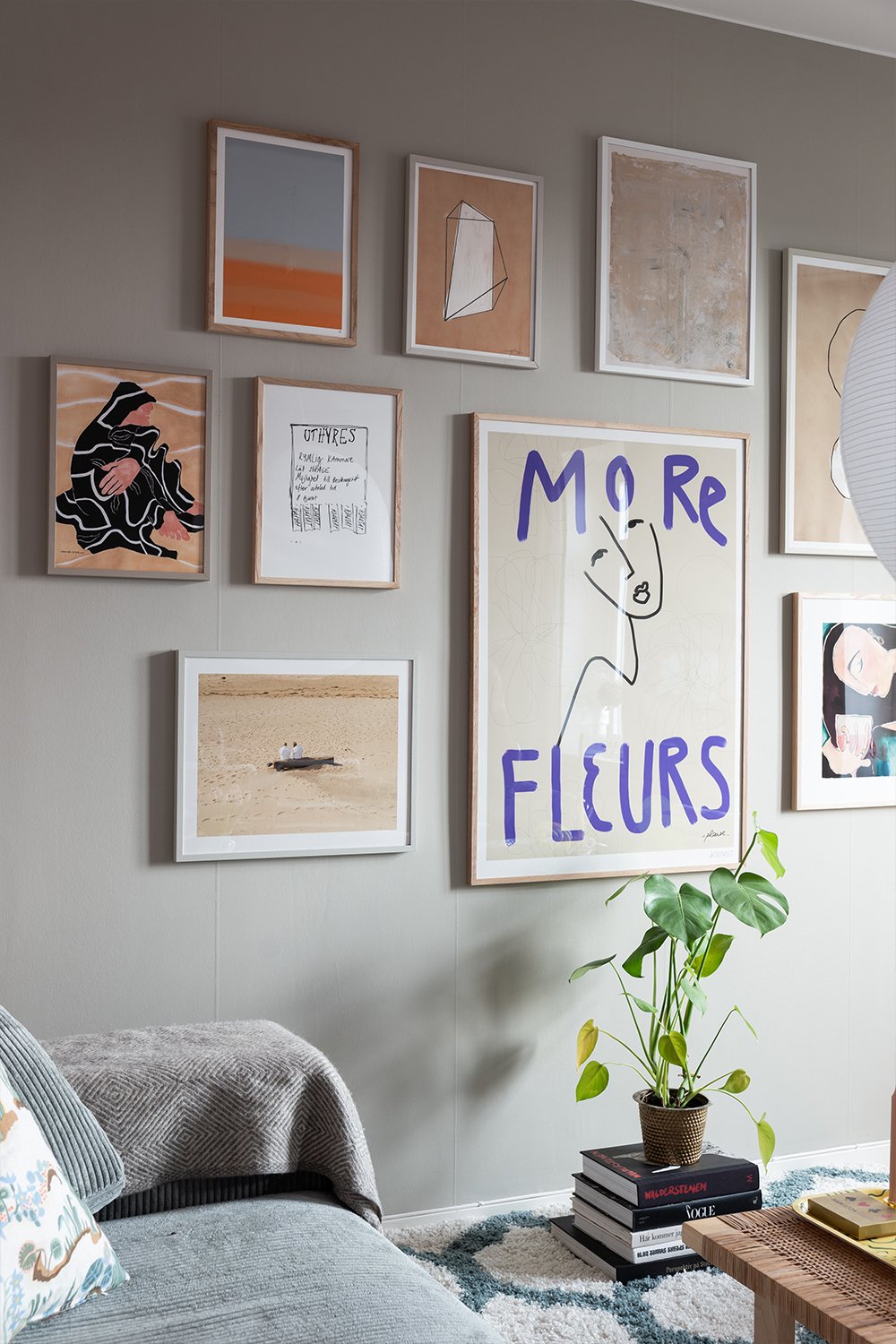 Officially my new favorite online shop for art, they have a well-curated collection of art and the universe they've created around it is pretty neat and on point. I love their blog where they interview artists or show you great interiors.
WALLOFART.COM
$$
SHIPPING:
To: Pretty much anywhere
From: Sweden
2.The Poster Club
The Poster Club is a Copenhagen-based online store offering a unique curated selection of high-quality posters and art prints from both upcoming and established artists. You'll find here a beautiful selection of on-point art.
If you are on a budget make sure to check if the print you are eyeing is not available on one of the other websites because it can be cheaper elsewhere, but it won't be printed on the same quality paper.
THEPOSTERCLUB.COM
$$
SHIPPING:
To: Pretty much anywhere
From: Copenhagen
3.Desenio
At Desenio, you'll find a wide selection of posters and mounting solutions, such as poster hangers and clips – often inspired by Scandinavian style. They regularly update their selection to meet the latest trends in interior decor and design.
DESENIO.COM
$
SHIPPING:
From: Sweden
To: Europe + USA + Australia + Canada
4.Society 6
Society6 is home to hundreds of thousands of artists from around the globe, uploading and selling their original works as 30+ premium consumer goods from Art Prints to Throw Blankets. I've been following them from day one as when they were only just a social network for artists, I still love them and you can find unique things in there.
SOCIETY6.COM
$
SHIPPING:
From: USA
To: Pretty much anywhere
5.The Calm Gallery
A British couple launched this typographic oriented art website back in 2007. Their brit background makes their selection very original and unique.
THECALMGALLERY.COM
$
SHIPPING
From: UK
To: Worldwide
6.POSTERY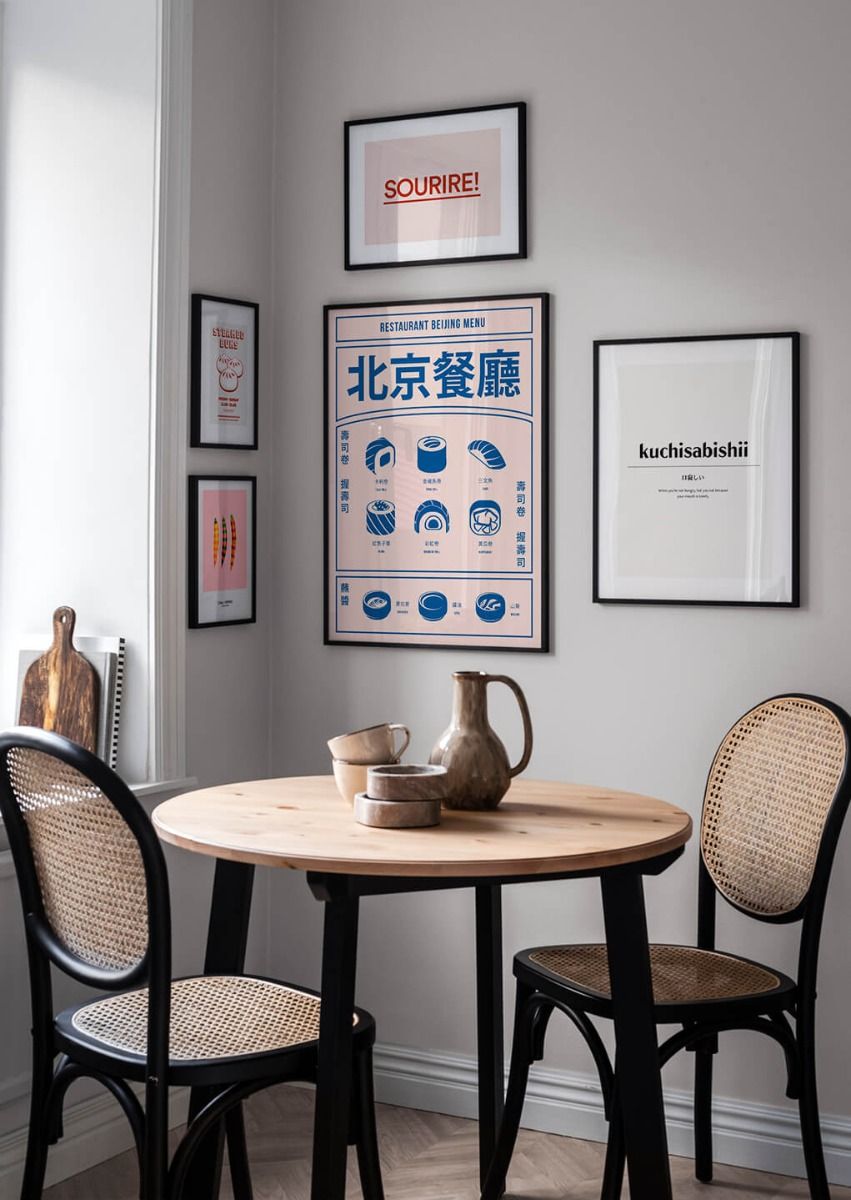 Less artist oriented, this Swedish print shop has a wide selection of art and some pretty rare finds that can easily become the highlight of your gallery wall. The perfect place where to buy cheap art prints that are really cool.
POSTERY.COM
$
SHIPPING
From: SWEDEN
To: Pretty much anywhere
7.JUNIQUE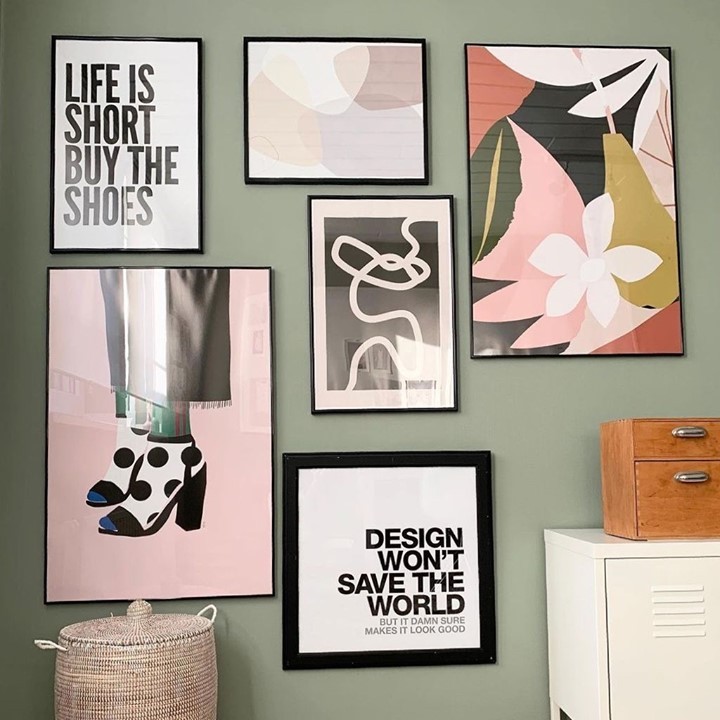 Created in Berlin by 3 friends who wanted to make art more accessible. It has grown into this huge hot spot for art at a fair price.
JUNIQUE.COM
$
SHIPPING
From: Germany
To: Selected European countries
>> If you liked these shopping resources, don't miss my home decor guide to the best online shops <<
A quick note on buying art for a decorating project
It may seem strange to buy art based on a decorating project. We often think that the purchase of art should be motivated by a special crush or by emotion. Even if this is also the case, when we think about it, we often buy art by imagining where we are going to put them. Unless you are an art collector, it is rare to buy a painting, print, or other pieces of art without visualizing it somewhere.
On the other hand, one valid fear is that the gallery wall may look fake or lack personality if you buy all at once. It seems pretty obvious that if you buy all your artworks from the same online shop, printed the same way, and so on… It might look a little characterless or coming straight out of an ad. But since waiting for the perfect artwork can take a long time here are few tips to choose art and still build an authentic gallery wall
Create a gallery wall with character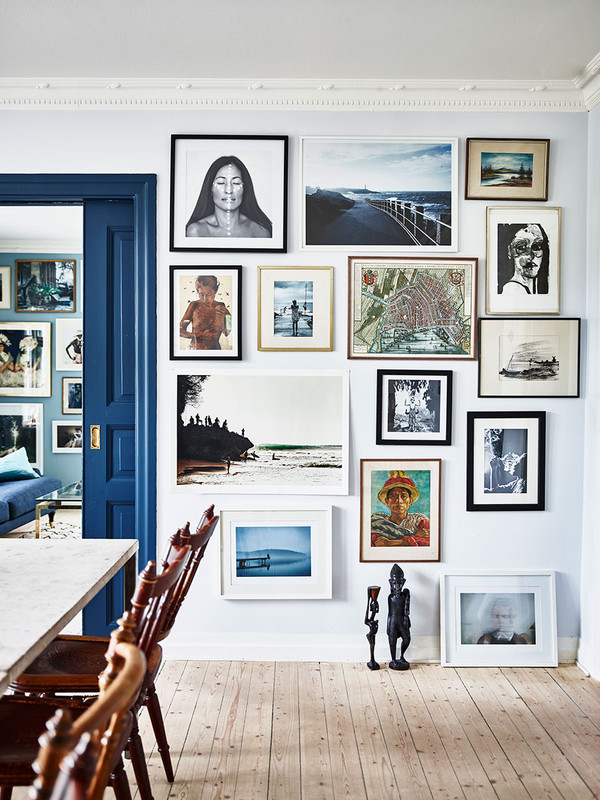 Choose a personal object that will integrate itself easily into your gallery wall. It can be a beautiful picture of family and friends, a hand-painted plate, a small mirror really anything that's hangable.
Go to the local flea market and look for a piece that you like. I find that flea market things can really add some authenticity to the decor. The secret is to imagine it in another context to see its true potential.
Frame a poster from an event that happened in your town. Some of these are frequently so well designed that they could be art. So why not take one that appeals to your taste? It will add some authenticity to it and anchored it into your universe.
Picture Credit: Cover picture 1, 2, other pictures belong to the shop they are associated with.