I don't know about you but I can't get tired of gallery walls. It's such a strong and characterful element that it rarely leaves its viewer indifferent. If you need to make a statement or need to pimp a blank wall, it surely is a great solution to do it. But it's easier said than done.
For some reason, building a gallery wall seems very complicated. We are often a little overwhelmed by the choice of paintings, frames, we don't know how to position them, how far away, etc… In the end, we end up abandoning the idea for fear of doing it wrong. But this article is exactly here to prove to you that there is not only one right way to build a gallery wall but plenty of ways. And that, with a little preparation, there is nothing to be afraid of.
Check out these 16 ideas for a gallery wall and get inspired for yours!
1.Black and white paintings on a colored wall
There is something about black and white that makes instantly anything classier. Black and white artworks are no exception to this rule. Putting together a black and white gallery wall on a colored wall is a great way to make the art stand out even more. It is also a good introduction to gallery walls as it will be easier to choose the art to put on your wall.
Pictures by @inredningsfotografen
2.Wall light as part of a gallery wall
Integrating a wall light into a gallery wall is an excellent way to ground it into the room. It will look like your gallery wall belongs there or has been there forever. Not every gallery wall will allow this but if yours is located right above a sofa or something similar do consider taking a wall light into the equation.
Picture by @hanna.ahlin
3.A shape out of a gallery wall
Another original idea is to create a shape thanks to the layout of your paintings. It can be a square (left picture) as well as any kind of shape, especially abstract shapes (right picture).
left by @thesocialitefamily right by @inredningsfotografen
4.Floor-to-ceiling gallery wall
Don't be afraid to build your gallery wall from floor to ceiling to give that sort of majestic look. We tend not to hang a painting too low or too high for questions of visibility. But this rule is valid rather for an artwork hung alone. For a gallery wall, we can afford all kinds of heights since there is a sort of play between the artworks and one will lead the eye to the other.
Picture by @bpatrickflynn
Corner walls as background
When we think gallery wall, we often think of one big regular wall with lots of artwork on it. What if this big wall was in fact two adjacent walls? You can say goodbye to that awkward little corner of your house, you've just found a use for it.
A cohesive color palette for the entire room
More than an idea, this is a good rule of thumb if you want to ease your way through building a gallery wall. Often what's the hardest to master is the harmony between the colors. And what shouldn't be forgotten is that you are (probably) not starting from a blank layout as one could imagine. The room inside which your gallery wall will take place already has a set of colors that you should take into account when designing it. So try to analyze the existing colors inside your room, it will probably help you pick some of the artworks for your project.
Left by @morrisseymmm right by @inredningsfotografen
Different styles of art
Mixing different styles of art for example modern pictures with antique paintings can be a great way to add personality to your gallery wall. Don't be afraid to mix and match new and old art, etching with a concert poster, etc…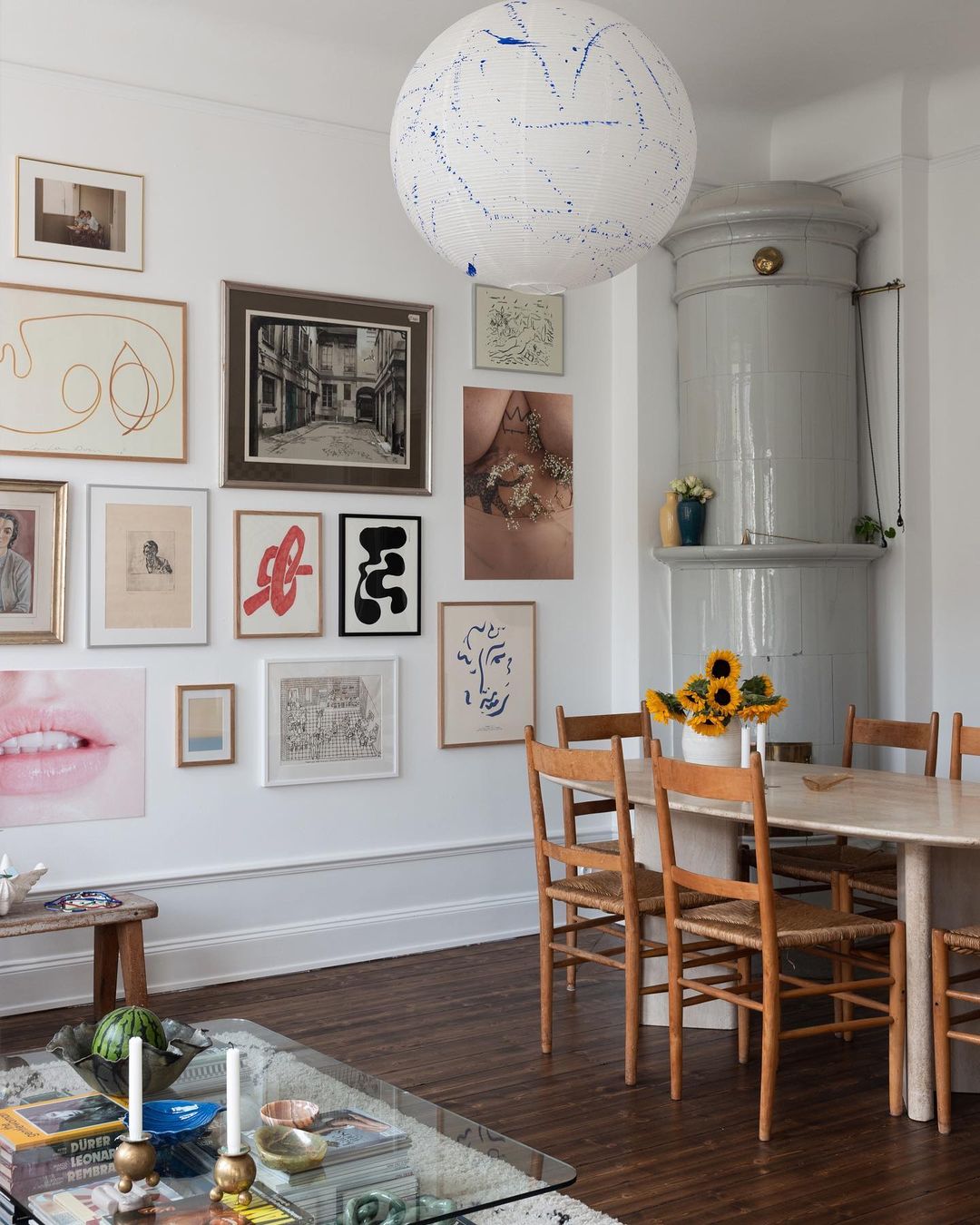 Picture by @emmecrona
Symmetry for a more polished look
If you're a fan of symmetry and like things to be straight, opt for a symmetrical gallery wall. You can vary or not the size of the frames as long as you place them harmoniously at an equal distance from each other. This will ensure you a very graphic and neat result.
Left by @inredningsfotografen right by @fotografjonasgustavsson 
Black and white paintings on a white wall
We saw that the black and white artworks placed on a colored background stood out well, it is also the case on a white wall. Black and white works well on either of these colors. Also, you can achieve a more polished or raw look depending on the type of art you choose. Photographs will often give a more chic look than posters or primitive paintings that are in vogue at the moment.
Picture by @morrisseymmm
A sparse gallery wall
If you are not a fan of opulence and prefer a more minimalistic environment, opt for a sparser version of the gallery wall. This idea may seem more complicated to realize so try to picture a giant grid on your wall and simply place the artworks inside the columns and rows.
Picture by @ollienordh
Mixing up the frames
Another great idea in order to add more personality to your gallery wall is to mix up the frames. Don't be afraid of choosing different frames for different artworks. It will instantly give this kind of effortlessly cool look to your gallery wall. Starting by mixing wooden frames with black, white golden, or silver frames is less risky than mixing up a lot of colored frames.
Picture by @inredningsfotografen
Not everything needs to be framed
Finding the perfect frame for a piece of art or a picture is not always easy, so why not just paste it or hang it on your gallery wall? It will break the monotony and bring some originality to your gallery wall.
Picture by @faringsohuset
Personal items as art
Nowadays, digital printing is a very good and affordable option but you should be careful with it. Using only digital prints in a gallery wall can have that sort of "fake" effect. Your home is not a showhouse, so don't be afraid to expose some personal items. It can be a polaroid picture, an object you like particularly or your niece's drawing. Anything that you cherish will definitely add character to your wall.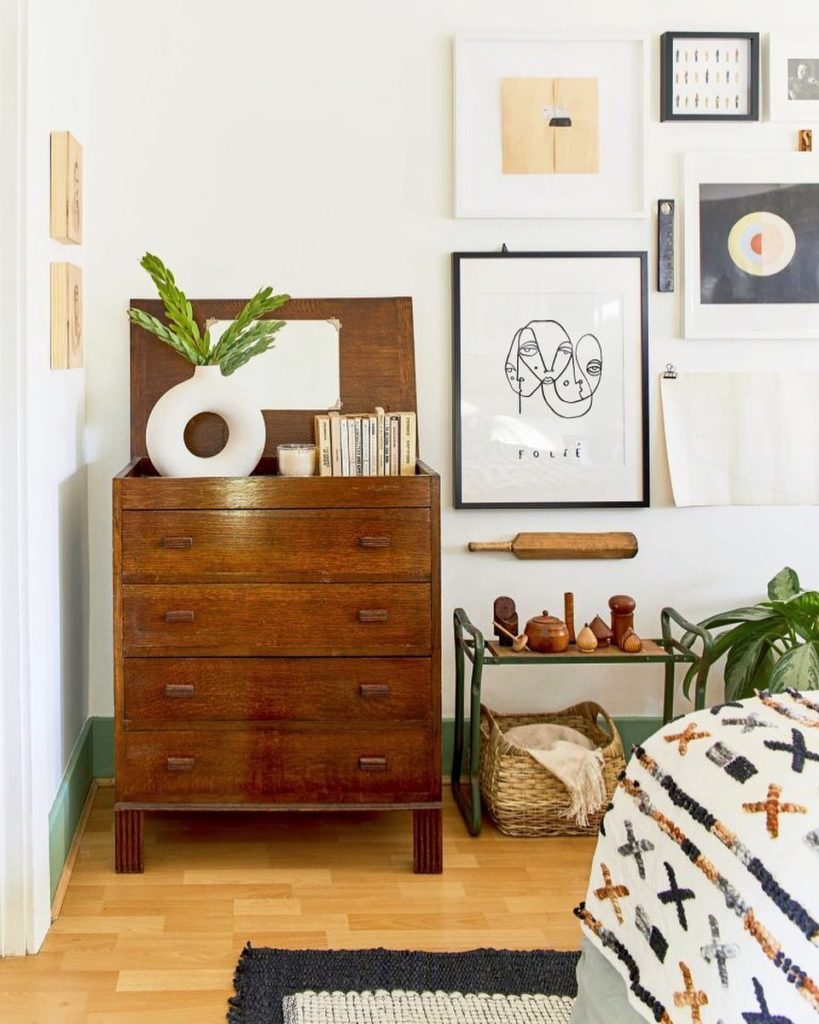 Picture by @julie.a.rose
A gallery wall that integrates with existing furniture
Most often, we decide to create a gallery wall above existing furniture. It can be above a couch, a desk or just behind a dining table. Wherever you decide to put it, try to integrate your existing furniture in it. Play with it, follow the rythme of your desk just like on the picture below. It will help anchor your gallery wall in the room.
Picture by @interiorunivers
Bolder colors in the artworks
If you feel confident in your ability to mix brighter colors, the result can be so much fun and vitaminized just like the picture below..
Picture by @stilleben_dk
A shelving system to frame the artworks
This idea by Lisa Dawson is certainly more work but for what a result! She decided to integrate a shelving system to her gallery wall which is a really brilliant idea. It allows you to easily showcase any item, artwork, or else and create a real dialogue between the artworks and the items.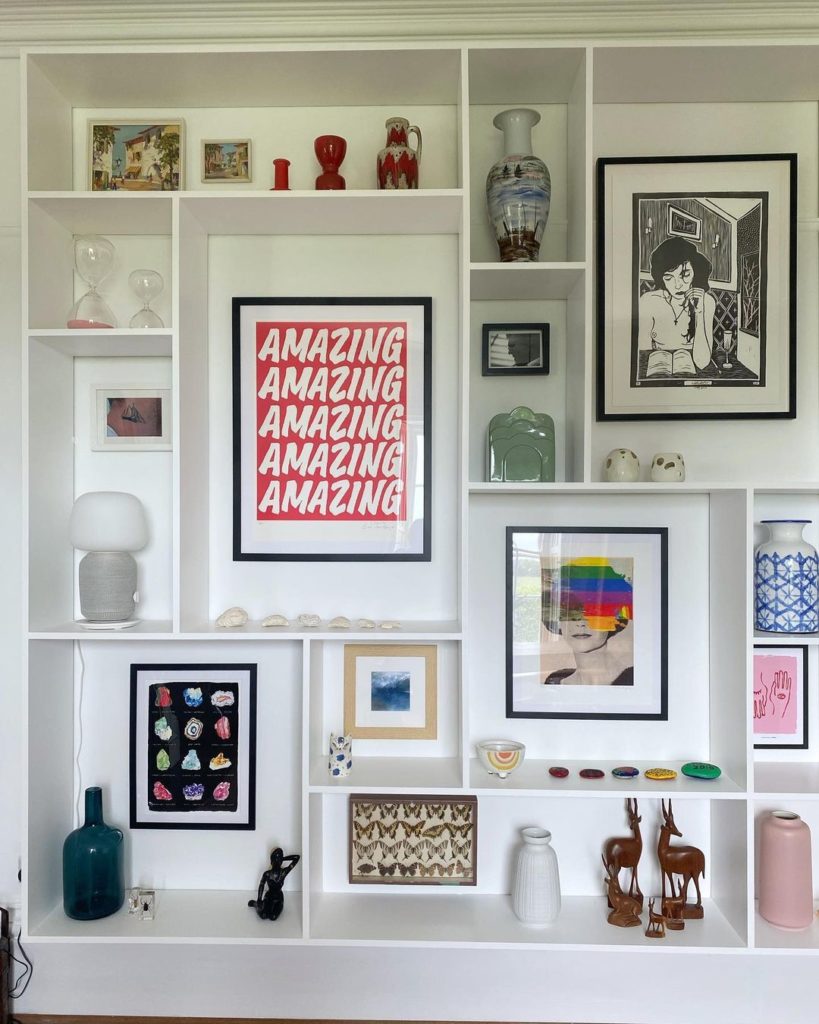 Picture by @_lisa_dawson_
There is nothing to be afraid of!
As you can see all the ideas above are very different and shows you that there are all sorts of ways to do a gallery wall, it only depends on the style you are going for. Once you've figured that out, a lot of the work is already done. After that, it's only a matter of choosing the art positioning and mixing things so they play well together. By the way, if you don't know where to buy affordable art here are 5 of my favorite affordable online shops.