Meet the Makers: 3 Minimalist Types Of Bags You Need For Everyday Life
Today, I wanted to introduce you to the creative mind behind the e-shop GraceGordon.com. Grace Gordon is also a brilliant bag designer who is deeply attached to simple aesthetic and functionality. And I think that's why I immediately fell for the sleek lines of her beautiful bags and her curated selection. As this month is all about finding good basics, I thought that it would be nice to learn from someone who masters the art of creating essential and timeless pieces.
Grace path to opening her own e-shops and creating her own line of bags is an interesting one. She felt like there was a serious lack of good minimalist leather products for women and decided to remedy it. And we thank her for that because her collection is totally what we've been waiting for. You can't get tired of it since it's not anchored in any trend. The beauty of those bags is that they will grow with you since they are made of Italian vegetable leather. This kind of leather will evolve with time and get a nice patina. So Let's look more closely at those bags:
3 minimalist types of bags
She created 3 main types of bags that will suit different occasions, they are all available in natural and black colour. Two colours that you can mix and match with almost anything.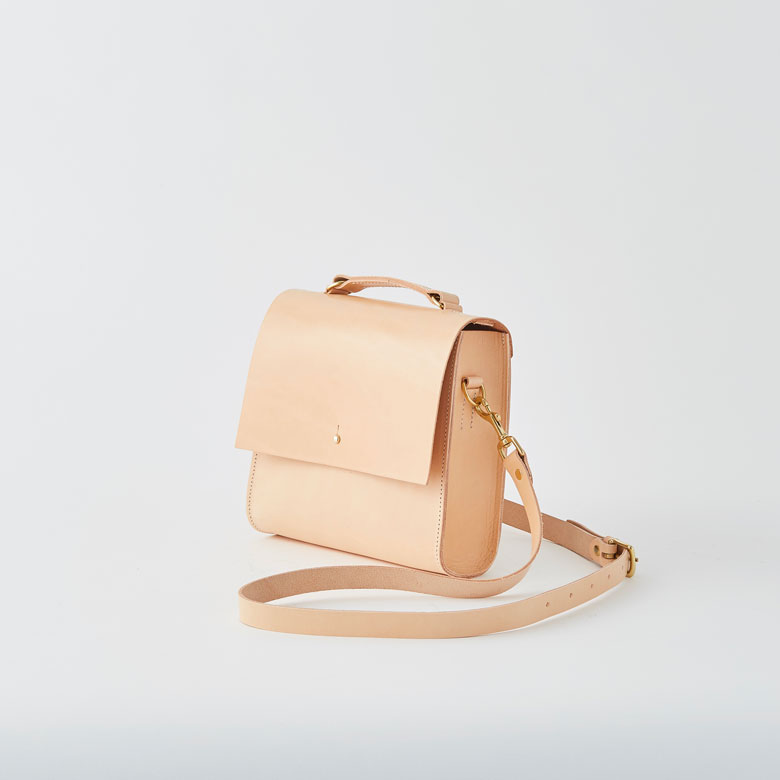 1. The Lucy Cross-Body is perfect for a day out in town. You can easily conceal all your essentials and have your hands free.

2.The Emma Backpack is a must for those of us who ride bikes, but still want to look stylish and feminine.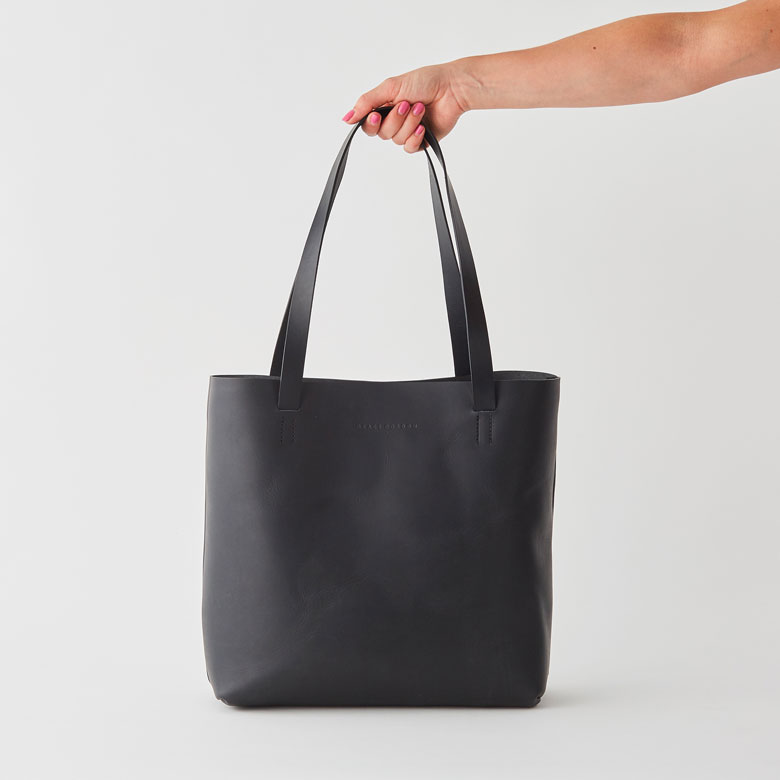 3.The Ellie Leather Tote, because we all need a solid tote bag in our wardrobe for those days when we are carrying our whole life with us.
Along with those beautiful bags, Grace also makes silk bandanas and small leather goods such as clutch, iPad/iPhone case… You will also find a great selection of items all curated with the same idea in mind: timeless, clean design and functional pieces. A great shop to add to your online address book.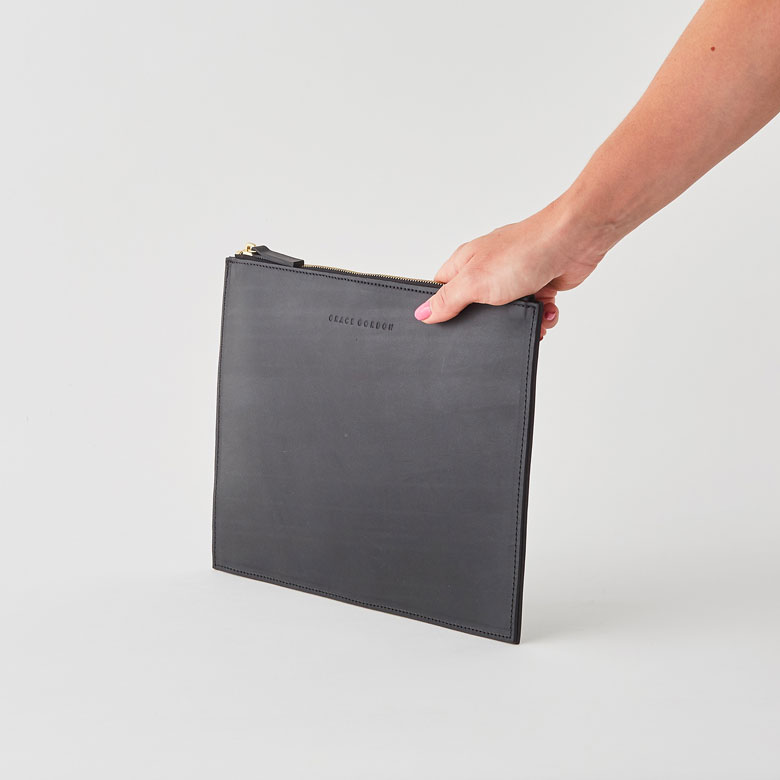 Grace Gordon answers a few questions about her background and style.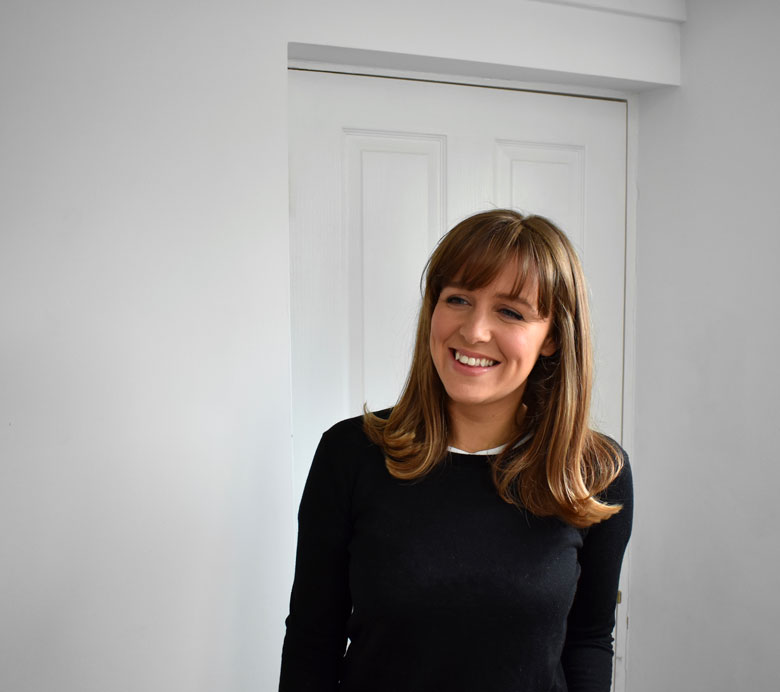 1.Can you tell us how you got into making and selling bags? (what were you doing before that…)
I worked as a buyer for a global fashion retailer specialising in denim goods. It seems like quite a leap to go from denim to leather but there are so many commonalities between the two. They're both hard-working materials, originally utilised and worn by people in the industry. They stand the test of time and wear in over time to result in the most beautifully unique pieces. Focusing mainly in the menswear sector, I found it frustrating that alongside our denim offers there were lots of raw, vegetable tanned leather goods available to men and often no female alternatives. Except for overly processed and heavily branded pieces.
I started researching and found a rich heritage in leather craft right here in the UK. From there I searched high and low for makers to partner up with and sampled my initial designs.
2. What made you take the leap and quit your high street retail job?
During a trip to a Turkish development plant, I was introduced to the workforce behind many of the denim washes you'll see on the high street today. The centre itself was very remote and on opening had employed a huge number of locals to train up and start working on developing dying, scraping and stitching techniques. Their level of mastery was unbelievable. Every single detail they added to the denim was so meticulously thought out and yet seemed so effortless. I've always been a hands-on person and seeing them at work gave me the push to explore my own creativity.
3.What have been some of the biggest challenges you've faced since starting your own business?
One of the biggest challenges involved in my position is time management. From very early in the business I realised I couldn't do everything myself. I had to learn to delegate and invest in people who would help to grow the brand. That was something I found tough because I genuinely enjoy running every part of the business. So deciding which bits to let go and which to focus more time on was hard.
4. I've read that first, you've built your online retail shop and only then you created your own line of bags. How come it wasn't the other way around?
I was always making one-off pieces to sell online and just created the brand as you see it today a few years into the process. I waited so that I could get a good feel for both what customers wanted from a collection and to learn the ropes when it came to selling online. It was important to me that the experience was a pleasant journey from beginning to end. So I worked hard to learn the trade before I launched Grace Gordon.
5. You said something I really relate to which is "Style doesn't have to be complicated, just equip yourself with the right staples and you won't go far wrong." How do you choose or know what are the right staples for you?
I think the idea for a design is born from necessity; like my Nelle clutch bag for instance. I didn't often wear clutch bags but there were times where one seemed like the perfect choice. Paired with an outfit for a wedding. So I married the role of a traditional clutch with a really sleek and modern construction. It's a favourite of mine and when not in use as a bag, it doubles up as a tech case. If you stick to the simple idea of buying functional pieces, with a simple aesthetic, made with high-quality materials you'll inevitably end up with a cohesive look.
6. When it comes to designing your bags, what is your main source(s) of inspiration?
For me, the important thing is that whatever kind of life my customer leads, my designs help them to feel and look more confident. And that, practically speaking, they're fit for use. I always say that the collection itself aims to offer all the form and functionality necessary for the modern woman.
7.How would you describe your universe and mission?
Driven by a fascination with rich materials, natural colours and simple functionality, I curate classic pieces with a contemporary edge.
I'm definitely influenced by a minimalist aesthetic although I would say that I interpret the word minimal differently to those who believe in very monastic look. I like to think of it as combining the least amount of elements necessary to create a beautiful but functional piece whilst still maintaining a comforting sense of familiarity. I think that's where my British influence creeps in, I enjoy classic style and I don't want my shop to feel like a gallery or in any way uninviting.
Although the bags look sleek, to begin with, they'll wear and warp, the leather will patina and every bit of them will transform into something different and rich in personality. They're not at all faceless.
8.What are the basic pieces of clothing or accessories you can't live without?
The best basics need to be simple, classic and hardwearing. If they're a mix of all three then more often than not you'll be able to wear them with a variety of outfits and with a little TLC they'll stand the test of time. Our Lucy bag is my go-to piece for everyday wear. The leather just gets better over time but the piece still maintains a sense of modernity because of its contemporary shape. Another of my favourites is my cashmere scarf by Johnstons of Elgin (available on our site). They're a company who have been running for hundreds of years and that kind of heritage is hard to come by. Cashmere isn't cheap but looked after properly it's such a hard-working fabric. Super soft, warm and it looks beautifully refined, something which I think helps to elevate the pieces you pair it with. I wear mine with a wool dustcoat I've had for years. 
Grace's online finds
9. What's your favourite online shop and why?
I absolutely love flea markets and hunting down antiques so I scour the internet for lesser known sites to add pieces to my collection. I'm a really curious person so I often fall down a rabbit hole and end up so fascinated by a product, that I inevitably look for ways to add it, or something like it, to my site. The latest was a vintage french satchel from marstonhouse.com
10. What is (are) your favourite Instagram account(s) to follow?
I love scrolling through Babes in Boyland, It's created by a Swedish duo; stylist Nathalie Myrberg and photographer Matilda Hildingsson. Their imagery invariably focuses on the colours and feel of the seasons and is so moody and poetic you can't help but fall in love. I enjoy accounts that post pictures you can lose yourself in for a moment – the real world needs a little whimsy now and again.
11. What's your most treasured shopping find?
An old leather school satchel I had as a child. It's the smell that I adore first and foremost. There's nothing in the world quite so evocative and beautiful as the scent of leather. I found it as an adult, years and years after I'd last seen it and remember opening up my draw to such a rich scent that the memories of wearing it hit me before I'd even seen the satchel. The piece itself was warped at the edges and had a gorgeously rich tan patina around the buckles. I opened it up and it had ink blotches and scrawlings written inside. That type of piece transports you back to a time and place immediately, it tells a story.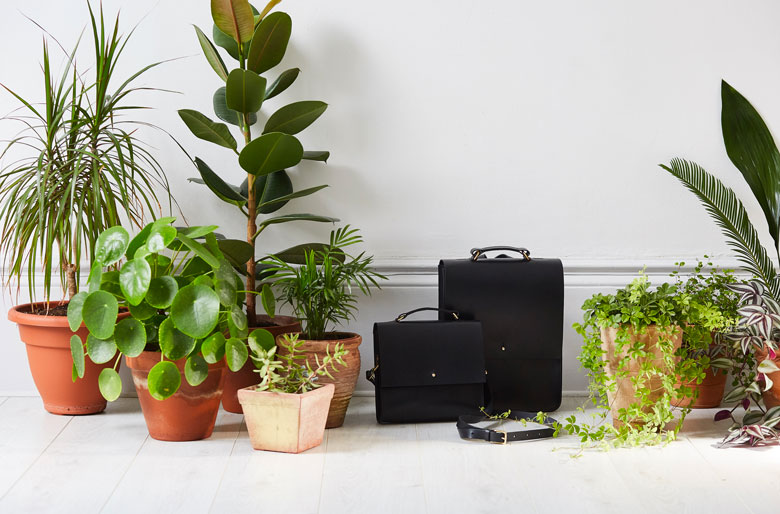 Pin it so you won't forget it: