Mindfulness is a very popular word these days. Sometimes I feel like it's been widely overused and employed in non-adequate contexts. But when it is used to qualify a home, as in "mindful home" it just makes so much sense. Let's see why :
According to the Cambridge Dictionary, mindful means "deliberately aware of your body, mind, and feelings in the present moment, in order to create a feeling of calm". And, is there a better place to create a sense of calm than at home? Home should always be a place where you can be at peace. (check out how I created a peaceful home by decluttering). Experts say that a mindful home is closely related to the five senses. The colors you use in your decor, the smell you breathe, the noise you hear, the fabrics you touch, the food you taste. All these things are preponderant in order to help you, feel alive and be in the present moment.
Living at a slower pace
That's probably what the owners of this absolutely gorgeous apartment had in mind when curating it. The couple behind this apartment is non-other than the creators of the concept store Ingredients LDN. A store that celebrates a slower pace of living. So it's only natural that everything in this apartment was picked with care and intention. The soft tones used in the kitchen, the beautiful linen loose fitted sofa, and every household items have a role in creating this soothing atmosphere. There is not one false note here, everything is very coherent. Let's take the tour!
The Entryway
Simple and clear are two words that would perfectly describe this entryway. Nothing fancy here, only peg rails to hang clothes or objects and an antique wooden bench. Yet it works so well.
The kitchen
The beautiful kitchen is a deVOL Kitchen. I particularly like its simplicity and the fact that there are no cabinets in the upper part. The use of peg rails instead, is a smart way to display your kitchenware and have it within your range at all time. You'll notice that peg rails are a recurrent item around this home, it's certainly because of its highly versatile features. Check out these simple and creative ways to use a peg rail around the home.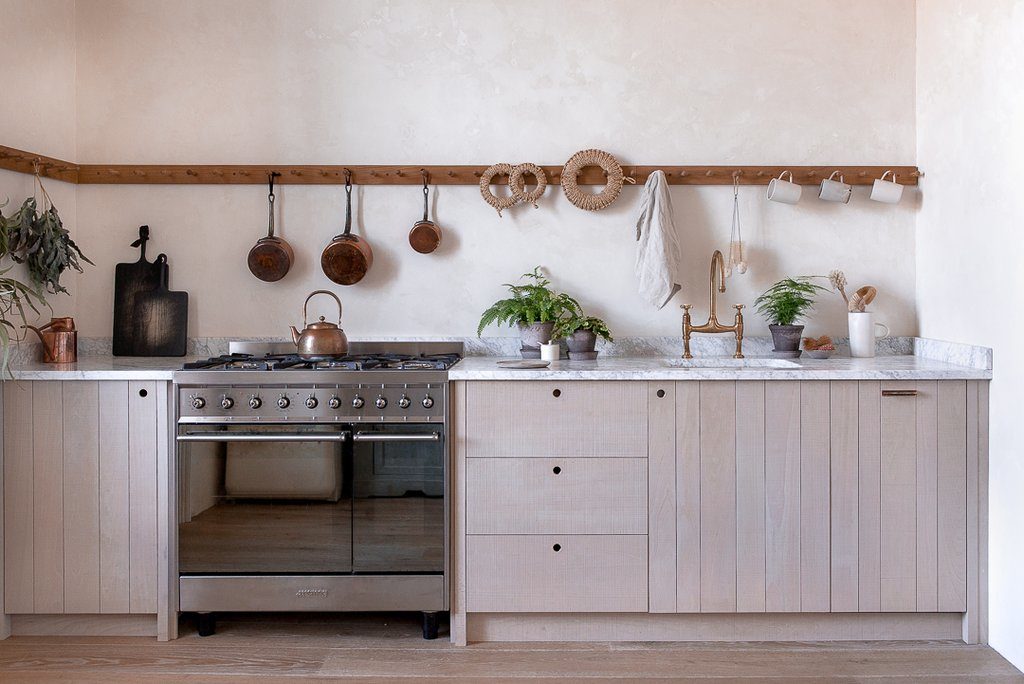 The Living room
This room feels so spacious with its high ceiling and big windows. The old fireplace is a really nice asset as well. If you think about it there is not much needed here to enhance this already beautiful space. A linen loose fitted sofa, a daybed with cushions a couple of armchairs, a lot of potted plants, and it's a done job. The room inspires calm and harmony. It's an invitation to take your time.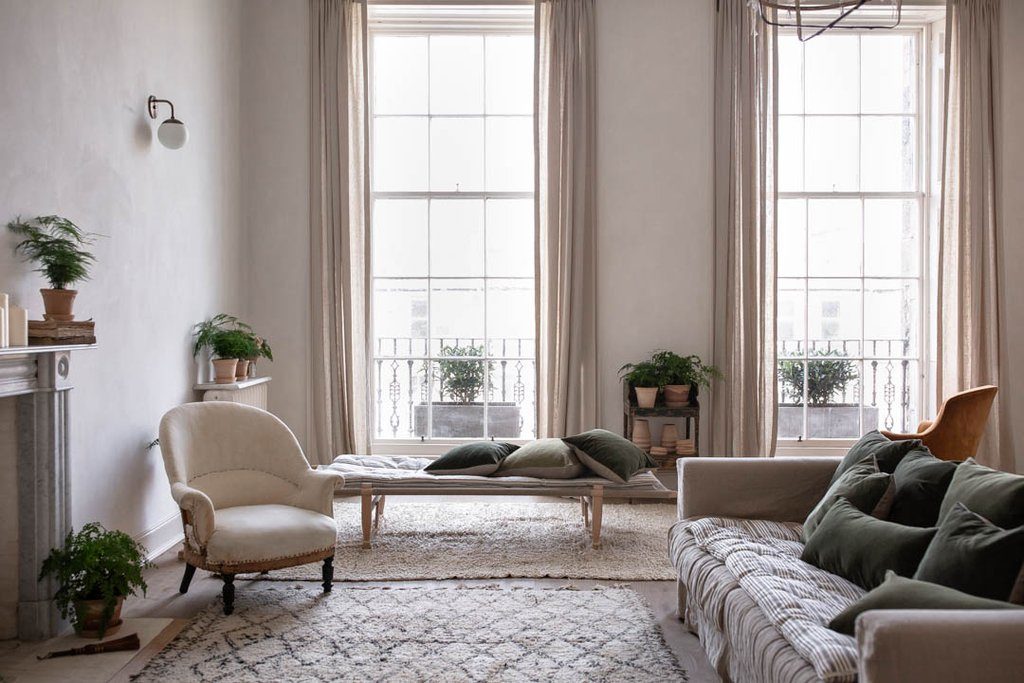 The bedroom
The same goes for the bedroom. A few well-chosen pieces of furniture, a jute rug a lot of plants and plenty of daylights and the result is spectacularly soothing and inviting.
The Bathroom
Probably my favorite room of all. The antique features such as the heater, the brass hardware, the clawfoot bathtub, bring a sort of elegance that is counterbalanced by the simplicity of the room. As for the other rooms, lots of plants, a few well-chosen pieces of furniture, lots of daylight and the result is stunningly relaxing.
All pictures belong to Ingredients LDN