Styling a bed can seem pretty easy at first. After all, it's only a duvet, a few pillows, and a quilt or a throw. Yet, that makes a lot of combinations possible. And not all of them will look stylish… So what's the secret behind these amazing looking beds that look effortlessly comfy and stylish on Instagram? And how to style your bed to have that same kind of laid-back look? Those are questions I've been asking myself as I'm not really happy with the way our bed is looking right now. So I took matters in my own hands and started to analyze what are the elements that speak to me. I've done some heavy researches on Instagram and elsewhere to learn what makes a bed look great rather than just okay. Here is what I've found out:
Layers, layers, layers
Generally speaking what stroke me the most is the multiple layers present on one bed. Layering is a big part of this casual yet stylish feel. It can be a flat sheet a duvet and a throw or a duvet and a quilt or a flat sheet, a duvet and a light coverlet. Or even all of the above but keep in mind that whatever you do make sure you have layers on your bed.
Fold the top part of your duvet (1/6)
That's also a trick I've seen a good amount of time, folding 1/6 of your duvet at the top. It instantly makes the bed look cozier and also allows you to show what's underneath the duvet. You can also do this with a flat sheet of a different color to add contrast to your bed.
Mix patterned and plain beddings
Playing with a little pattern can be an easy way to add personality to your bed. Use patterns that are simple such as grid patterns striped and quiet ones rather than vivid and graphic ones. It'll keep the cozy effect we're looking for intact. You also don't necessarily have to match the pillowcases with your duvet cover. This way you can add a new color to the mix.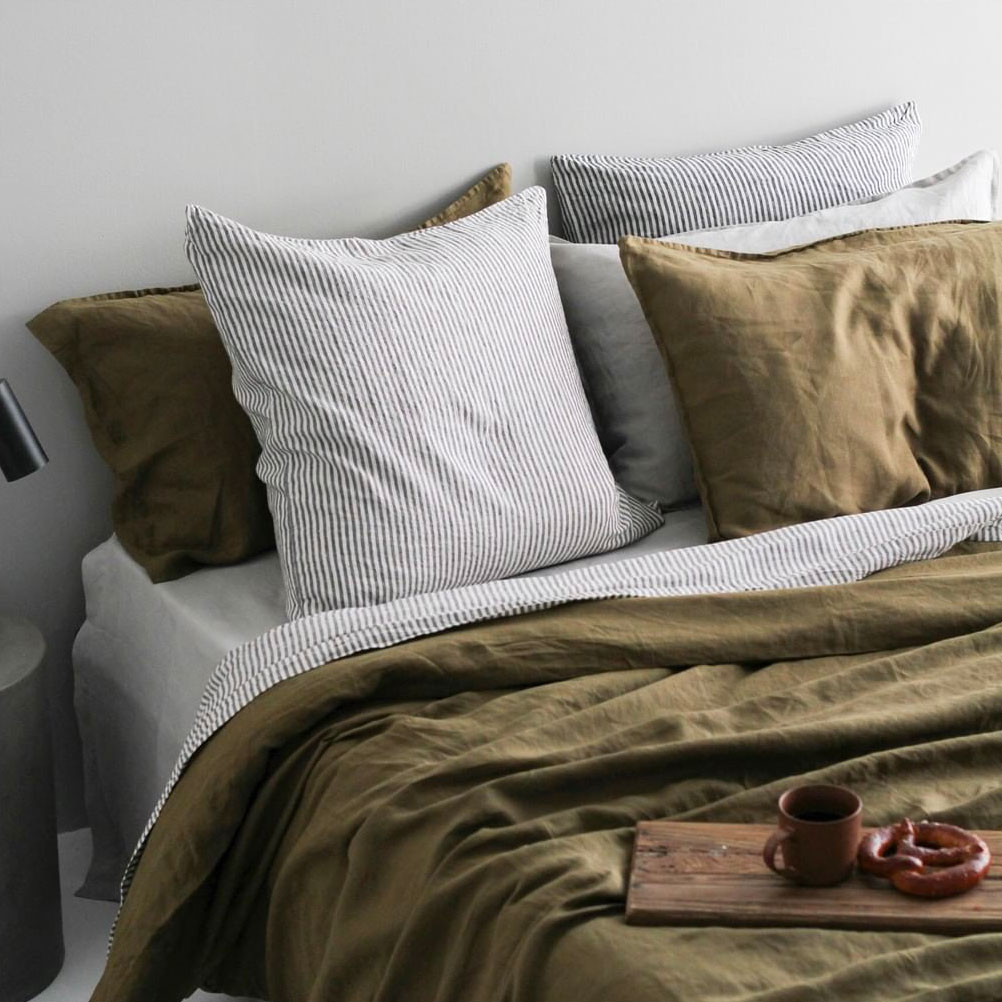 Do your bed don't overdo it
If you want to achieve that relaxed look, there is no need to make your bed like in the military. You don't want it to be too neat, on the contrary, you want it to look like it's just been casually put together. Just put your duvet back into place, throw your coverlet or blanket on it and give a little volume to your pillow. Done!
Choose natural beddings
The fabric of your sheets also has prime importance in the way you want your bed to feel like. Velvet is sure trending now but it won't be in line with that more casual look we are aiming for. If you want to achieve that effortless bed look your allies are surely linen and organic cotton. The great news about this is that you also won't have to iron it as we need them to be a bit wrinkled. Check out my 7 favorite brands for linen sheets of quality
Take your fitted sheet into account
Fitted sheets can no longer be the "poor cousin" of the lot. The relaxed look shows a lot of the fitted sheet so using the ugly, faded one is not an option. You can choose to match its color with your flat sheet/duvet or to create contrast by choosing a dark/light shade.
Play with pillows
There is a simple trick I'm really digging these days and that I can't wait to try. It's about pillows. I've seen a few people putting their pillows horizontally (on top of each other) as opposed to vertically (one behind the other). Putting pillows vertically on one side and horizontally on the other side works also very well. It makes the whole bed feel less perfect, which is a good thing for the laid-back style.
Decorative cushions are no longer a must
There was a time when decorative pillows were really a must. "The more the merrier" was very representative of our bed's situation. I'm not saying that you shouldn't put any decorative pillows on your bed. It's just that there is no need to fill the whole bed with them anymore. And that's good news because where do you put those when you actually go to sleep?
Also, I've noticed that decorative pillows have a tendency to look like regular sleeping pillows. So try to put them in some regular sleeping pillowcases to achieve that less elaborate effect.
I hope this article will have given you some insights on how to style your bed for a casual and relaxed look. Because in the end, we spend almost one-third of our lives in there. So, it seems important to take care of these spaces and to feel good about them.