If you are a little bit of a home decor fan, you must know the show by Joanna and Chip Gaines called "fixer-upper" and their interior design company Magnolia. In the show, the resourceful couple, buy old and decaying houses for their clients and transform them into amazing homes. As much as I love this show I find that sometimes Joanna is a bit forced to stick to the same kind of design. But not with this library! It's the perfect mix between antique and modern design. Everything has been chosen with so much taste and care, the result can hardly be better.

A library that inspires creativity
This room was designed to welcome Magnolia's team's meetings. Joanna also wanted it to inspire community and creativity. A place where you can exchange ideas casually or really get some work done as a team. The decor of such spaces is of primary importance. How can you be creative in a space that is dull and uninspiring? It's not a coincidence if every creative business pays extra attention to their premises. So let's see what makes it so good.

1. A deep green color for a dramatic feel
The first thing you notice in the room is this beautiful forest green color. Joanna wanted the room to feel significant and dramatic. And painting the entire room and ceiling in a dark and deep color is probably the best way to get that kind of impact. It instantly adds a lot of character to a room. Just keep in mind that if your room is not so luminous you should start by painting one wall and see how it goes. My kitchen renovation is proof of that. I've painted my kitchen cabinet in a very similar color but painting the whole room would have made it too dark. Also, keep in mind that you should always test the color in the room before painting it.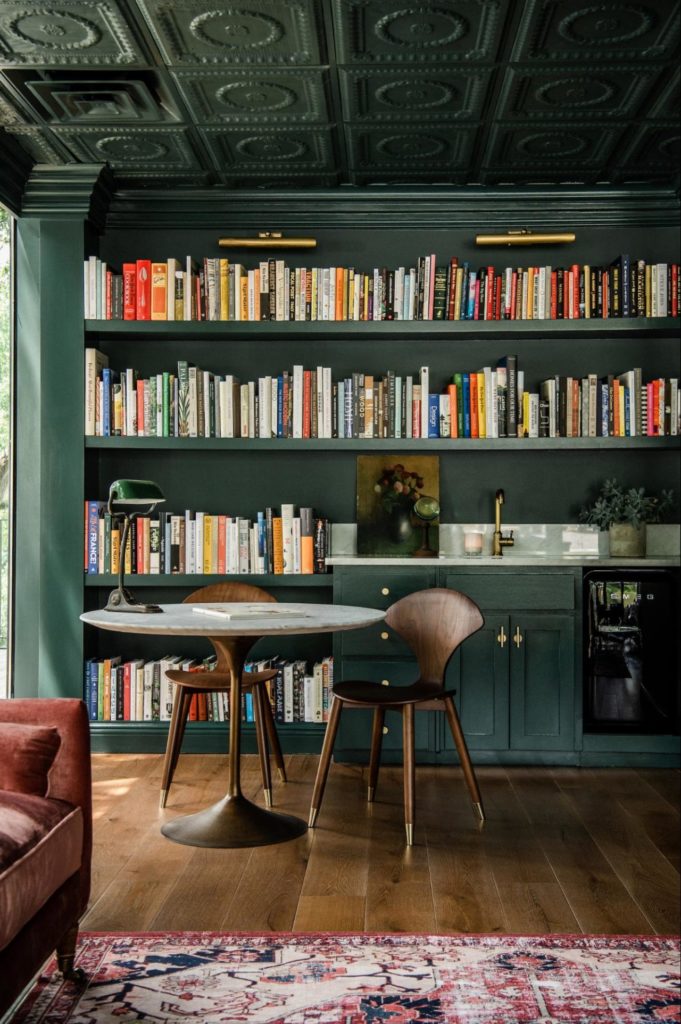 2. A ceiling that makes a subtle impression
Maybe the most subtle yet amazing feature of this room is the antique ceiling tiles. As it is painted the same color as the walls, you don't notice it immediately. Even so, you can definitely feel the elegant touch it adds to the room. It's a feature that will take all its sense when natural lights hit it because it will highlight its texture and material.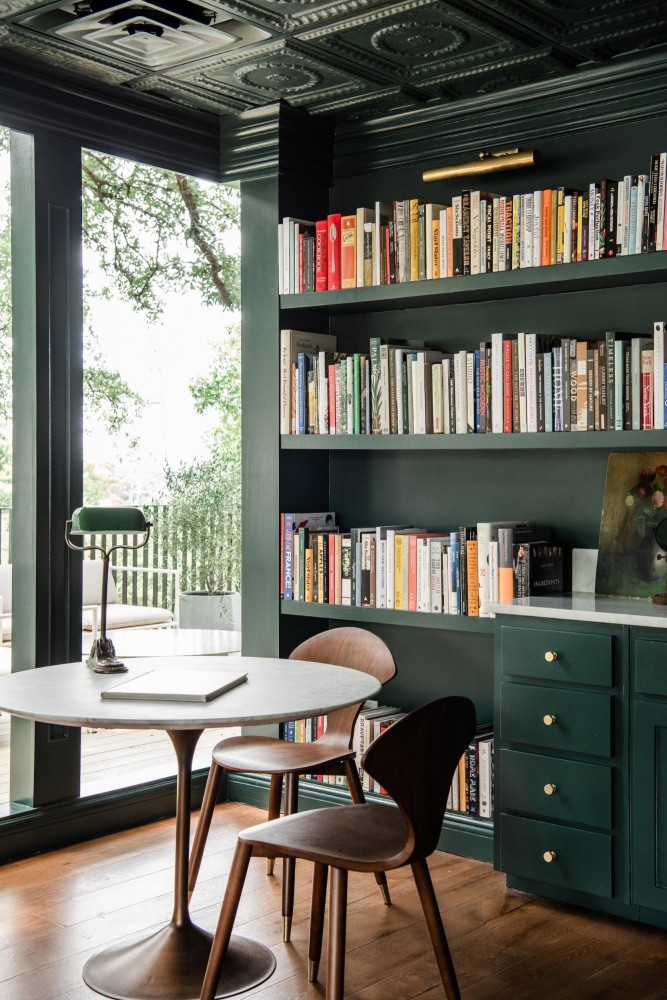 3. Antique and modern brass details
There is something about golden metal that makes life looks chicer. May it be as a piece of jewelry or as brass hardware details, the result is the same: Stunning! This library is proof of it. Not only the brass details complement the green walls well but it also brings you back to an era where interiors were always so rich and colorful. What I like the most here is the fact that she mixes antique and modern brass details. The bookcase lights seem to come from an old public library while the cabinet hardware has clearly a more modern feel. It's that kind of balance that allows the room to have a modern and stylish look.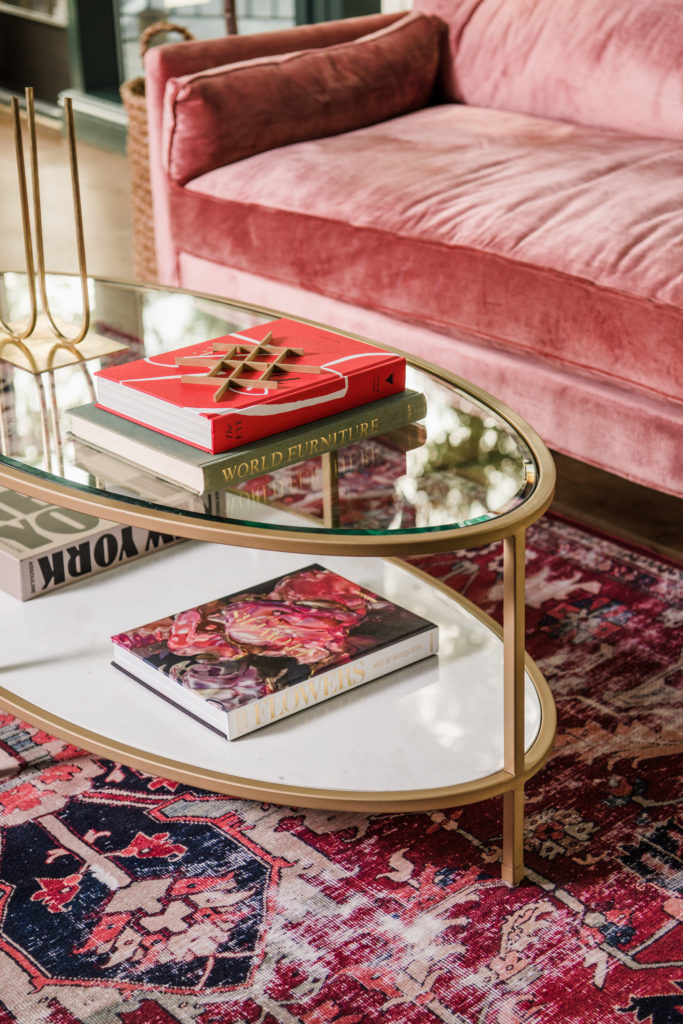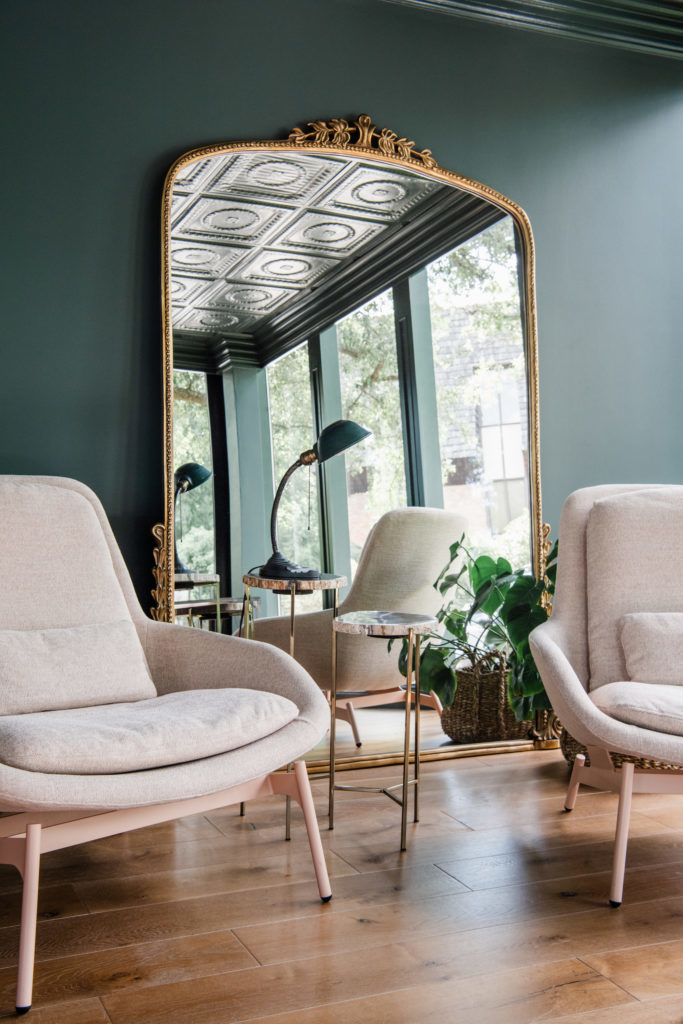 4. Antique furniture finds
Last but not least, Antique furniture finds are a huge addition to any room decor. I know it's not always easy to see the potential of a piece in an antique shop or in a flea market context. But it's crazy how an antique piece can bring a room together. Here, I'm loving the ceiling tiles, the wooden accent table (with the antique magnolia print on it) and the easel. These items prevent the room from looking too polished and add some layers to the room's story. Also when it comes to antique there is not a lot of things that will add more character to a room as antique art prints. It makes a room looks like history happened there.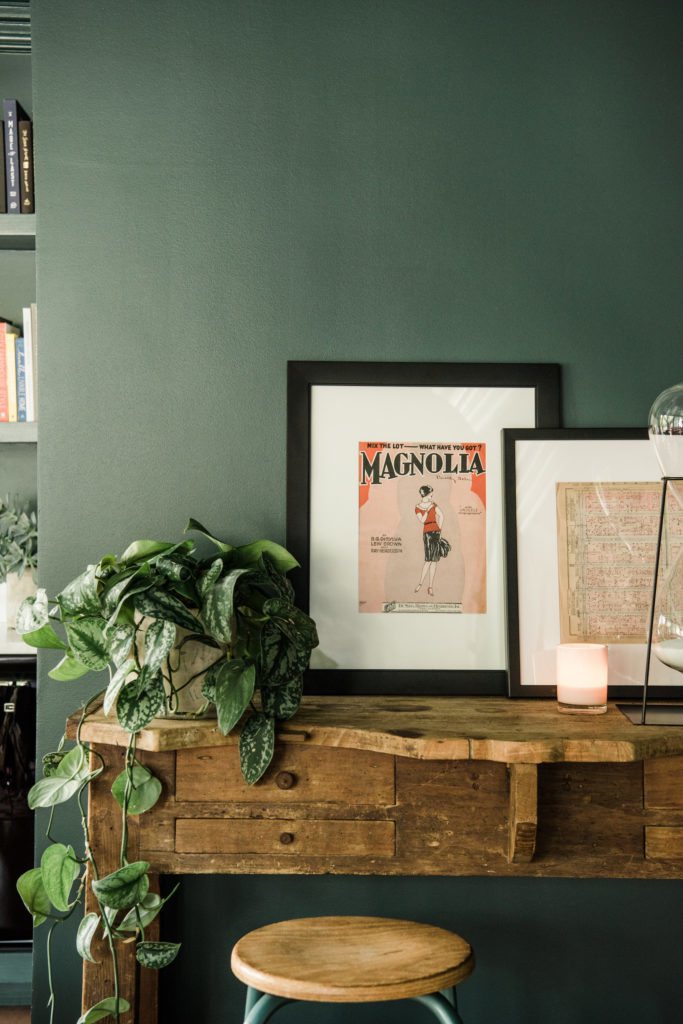 Shop the post
If you liked the look here is a few affiliate links with some of the items I was able to find online. You can help me keep going with this blog by shopping through these links. Thank you!

Picture credit: Courtesy of Magnolia