48 hours in Amsterdam
Amsterdam, also known as the northern Venice because of its canals, has much more to offer than this singularity. What will hit you the first time you step foot in Amsterdam, is its laid back yet lively atmosphere. Everyone looks happy, healthy and comfortable in their shoes. Every square meter of the city has been optimized, space is not a given thing there so people use it wisely. You'll also find greenery almost everywhere which enhances this serene feeling.
The abundance of creative restaurants, shops, hotels and public spaces is amazing. It's very inspiring and exhilarating. You'll want to see everything, try every cool restaurant but you'll need a whole year or a never ending stomach. So amongst this profusion of cool spaces here is how we we spent our precious 48hrs in Amsterdam.
DAY 1
14h00 : Late lunch at Dignita
Because plane food is not very nourishing, starting your trip with a good lunch is always a good idea. Dignita's moto is eat well do good which pretty much sums it all up. They create almost everything from scratch with fresh ingredients locally sourced. The menu is made of brunch like dishes, such as their smashed avocado, buttermilk pancake, or nutty granola. Fresh juice and homemade bakery are also available. It's a place where you'll eat well and then do good.
Dignita Hoftuin – Nieuwe Herengracht 18a – Tel: +31 20 370 27 23 – Open daily  9:00-19:00
15h00 : Walking around the center + shopping on Haarlemerstraat
What I like to do on a first day in a city, is to walk around the center to get a good grasp of the main monuments. Dignita is close to the center so you can go first through the Red Light District which is always a bit disturbing but in a fun way. Then have a look at Oude Kerk an impressivly big church then go south to Damplatz which is pretty much the heart of the city. You can also see the Paleis op de Dam from there, the Buckingham palace of Amsterdam. Then you can go up north on Haarlemerstraat to do some shopping. Lots of nice little café and great shops such as : Spitsberg, Concrete matter, Ibericus, Restored, Six and sons to only mention a few.
20h00 : Dinner at Le Lion Noir
A classy restaurant with a cabinet of curiosities decor, it's a place where you eat well and where you feel good. Don't be afraid to take a starter plus a main dish plus a desert because the portions are very well balanced leaving you with enough appetite for a desert.
Lion Noir – Reguliersdwarsstraat 28 – Tel: +31 20 627 6603 – Email: reservations@lionnoir.nl – Open Daily from 18:00-22:00
The Zoku is part of this new hotel generation where you do everything digitally and need no assistance. You can make a reservation, check in and check out on your own as long as you have a smart phone and a credit card. No human interaction is needed, but this doesn't mean that there is no staff. On the contrary, the staff is very pleasant and helpful. You can ask them anything and they'll do their best to help you.
The room at Zoku are something. The architects surpassed themselves in terms of functional interior. Everything is so well thought that you are under the impression the room is bigger that it really is. There is a kitchen (well equiped) a living room with enough space to put a dinning table in it, and a very cosy bed room with retractable stairs. But what we loved most about Zoku, is its lobby. Unlike every hotel, Zoku's lobby is on the rooftop, literally on the rooftop. The 6th floor offers a lot of great green spots outside to hang out. Moreover, the common room is also divided in many small spaces where you can enjoy a meal or a nice moment with your friends. People from the city come to hang out here because it's a great spot to have a beer and unwind after a workday.
Zoku hotel – Weesperstraat 105 – Tel: +31 20 811 28 11
Day 2
It's a bit like Breakfast at Tiffany's except it's classier. The Pullitzer is a very elegant hotel in the heart of the 9 straat (see below) neighborhood. It's a place you have to see. Breakfast is served at Jansz (one of their 3 restaurants and bars) but only until 11 am and customers have the priority, so you cannot book in advance. Otherwise, there is also the Pause restaurant which serves all day long a set of classical and tasty dishes such as benedict eggs, pancakes, salads, sandwiches and much more. You can eat in the inner courtyard which is a haven of peace. One last thing, try to get lost in their glassed gallery maze.
The Pulitzer – Prinsengracht 315 – +31 20 5235235
11:30 bike tour in the Vondel park
The Vondel park is a very nice park with ponds and small river all along. The people of Amsterdam have the habits of running there or just having a walk around. It's the perfect timeout from the frenzy of the city. To enjoy the park to it's fullest, a bike ride is a must do (there is a bike store not far from the park, see the address just below). It's a lot of fun and also a good way to get use to the bike before going out in the city. You can rent a bike here (address etc…) since it's close to the park, take it for 3 hours it will be enough. Going through the park by bike will take you half an hour at most with some stops here and there. Then you can take it for a ride to the FoodHallen.
A- Bike Vondelpark – Tesselschadestraat 1E – Tel +31 20 – 21 81 292 – Open Mon, Tue, Wed, Thu, Sun 09:00-18:00 and Fri, Sat 09:00-21:00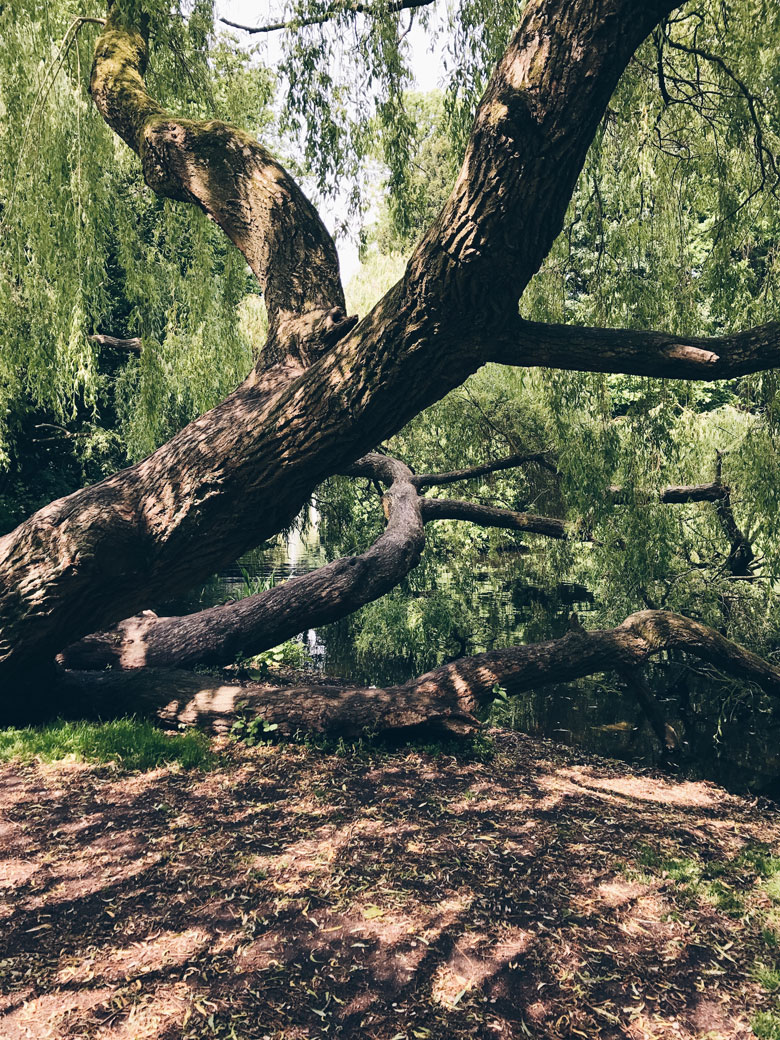 It's a pretty new venue in Amsterdam (October 2014), the concept was inspired by well known indoor markets like 'Mercado San Miguel' in Madrid or the 'Borough Market' in London. This newly renovated tram depot is the perfect spot to share food form over 20 spots varying from street food to upscale cuisine. In the back of the market you'll see bright yellow letters saying Kanari Club. A great space to have a drink or food too, they also have a fake swimming pool where you can hang out on lifering shaped cushions. After a revigorating lunch just wander around the hallen and the cute shops and galleries it hides.
Foodhallen – Bellamyplein 51 – Open Sun – Thu 11:00-23:30 and Fri, Sat 11:00-01:00
Kanari Club – Bellamyplein 51 – Open Mon -Thu 08:30-23:00 Fri 08:30-02:30  Sat 09:30-02:30  Sun 09:30-23:00
16:30 Moco Museum
After bringing back you bike just head north to the beautiful museum plein where every great museum stands. From the Rijks to the Van Gogh, you'll be spoilt for choice. But if you want something a little bit different, choose the Moco museum (modern contemporary). "Moco Museum focuses on proven pioneers and protagonists, the so-called  "Rock Stars of Art" within various art movements. With exciting exhibitions and high-profile guest curators, Moco fulfils the need of a large audience." It's not too big, very accessible and bring some clarification about artists, their art and story. It's a perfect fit for everyone.
Moco Museum – Museumplein Amsterdam Honthorststraat 20 -T +31 20 370 19 97 – hello@mocomuseum.com – Open Daily 10:00-18:00
18:00 Happy hours at George
After all that standing on your feet, it's time to rest and have a well deserved glass of wine.Head back to the Rijks museum then cross it under and go a little bit up, you'll see a trendy place called Café George by the Leidsegracht canal. Very pleasant place where to rest and sip a nice cocktail.
Café George – Leidsegracht 84 – Tel +31 20 626 0802 – contact@cafegeorge.nl – Open Mon- Fri 11:00-01:00  Sat – Sun 11:00 – 03:00
20h30 Dinner at the Kas
Located in an old green house in Frankendael Park, the Kas, distinguishes itself by its unique decor and its freshly harvested ingredients. They grow almost everything in house harvest in the morning and serve it during the day. Eating locally take all its sense there. So if you are ready for a unique culinary experience be sure to book in advance (a month or so for week-end nights) because every one wants a piece of it.
Kas – Kamerlingh Onneslaan 3 – Tel +31 20 462 45 62 – info@restaurantdekas.nl – Open Lunch: Monday-Friday – Dinner: Monday-Saturday
Day 3
10:00 G's Brunch boat
Chances are that if you are reading this that you are no big fan of any guided tour activities. However, it's a shame to go to Amsterdam and not setting foot on a boat. Doing a boat tour is a good way of getting the big picture. So to combine the pleasant and the useful, G's offers a tour on a boat where you can have their delicious brunch. You can reserve your spot on their website and then meet the boat at 10:00 (12:00 or 14:00) at keizersgracht 198. There is no obvious sign marking the meeting point so pay attention to the boats and people waiting on both sides of the canal. It won't be the best brunch you'll ever have but it will certainly be the most original. The food is still good but the atmosphere is something else.
G's Brunch Boat – keizersgracht 198 – sets sails at 10:00, 12:00 & 14:00 Friday to Sunday – info@reallyniceplace.com – 39,50 € per person, brunch and boat tour included
12:00 De 9 straatjes shopping + Bolia shop
After your brunch tour you'll be exactly where you started, in the heart of the 9 straatjes and very close to a lot of great shops. First head to Bolia.com it's maybe 1 minute by foot. It's a furniture and design shop where you feel at home. The staff offers you coffee, you can hang out on the fabulous couch, try and touch everything. A great shopping experience just as we like. The good news is that they are opening a shop in Lausanne this June ! Their selection is to die for. After having touched every single piece, you can continue shopping in the 9 straatjes which is basically 4 blocks of great independent shops. You'll find everything you are looking for and much more.
Bolia – Raadhuisstraat 55 -Tel: +31 20 808 69 93 – Open Mon-Fri 10:00-20:00 – Sat 10:00-18:00  Sun 11:00-18:00
9 straatjes
14:00 Visit the Pijp neighborhood
The Pijp is a part of Amsterdam that feels less like a tourist area. On a sunny Sunday it's a very lively neighborhood were everybody meets to have a drink and a bite while doing a little shopping here and there. There is many great spots to visit in the Pijp, but you can concentrate on the Gerard Douplein and its surroundings (Gerard Doustraat has some great shops). It's only a never ending suite of great restaurant, shops and coffee place each as stunning as the next. Some of the places that will catch your eye are Cotton cake, a small boutique with affordable and trendy items and a coffee shop inside, the scandinavian Embassy, where they make an excellent coffee, Los Feliz for an amazing Brunch (but they serve until 14:45) and many others you'll discover by yourself.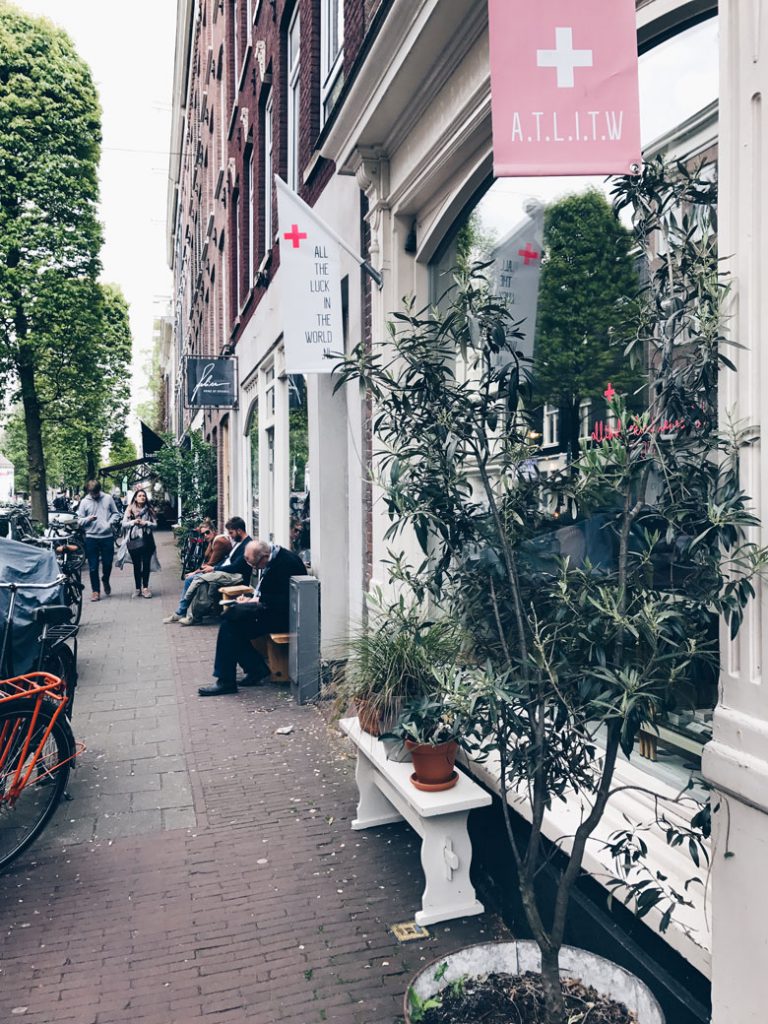 17:00 Back to the airport
Every good thing has to end and here it is. It was a pleasure to take you around the perfect week-end in Amsterdam hope you liked it. Be sure to check out our Madrid getaway for your next European short trip. Feel free to give us all your favorite Amsterdam addresses in the comment box below will try it next time.
Related Address Book articles
The Foodhallen – Amsterdam – Spoiled for Choice
Zoku Hotel – Amsterdam
The Pulitzer Hotel -Amsterdam