Updated on December the 2nd 2019
Amsterdam, also known as the northern Venice because of its canals, has much more to offer than this singularity. What will hit you the first time you step foot in Amsterdam, is its laid back yet lively atmosphere. Everyone looks happy, healthy and comfortable in their shoes. Every square meter of the city has been optimized. Space is not a given thing there, so people use it wisely. You'll also find greenery almost everywhere which enhances this serene feeling.
The abundance of creative restaurants, shops, hotels, and public spaces is amazing. It's very inspiring and exhilarating. You'll want to see everything, try every cool restaurant but you'll need a whole year or a never-ending appetite. So amongst this profusion of cool spaces here is how we spent our precious weekend in Amsterdam.
Where to stay
Choosing a place to stay is of prime importance, fortunately, you have many great options for a weekend in Amsterdam. Let's see:
Zoku hotel – Weesperstraat 105 – The Zoku is part of this new hotel generation where you do everything digitally and need no assistance. You can make a reservation, check-in and check out on your own as long as you have a smartphone and a credit card. No human interaction is needed, but this doesn't mean that there is no staff. On the contrary, the staff is very pleasant and helpful. You can ask them anything and they'll do their best to help you. (pictures below)
Sweets Hotel – Various locations – SWEETS hotel offers a one of a kind experience. 28 iconic bridge houses transformed into independent hotel suites on Amsterdam's canals. It's a very fun way to experience Amsterdam. Each bridge house is unique and decorated with taste. So if you are up for a little adventure give it a shot. (pictures below)
Airbnb – Various locations – Airbnb is definitely one of the best ways to experience Amsterdam like a local. There are so many great houses and apartments out there that you'll be spoiled for choice.
For even more accommodations just click on the link below:
Get all my Amsterdam Addresses in this handy google map
Where to eat and have a drink
Small eateries, coffee shops and bars
Foodhallen – Kanari Club – Bellamyplein 51 – The Foodhallen concept was inspired by well-known indoor markets like 'Mercado San Miguel' in Madrid or the 'Borough Market' in London. This newly renovated tram depot is the perfect spot to share food from over 20 spots varying from street food to upscale cuisine. In the back of the market, you'll see bright yellow letters saying Kanari Club. A great space to have a drink or food too, they also have a fake swimming pool where you can have a break. After a revigorating lunch just wander around the Hallen and the cute shops and galleries it hides. (pictures below)
The Breakfast Club – Various locations – A place where they serve breakfast all day long in a casual and welcoming atmosphere. The Pancakes are a delight. (pictures below)
Café Droog – Staalstraat 7A/B – The café is on the first floor of Droog's concept space. It's airy and luminous and the food looks really good and healthy. We weren't able to eat there because it was full but definitely on my list for the next trip. (pictures below)
Pause at The Pulitzer – Prinsengracht 315 – The Pulitzer is a very elegant hotel in the heart of the 9 straat neighborhood. The Pause restaurant serves all day long a set of classical and tasty dishes such as benedict eggs, pancakes, salads, small sandwiches, and pastries. They have an inner courtyard which is very calm and pleasant in the warmer days. One last thing, don't leave without exploring the hotel a bit, it's totally worth taking the tour. (pictures below)
Café Winkel 43 – Noordermarkt 43 – An institution in Amsterdam, this café is well known for its apple pie that looks delicious. Unfortunately, you'll have to do the line if you want to be able to taste it.
SLA – Various locations – It's pretty much a certainty that you will come across at least one SLA coffee shop during your stay. They serve good coffee and organic food, perfect for a little break.
Sova coffee roasters – Eerste Constantijn Huygensstraat 63H – Another on-point coffee shop that serves healthy food. We weren't able to try it but it's on my list for the next trip.
Dignita Hoftuin – Nieuwe Herengracht 18a – Dignita's motto is: "eat well do good" which pretty much sums it all up. They create almost everything from scratch with fresh ingredients locally sourced. The menu is made of brunches like dishes, such as their smashed avocado, buttermilk pancake, or nutty granola. Fresh juice and homemade bakery are also available. (pictures below)
Van Wonderen Frieten – Runstraat 1 – If you have a little french fries craving, this is totally the place you should visit. They make the fries right in front of you which is also really fun to watch. You can choose your toppings such as truffle, cheddar and more and a sauce of course. Van Wonderen Frieten is the brother of Van Wonderen Stroopwafels which is the same concept but with Stroopwafels. (pictures below)
For even more restaurants just click on the link below:
Get all my Amsterdam Addresses in this handy google map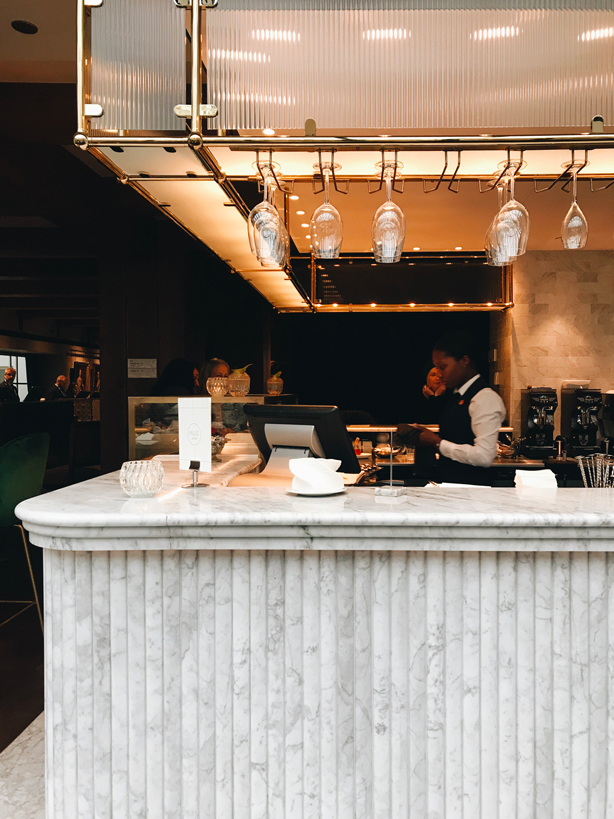 Restaurant for dinner
Lion Noir – Reguliersdwarsstraat 28 – I go there almost every time I visit Amsterdam and I always had a good time. Le Lion Noir is a classy restaurant with a cabinet of curiosities decor. Don't be afraid to take a starter plus a main dish plus a dessert because the portions are very well balanced leaving you with enough appetite for every part of the meal. (picture below)
Kas – Kamerlingh Onneslaan 3 – Located in an old greenhouse in Frankendael Park, the Kas, distinguishes itself by its unique decor and its freshly harvested ingredients. They grow almost everything in house harvest in the morning and serve it during the day. Eating locally takes all its sense there. So if you are ready for a unique culinary experience, make sure to book in advance (a month or so for weekend nights). It's on my to-do list for the next trip.
Cecconi's – Spuistraat 210 – Centrally located in the 1930s Bungehuis building, Cecconi's is always a safe bet. The atmosphere and the decor have a way of bringing you back in the 1930s. It's the perfect place to sip some bubbly over a heavenly plate of pasta. I'd recommend to go there for dinner or to have a drink. (picture below)
Entrepot – Entrepotdok 7-8 – Named after it's location, this restaurant is much more welcoming than its name suggests. The space is large with a long bar and a wide room. Yet they've managed to make it cozy and intimate. The decor is minimal but as divine as the food is. A new favorite of mine. (picture below)
De Plantage – Plantage Kerklaan 36 – Near the botanical garden, the Plantage is impressive by its architecture. A modern venue built in an old building. Most of the tables are located in a beautiful verandah overlooking the zoo. It's a majestuous place out of time. The food is good and not overpriced at least for lunch. (picture below)
Buffet van Odette – Prinsengracht 598 – For over two decades, BUFFET van Odette has been one of Amsterdam's most cherished places for lunch and dinner. Their dinner menu consists of classic entrees supplemented with rotating seasonal dishes and fine natural wines. Another favorite of mine.
The Duchesse – Spuistraat 172 – I wasn't able to eat there but definitely on my list for the next trip. THE DUCHESS resides in one of the best-kept historic gems, the former KAS Bank in W Hotel Amsterdam, providing guests with the elegance of traditional London hospitality balanced with Viennese grandeur.
For even more restaurants just click on the link below:
Get all my Amsterdam Addresses in this handy google map
Where to shop
Restored – Haarlemmerdijk 39 – There is plenty of great shops on Haarlemerstraat but surely Restored is one of the best. You'll find delicate ceramics, jewelry, bags and all sorts of interior decor things. I loved it all the way. (picture below)
Cotton cake – 1e van der Helststraat 76-hs – A small boutique with affordable and trendy items and a coffee shop inside.
We are Labels – Various locations – Each time I go to Amsterdam I buy something from this shop, they have a great selection of clothes accessories at an affordable price with 80% of their collections between 40 and 80 euros.
Hutspot – Rozengracht 204-210 – It's one of these perfect shops where everything looks neat and cool. They have a large range of clothes and also perfect gifts for the home. And the prices are gentle. A gem! (picture below)
Misc – De Clercqstraat 130 – If you are a stationery lover you'll definitely love Misc (short for Miscellaneous). They have a large selection of the world's best stationery. I bought a notebook from a Japanese brand that I suspect will survive me.
The Gathershop – Hannie Dankbaarpassage 19 – At The Gathershop you'll find handmade, fairtrade and products from small design studios. Located near the Foodhallen don't miss it when you are there. (picture below)
For even more shops just click on the link below:
Get all my Amsterdam Addresses in this handy google map
What to do
A tour in the Vondelpark – It's a very nice park with ponds and small rivers all along. It's a perfect timeout from the frenzy of the city. To enjoy the park to its fullest, a bike ride is a must-do. It's a lot of fun and also a good way to get use to the bike before going out in the city (if you dare). You can rent a bike at A- Bike Vondelpark since it's close to the park. Going through the park by bike will take you half an hour at most with some stops here and there. Then you can take it for a ride to the FoodHallen. So I'd recommend renting bikes for 3 hours.
Moco Museum – Museumplein Amsterdam Honthorststraat – the Moco museum (modern contemporary) focuses on proven pioneers and protagonists, the so-called "Rock Stars of Art" within various art movements. With exciting exhibitions and high-profile guest curators, Moco fulfills the need of a large audience." It's not too big, very accessible and brings some clarification about artists, their art and story.
G's Brunch Boat – Keizersgracht 198 – Chances are that if you are reading this that you are no big fan of any guided tour activities. However, it's a shame to go to Amsterdam and not setting foot on a boat. Doing a boat tour is a good way of getting the big picture. So to combine the pleasant and the useful, G's offers a tour on a boat where you can have their brunch. You can reserve your spot on their website and then meet the boat at 10:00 (12:00 or 14:00) at Keizersgracht 198. There is no obvious sign marking the meeting point so pay attention to the boats and people waiting on both sides of the canal. It won't be the best brunch you'll ever have but it will certainly be the most original. The food is still good but the atmosphere is something else.
Rijsk Museum – Museumstraat 1 – A must-see, even if you just peek at the entry hall that was newly renovated in 2013 after a 10-year transformation by Spanish architecture firm Cruz y Ortiz Arquitectos. Once inside don't miss the library which is definitely an impressive one.
Ons' Lieve Heer op Solder – Oudezijds Voorburgwal 38 – A hidden gem in the red light district, this museum will take you on the tour of a typical dutch house from the 17th century, with a little twist in the attic! Prepare to be amazed.
Hortus Botanicus – Plantage Middenlaan 2A – It's always nice to have a walk in a botanical garden, and Amsterdam's one is no exception. Get lost in the hothouse and lush gardens.
Noordermarket – 1015 NA Amsterdam – the Noordermarkt takes place on Mondays and Saturdays. You'll find all sorts of things, from antiques to food it's a huge and full of gems.
For even more activities to do, just click on the link below:
Get all my Amsterdam Addresses in this handy google map
If you are interested in more city guides I also have one about Madrid and Copenhagen.