If you have already hosted a Christmas party, you know the importance of the Christmas table. It's the place where you and your family and/or friends will spend most of the evening, sharing a delicious meal and meaningful moments. I know that the success of a Christmas dinner party doesn't depend on the decor only but setting a nice table will definitely help.
As trivial as it may seem, it can be a slippery task. So this year as I will host some Christmas dinner party myself, I wanted to make this task easier and find simple yet stunning ways of setting the Christmas table.
I came up with two different looks that use almost the same set of items. Here is what I used exactly.
Dish:
Decor:
2x glass tea light containers (old ones but you can find some in any decor shops)
fir branches that I cut from a tree
3x black candles by Sostrene grene (no online shop)
3x white candles by IKEA
6x linen napkins by H&M home
6x pine cones I have had forever
White table cloth with a grid pattern by H&M home (can't find it anymore), similar here
Bonus: Add a light garland in the middle of your table for a more festive look.
N.B. the main differences between the two options are the use of the table cloth. I wanted to show that you don't necessarily need a table cloth to make a Christmas table look festive.
Option 1: A minimalist cottage Christmas table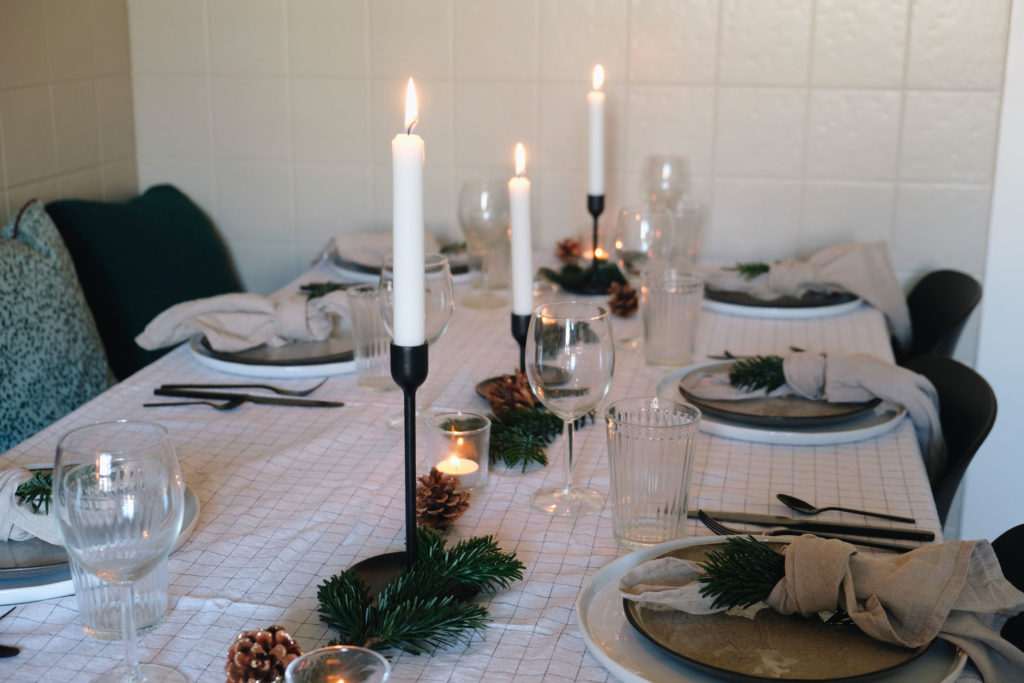 It's a very clean and minimalist option in terms of color. With almost only black and white elements this table calls for a sleek yet casual Christmas party.
The appetizer plates are very important here because they bring some warmth to the table. White appetizer plates would have made the whole look a little bit too plain and cold for my taste. The linen napkins (tied into knots with small fir branches) add a touch of originality and interest to the table. Also, it's really simple to do and always make an impression. The pine cones and fir branches placed on the table are here to bring colors and subtle festive touches.
Option 2: A chic and moody table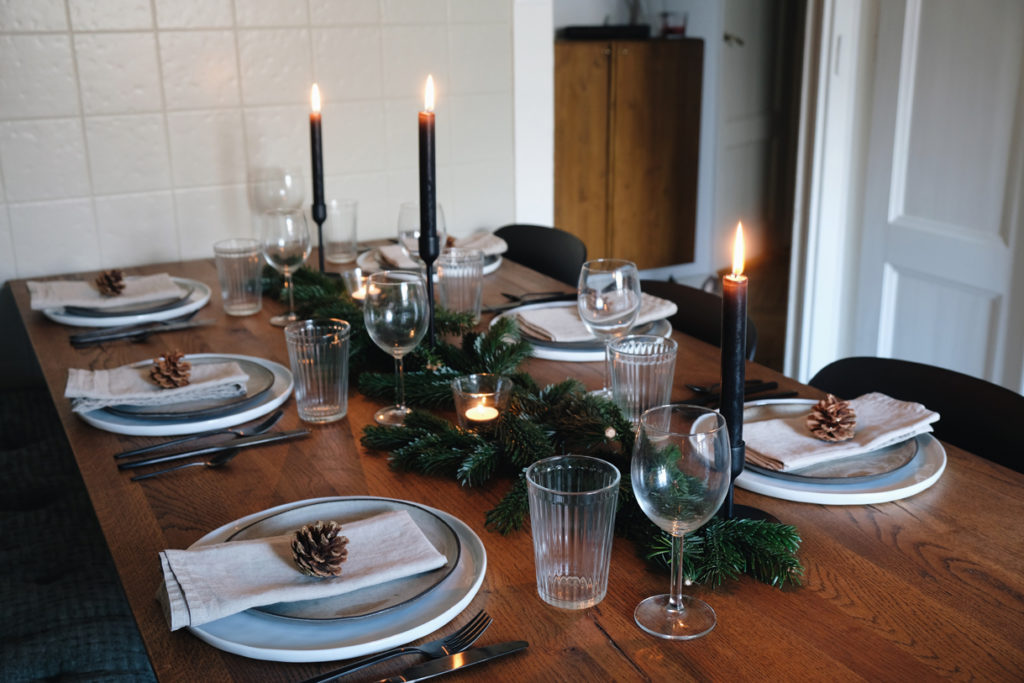 On the other hand, option 2 takes advantage of the natural warmth of the wooden table for a naturally cozier effect. It's a darker and moodier look. The fir branches arranged into a sort of table runner with the candles tucked into it, guide the eye throughout the table. The black candlesticks with the black candles are here to bring a touch of chic that counterbalances with all the natural elements. Last but not least the napkins, this time, are folded into traditional rectangles on which I set simple pine cones to bring volume and interest to the plates.
All in all, two different table settings where I used almost the same items. The proof that you don't need much to impress your guests with your table. And who doesn't love a minimal look?
Other articles about Christmas decor
Cheap and easy last-minute Christmas decor tips