Curtains are a thorny subject when it comes to decoration. We are always afraid to make a mistake in terms of color, pattern, or material and we never know how to install them. Therefore, one of the most common things in rental apartments is the absence of curtains on windows. For fear of making a mistake, we prefer not to even try. But this is a big error. Curtains are probably one of the easiest ways to instantly make a room look warmer and more elegant. It's also a great way to give more height and volume to a room.

So here are some handpicked curtain ideas that will make your home room by room infinitely more stylish:
Living room curtains ideas
In the living room, the curtains have two main objectives, to veil the daylight and make the room cozier.
Floor to ceiling curtains
This trick is one of my favorites because it gives any room a sense of grandeur. The idea is to hang your curtains from the ceiling. Or if you can't, the closer to the ceiling possible. In the image below (second), the moldings prevent the curtains from being hung from the ceiling, so we hung them just below, which is also appropriate.
Covering the walls
The idea here is to cover the walls between the windows or on the sides (this trick is often paired with the floor-to-ceiling idea). This adds texture to the wall, almost like wallpaper, except it's a sort of layered look. A very clever idea if your walls are not in good condition or if you want to hide something such as radiator pipes.
color-block curtains strike
This is more of a graphic trick, this will help you realize a very timeless and elegant look. It works wonders in a living room and also in a bedroom (see below).
Two curtain panels of different colors and/or style
Adding layers of curtains can be both very useful and stylish. This allows you to have two types of curtains. The most common combination is blackout-type curtains combined with sheer curtains. These different curtain panels are often hung on different rods, but you can totally have two different curtain panels on one rod (see the bedroom section).
Drop-cloth curtains
Drop-cloth curtains are essentially assimilated to the farmhouse style. But if you choose your fabric well, it can become a very elegant element of your interior decoration. Check out these linen drapes below with a black liseret, Instantly chicer!
Bedroom curtains ideas
In the bedroom, curtains are an important part because they help darken the room. They can be used in addition to blinds and shutters or just by themselves. They are probably as important as the way you style your bed or the color of the walls. Let's see the best curtain ideas for the bedroom:
Floor to ceiling
Covering the walls
Color-block curtains strike
Two curtain panels of different colors and/or style
Drop-cloth curtains
Kitchen curtains ideas
In the kitchen, curtains rarely have a blackout purpose. We seek rather hide from prying eyes while letting light pass.
Floor to ceiling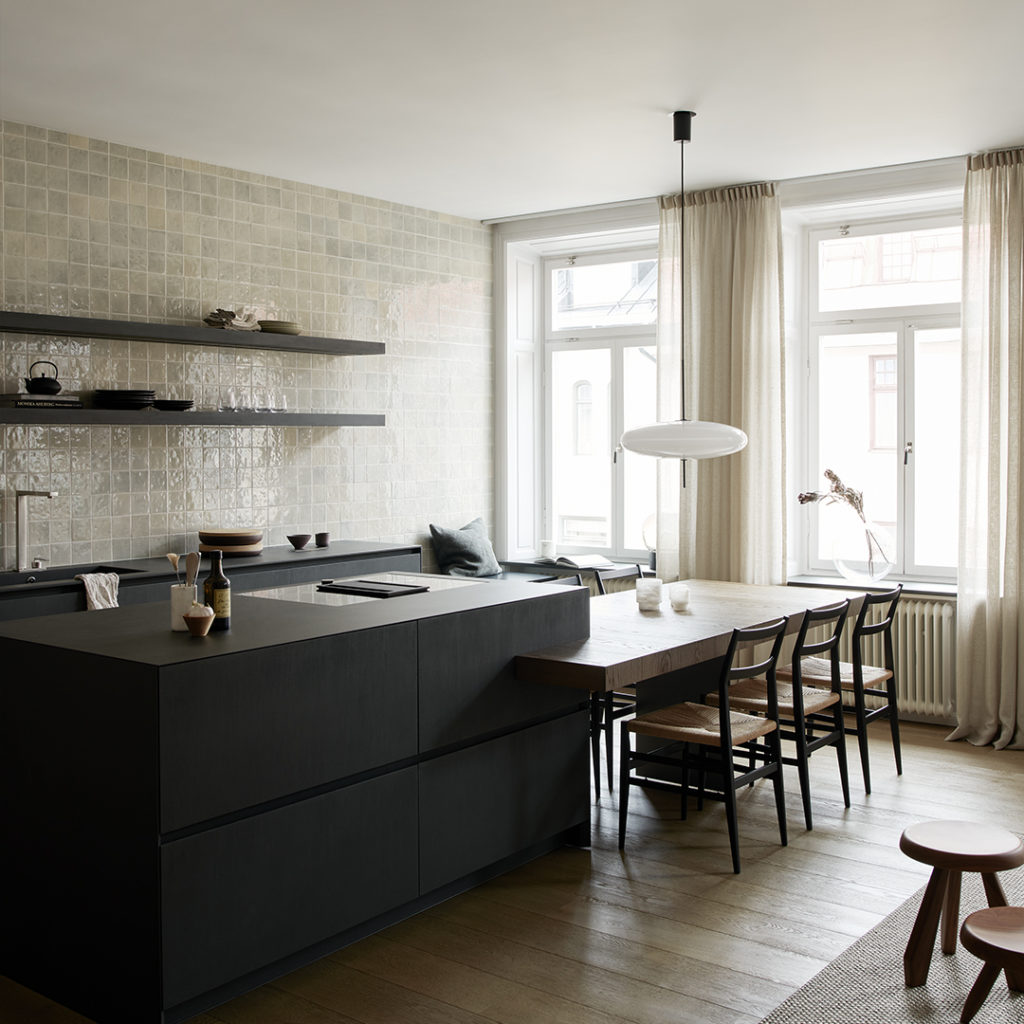 Covering the walls
Café curtains
Café curtains are as their name suggests the curtains that used to be put in the cafes in Paris. They hide only a certain amount of the window and had been thought so to protect the customers of these establishments of the indiscreet glances of the passers-by. They are a great idea for kitchen curtains, an original way to enhance a kitchen window. Especially if you happen to have a window just above the sink or kitchen counter. But they will add a stylish touch to any window in your kitchen.
Bathroom curtain ideas
In the bathroom, the main purpose of curtains is to give privacy while letting light through.
café curtains
Shop curtains
See also 14 simple of my favorite linen curtains