Having an open wardrobe requires a certain level of discipline on a daily basis. You just can't hide the mess by closing your closet doors. It forces you to keep it tidy at all times, otherwise, chaos can take over the entire room easily. So if you don't want to end up with a battlefield in place of your wardrobe, there are some tactics you can adopt and some objects that can be very helpful.
As I've already covered the 3 main points to consider before creating an open wardrobe. Today I'm gonna focus on the items you'll need to make it functional, but not only! As everything will be visible, it is important to choose your storage items carefully. Plastic boxes and ugly hangers are simply not a great option if you aim for an inspiring closet. Instead, opt for more noble materials and well-designed objects, because you will have them in front of you every day.
Storage essentials: Baskets and storage boxes
Why are storage boxes and baskets important items to complete your open wardrobe? Because they will help you put everything neatly on your shelves. They will help you gather accessories of the same nature in one place. They will also allow you to have a kind of hiding place for things you don't really know how to display. Not everything can be displayed in a cute way, sometimes it's better to hide it in a stylish basket.

It is in this perspective that I've made the two collections of boxes and baskets below. The first list contains objects made of what I call natural materials such as rattan, water Hyacinthe, etc… The other list I put together consists of items that are made of fabric and paper. I've added a third list with well-designed clothes hangers as I think they are key to a good looking open wardrobe. But if you don't want to change your hangers, try to have only hangers of the same kind displayed. It will already make a huge difference.
1.Chambray basket, Ferm Living, CHF 69.05 Finnish design shop
2.Bask Set of 3 Felt Baskets, 29 € Made.com
3.TJOG box, 3.89 € IKEA
4.Big storage box, 12.99 € H&M Home
5.Checkered multi-storage basket, Acao, CHF 24.95 La Redoute
6.Big storage basket, 29.99 € H&M Home
7.TJENA storage box, 9.74 € IKEA
8.Restore storage basket, Muuto, CHF 72.75 Finnish design shop
---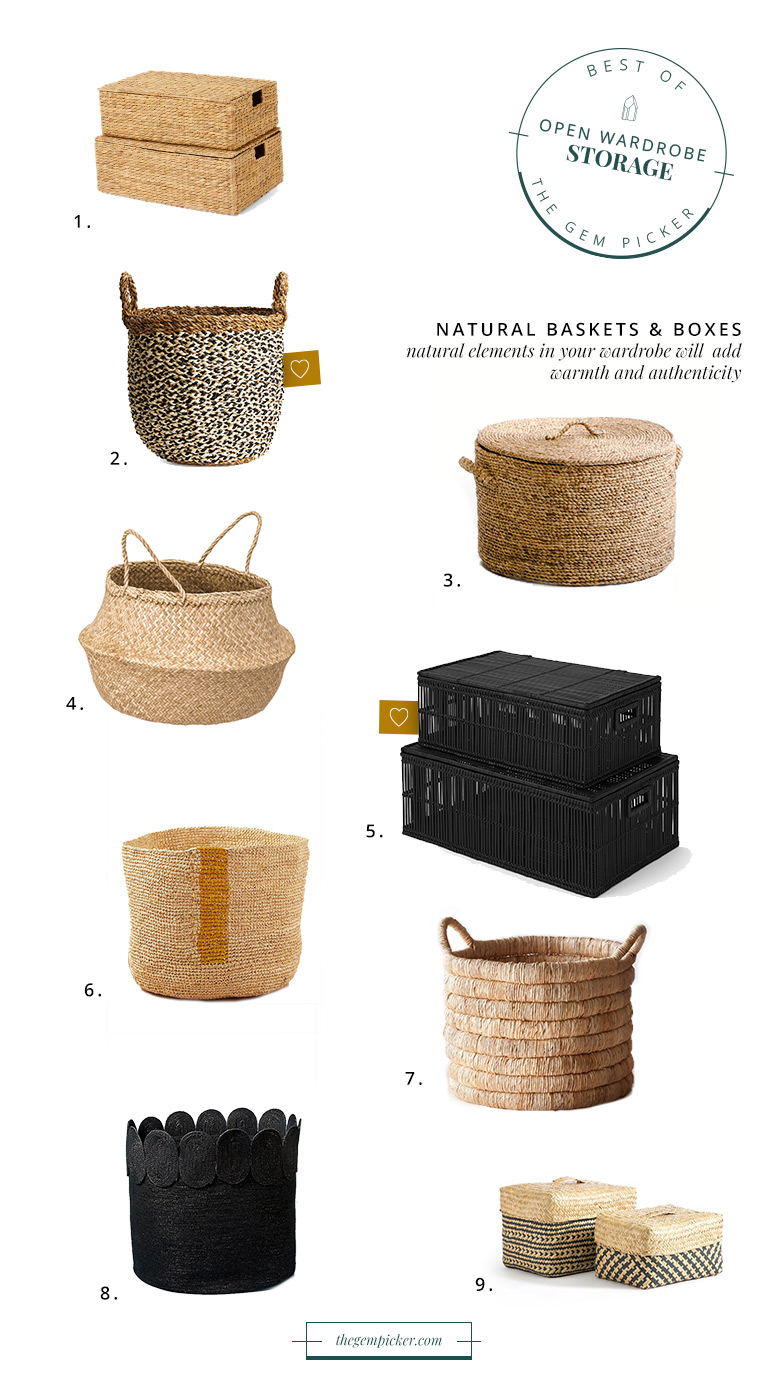 1.Dae Set of 2 Underbed Water Hyacinth Storage Trunks, Multi, €69 Made.com
2.Large Basket 34 cm, jute, 29 € ARKET
3.Rounded Basket Water Hyacinth, Lian, CHF 130 La Redoute
4.FLÅDIS, basket, 12.66 € IKEA
5.Penelope, Set of 2 Large Bamboo Trunks, Black 119 € Made.com
6.Natural Raffia Storage Basket, 38 € Anthropologie
7.SUNDAK storage Basket, 135 $ The Citizenry
8.Scallop Basket, 80 € Anthropologie
9.Set of two baskets, KOTAK, CHF 49.95 La Redoute
---
1.String hanger set, 4 pieces, CHF 32.10 Finnish design shop
2.STAJLIG, 5 pieces, 4.86 € IKEA
3.Elori, set of 4 hangers, CHF 24.95 La Redoute
4.Round coat hanger in patinated brass metal and wooden ring Madam Stoltz, 7.90 € Decoclico
5.Loop Steel Hangers 3 pieces, 40 $ Design Milk
6.Velvet Hanger Set, 25 pieces, 38 € Urban Outfitters
7.Vestis hanger set of two, 35 € Made in Design
8.Cord Hanger 5 pieces, 12.90 € Granit
9.Rattan hangers 8 pieces by Nordal, 55.90 € Decoclico
cover picture by Muuto