The entryway is a key room in your home. It's the room that greets you when you come back and the room that prepares you for the outside world when you leave. As this is quite an important task, it is essential that this room is functional. I've noticed that there are 9 elements that seem to always be in the mix of a functional entryway. Amongst them are entryway benches or more generally speaking seating space. It's always convenient to be able to seat in an entryway to slip into your shoes or to remove them comfortably. But why a bench in particular? Let's dig in!
Why benches are better than other seating options for your entryway?
A bench is usually a very convenient and versatile piece of furniture compared to a chair or an armchair. It can be narrow, large, it can contain storage or be very sleek and minimal. It's an ideal piece for small entryways and even greater for large entryways. It can also be a very elegant piece of furniture and a functional one. You can even build it yourself or buy one that suits your needs because there are a trillion options out there. But before doing so there are a few things you should take into account.

How to choose an entryway bench?

So what should you consider before buying entryway benches? There are 3 main components to take into account:
The space you have
The storage you need
The style you want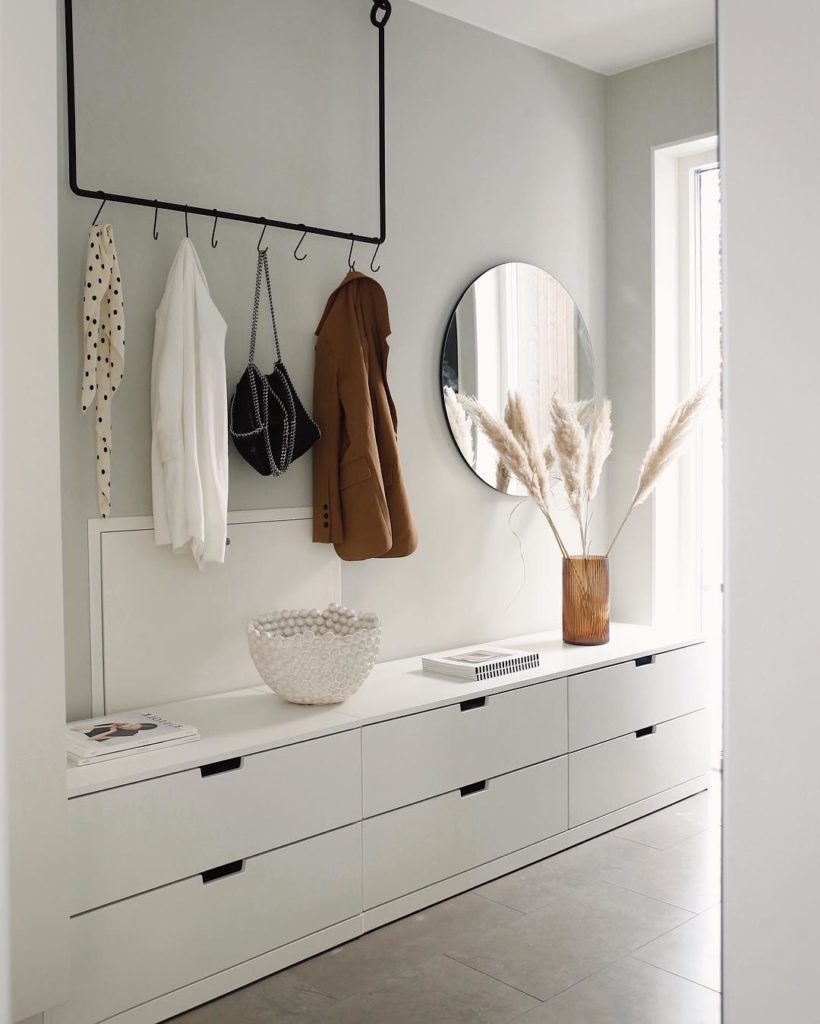 Of course, it's important to take into account the size of your entryway. You cannot put a big bulky bench in a narrow entryway because well, it'll look crowded. Narrow entryways call for narrow pieces of furniture. So going with 1, 3, or 8 (see selection board below) from the no-storage bench selection would be wiser. But narrow doesn't mean that you cannot put a little storage in there, you could also go with 2, 4, 7 or 8 from the storage bench board.
On the other hand, if your entryway is larger 6, 1 and 5 from the storage selection would be a great idea especially if you have a lot of stuff to conceal. But if you are more into minimalism, 4, 7 and 9 from the no-storage board would be more suitable to you.

Also, the style is important, you don't want your bench to be in total contradiction with your personal style just because it's great in terms of size and has good storage. But you also don't want the "total look" so it's always better to mix 2 or 3 styles together to have a more personal result.

Modern style
If you are looking for a more modern* piece you could go with:
Without storage: 2, 6, 7, 8,
With storage: 10, 11, 12, 14, 16, 17, 18

*when I say modern I mean style such as Scandinavian, mid-century, contemporary, retro. For me, they are all part of the modern style.
Farm style
Or on the contrary, if you are more into farm style and rustic those are the ones you should focus on:
Without storage: 1, 4, 5, 9
With storage: 15, 16

Boho
If you are looking to add a little boho vibe to your entryway these could help you achieve that.
Without storage: 1, 5
With storage: 13, 16
No-storage Bench
1.Asayo Bench, 125,65€ laredoute.fr – CHF 245 laredoute.ch
2.Cedak Bench, 139,63€ laredoute.fr –CHF 270 laredoute.ch
3.Adam Bench by Frama, CHF 690 Finnish Design shop
4.J52 Bench by FDB Mobler, CHF 657,10 connox.ch
5.Luce by Bloomingville, 512,10 € Living and CO – CHF 625 madeindesign.ch
6.H.Lis Fox Bench by Rose & Grey, £395 Roseandgrey.co.uk (This bench come in a large range of fabric and color)
7.Comma bench by House Dr, CHF 204 Westwingnow.ch – 235 € laredoute.fr
8.Soft Bench by TAKT, 299 € taktcph.com
9.Natural wood bench, £675 Roseandgrey.co.uk
Storage Bench
10.Nordmela by IKEA, CHF 199 ikea.ch
11.Panos by Made.com, €229 made.com – CHF 349 made.com/ch
12.Raleigh by Made.com, €199 made.com – CHF 279 made.com/ch
13.Flynn by Maison du Monde €329 maisondumonde.com – CHF 399 maisondumonde.com/ch
14.Nordli by IKEA, CHF 239 ikea.ch
15.Shoe bench with doors by Costwold, £249 costwoldco.com
16.Longworth bench by Coats & Warner, €355 decoclico.fr – £220 coatsandwarner.com
17. Oak Bench by Hübsch, €350 thecoolrepublic.com – CHF 389 nordichaus.ch
18. Free bank by Montana CHF 528,60 connox.ch
I've tried to list products that are available and easy to buy from Europe. I've also found when possible alternatives for Swiss citizens on swiss friendly websites (but always check their delivery politics for custom fees, additional costs, etc…)