A small bedroom is not a fatality. When you think about it, a bedroom is a room in which you mostly sleep. So this means that as long as you can put a bed in it, you should be fine. Of course, to choose, we would prefer a larger room. But in old rental apartments you don't always have a choice.

As a tenant and inhabitant of a small space, I am always on the lookout for tips and tricks to make the most of a space. I have therefore searched and selected for you the best tricks to make a small bedroom a cozy, stylish, and practical cocoon.
1.Raise your bed
The underside of a bed is by definition wasted space so why not raise it up and create storage? It's also a good way to create visual interest.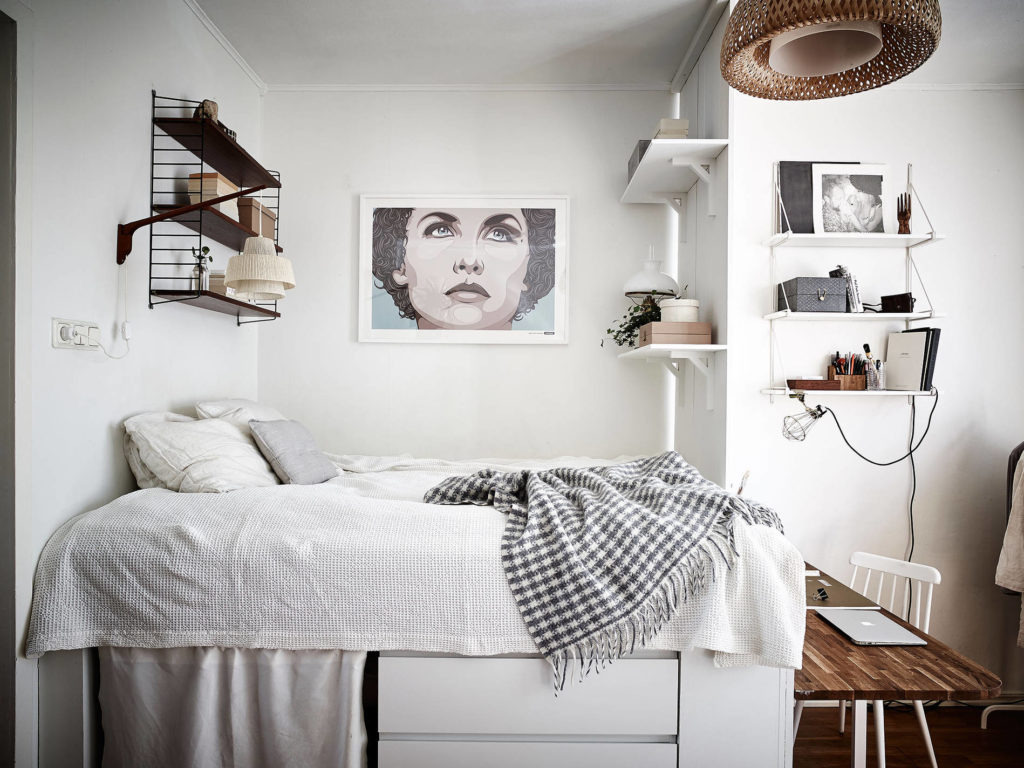 2.Wall to wall curtains
A curtain that covers the whole length enlarges the room and gives an impression of elegance and voluptuousness.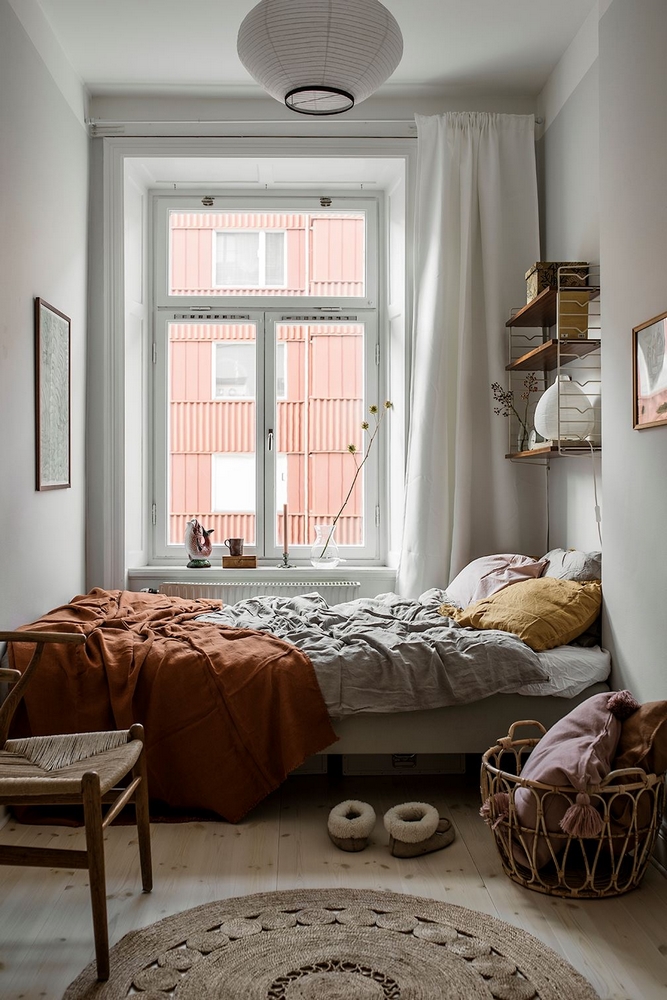 3.Create a "trompe l'oeil" alcove
"Trompe l'oeil" is another way to give an effect of grandeur in a room. The idea of creating a visual alcove (by painting a part of the wall and ceiling) works wonders in this bedroom. It gives the impression that the room is longer than it actually is.
4.Use the height of the walls
When you don't have a lot of floor space, it makes sense to exploit the height of the walls. Install shelves to store objects and books or even entire bookcase systems that frame the bed.
5.Embracing the darkness
It is often said that painting in a dark color can shrink a room, but don't be afraid to turn your mini bedroom into a cocoon of softness. Painting a small room in a dark color gives character and accentuates this cozy nest feeling.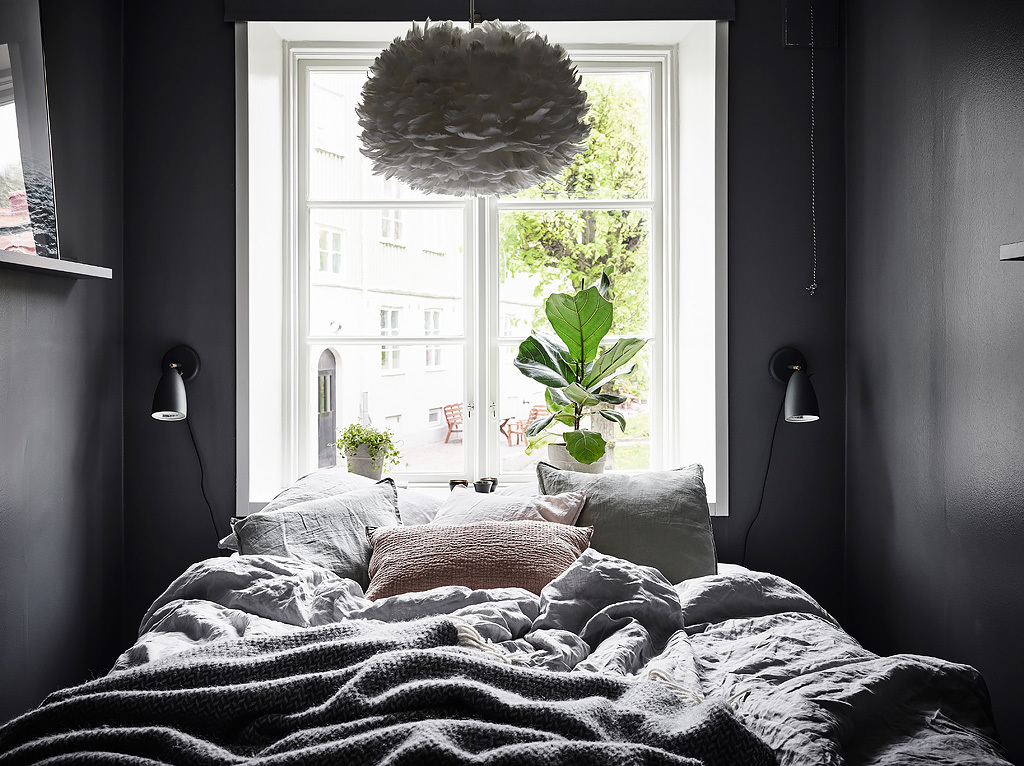 6.Superimpose the lights (the more the merrier)
Having multiple lighting points at different heights will help to guide the eye through the room. Avoid direct light and go for softened lights to create coziness. Also privileged warm light bulbs to whiter ones.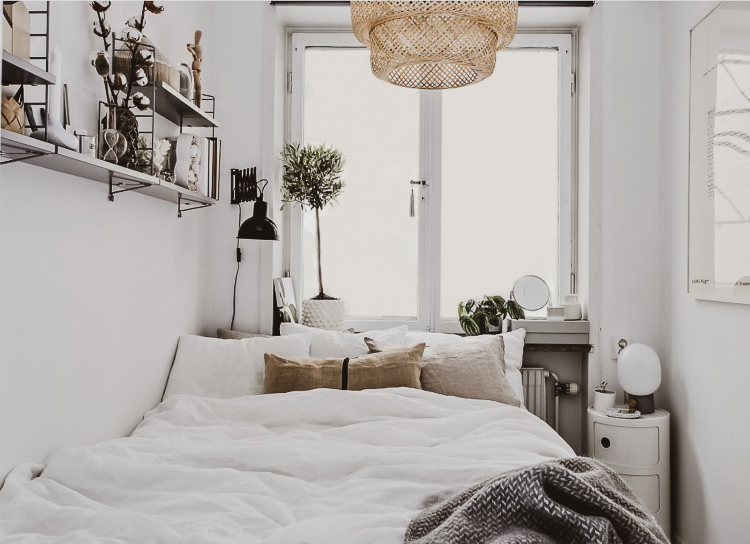 7.Use architectural quirks to your advantage
In older apartments, there are often architectural quirks that make the furnishing more complicated. Try to turn them to your advantage by being creative. For example, remove the door of a closet and turn it into a beautiful shelf that doubles as a bedside table.
8.Replace traditional table lamps with suspended or wall lamps
In small rooms, it is often not possible to have a bedside table on each side of the bed and therefore table lamps. So, a pendant lamp hanging from the ceiling or sconces are both great alternatives. Moreover, they have an elegant feel and make the room look like a hotel room.
9.Painting one wall in a darker shade
Painting a wall in a darker color will immediately give an impression of depth and thus enlarge the room. It is also a good way to add a focal point.