Linen curtains are a sort of home decor staple, it's the kind of piece that will always save the day when you get a little lost as to knowing which types of curtains to choose. In addition, linen curtains are especially good for renters, as they are not very expensive, but will still bring a certain flair to the room as linen is a noble yet simple material.
I've always loved simple linen curtains because it's practically impossible to go wrong with them.
Simple linen curtains: white to natural color
Simple linen curtains include sheer or semi-sheer (see the difference below) curtains that range from white to shades of beige or greige. Optic white is not a natural tint of linen as opposed to shades of beige and greige. It's the color of the natural undyed linen fiber that gives its color to the fabric. It usually ranges between ivory, ecru, oatmeal, and taupe. Basically, the color will depend on the growing and processing conditions of the flax plant it comes from.
When to use simple linen curtains?
Simple linen curtains are perfect when you want to get a little privacy but still want the daylight to come in. They are often great when used for :
Multilayering (as the first sheer layer).
Big windows or bay windows (as they will not steal the show from the view).
A modern and sleek look and feel while still infusing warmth and adding texture.
But they really can fit in almost anywhere. There's a reason they're a staple in interior design.
Hanging types for linen curtains
The way you hang your linen curtains will have a strong impact on the final look. It's something that should always be considered before buying curtains as it will have a consequence on the length and type of curtains you need. For me, these are the top 5 ways to hang linen curtains. Each of them will work best in a certain context, but overall, they all allow the linen curtains to look their best :
Rail
Hanging Pins
Curtain Clips
Hidden Tabs
Rod pocket
These three are also popular ways to hang your linen curtains :
Tab top
Eyelet
Tie-top
Now that we are all set on how to choose linen curtains here are my favorite linen curtains on different shopping sites and all at fair prices.
Linen curtains from IKEA
Of course, IKEA has options when it comes to simple linen curtains and pretty good ones! Whenever I quickly need white linen curtains, Ikea is my go-to shop. I've never been disappointed by the white Dytag. They allow just the right amount of light to come in and are really easy to use. They also exist in a light grey version (it's more beige than grey). The Moalisa is pretty new, I never had the chance to use it but I love a good drop cloth curtain and the black liseret elevates its look. Otherwise, They also have fabric by the meter, Aina which could be a great option if you sew a bit and need a specific size for your curtain panels.
+ multifunctional heading band, available almost worldwide
– Not a lot of options in terms of sizes, available in few colors
Parachute linen curtains
I couldn't write a linen curtain article without mentioning Parcahute's beautiful linen curtains. If you have a little more to spend, their washed linen curtain looks absolutely glorious. The tint, the texture, the fall of the curtain, everything is just right. See for yourself :
+ Quality and finishes
– Not a lot of choice in length, limited heading tape options
Linen curtains on Etsy
When I'm not pressed for time or looking for something a little more specific, I like to browse Etsy's merchants. For linen curtains, I focus on Lithuanian merchants because I know that linen production is one of their strengths. Also, the price is really fair for the quality and options they offer.
Here are a few of my favorite shops :
Lovely Home Idea
Lovely Home Idea I love their 135cm pencil pleat and non-pleated panel because they have a large choice of length (it starts at 91cm until 406cm) and they offer different shades of natural color.
+ large choice of length, large choice of natural shades
– Heading tape non-multifonctional
Magic Linen
Magic linen has a very large range of colors that look great IRL. I like their rod pocket panel (W:135cm).
+ large choice of colors, good linen quality
– Heading tape non-multifonctional
Sand Snow Linen
Sand Snow Linen whose basic panel width is 140cm which to me looks a bit better than 135cm width for standard windows. They are available in a large range of colors (a few of their samples appear in the picture above) and lengths. They also offer wider panel options, here is the 275cm panel width. Their multifunctional heading tape makes it really easy to change the way you hang them, which is nice if you want to move them around. They have what you need for sure!
+ large choice of length, large choice of colors, curtains available in width panels as well, multifunctional heading tape
– None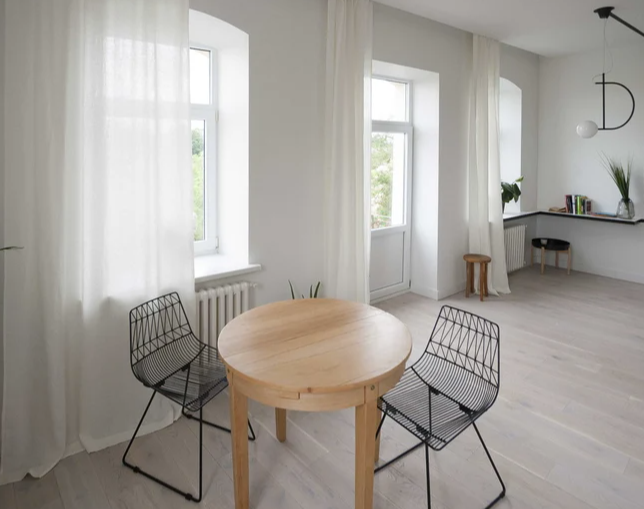 On-a-budget linen curtains
I have also other go-to linen curtains that I would recommend if you are on a very tight budget:
H&M Home
My go-to piece whenever I need cheap curtains for a small window or nook they exist in 120cm width or 150cm. It's 50 CHF for two panels of 120cm and is made of a mix of cotton and linen but they do the job nicely for the price. H&M Home also offers a very nice 100% linen alternative available in a few easy-to-use colors in a pretty standard size of 150cm x 300cm the price is the same as the one from Etsy. I have two natural panels in my living room and two green panels in my dining room. I only use them to add a touch of color to the white linen curtains (see cover picture).
La Redoute
Their white Onega linen curtains are good. I have them in my living room and dining room. Plus they are pretty often on sale.
Target
Here are good and basic natural or white linen curtains from Target also often on sale and at an unbeatable price.
A word on sheer, semi-sheer, and lined curtains
When people picture linen curtains they often picture them as sheer or semi-sheer. But lined linen curtains are also very beautiful and can easily be used in bedrooms or in rooms where you need a little more privacy. Sand Snow linen offers beautiful lined curtains for instance. It really depends on how much light blocking you need. My rule of thumb goes this way :
Bedroom, tv room: blackout curtains
Kitchen, bathroom, and office: semi-sheer curtains
Living room and dining room: sheer or semi-sheer depending on the amount of daylight and the vis-à-vis you have.
But keep in mind that these a very general rules. It will always depend on your needs and use of the room. In my list, I only consider the amount of light and privacy needed because that's generally what people need. However, there could be more parameters to take into account.
How to wash linen curtains
Linen is a fabric that needs to be cared for to keep its splendor over the years. Here is how to clean them:
You can wash linen curtains in the washing machine on the "cold" mode (never exceed the temperature of 30° C) or a delicate program with a maximum spin speed of 400 rpm.
Finally, let them dry in the open air by hanging them on their rod or rail for example.
Tips: do not mix materials to avoid lint.
Finally, you can also clean your curtain by hand. To do this, soak them in warm soapy water, rub gently and take the curtains out. Drain them without twisting the fibers too much and let them air dry.
How to remove stains on a linen curtain?
First, it's better to act quickly, before the substance is completely impregnated inside the fibers!
To remove small stains on your linen curtains, Marseille soap mixed with water or your favorite stain removal soap. I do it with gall soap and it works like a charm. Rub gently then rinse, or put them in the machine if you can.
How to iron linen curtains?
the real question here is should you even iron linen curtains? The answer is no, not necessarily. Linen has a naturally wrinkled side that makes it so charming and authentic. However, some prefer their curtains to fall straight, without wrinkles.
To remove wrinkles from linen curtains, you can put them in the dryer at a low temperature, programming a cooling cycle at the end. This will save you time. Once they are dry, install them without delay so they continue to smooth out.
If you still want to iron your linen curtains, don't wait until they are dry, do so when they are still slightly damp. This will preserve the fiber. Once your mission is accomplished, hang your curtains and wait for them to dry completely.